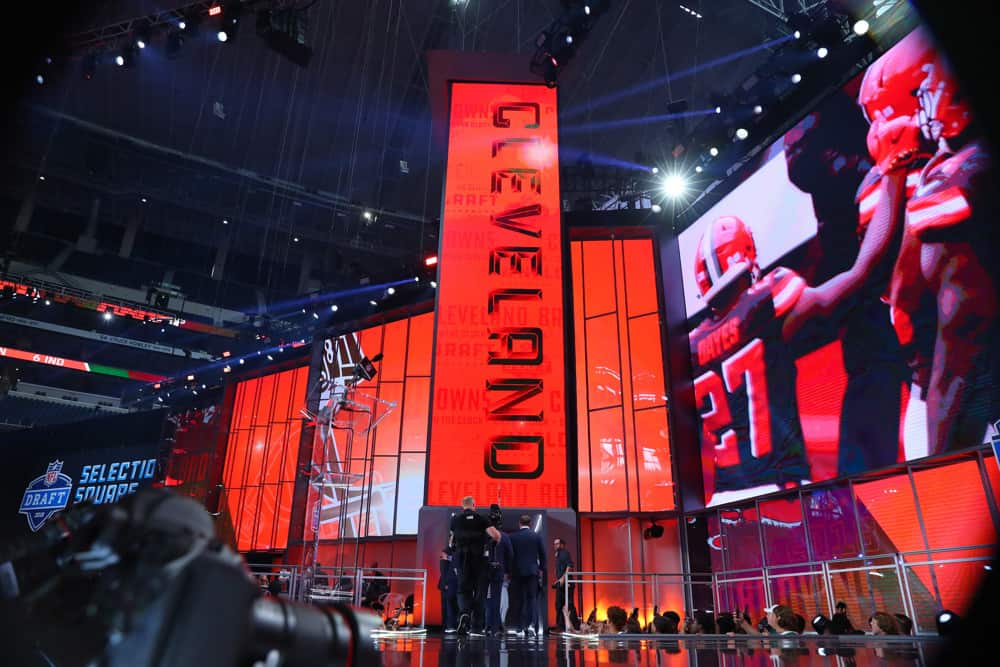 Some might think the Cleveland Browns front office can rest for a while after a successful free agency period.
But at least one room, or virtual room, is bustling with activity in Berea.
That is the Cleveland Browns Draft War Room, where draft day scenarios and scouting reports are piling up.
Every scout and every analytics person is sure they know THE player to put Cleveland in the Super Bowl.
The Cleveland Browns roster currently has:

🔸 3 former #1 overall picks
🔸 6 top 10 draft picks
🔸 10 first round picks

Absolutely INSANE 🔥

— C's Nation ☘️ (@CELTICSvsEvery1) April 18, 2021
After months of scouting and weeks of scenario building, you might think each team has a set draft plan.
But even the most detailed assessments and best-laid plans can get blown up at the last minute.
For example, draft day trades can leave teams scrambling to reassess on the fly.
And the Cleveland Browns analytical geniuses are not above pulling off a deal to change matters in their favor.
Here are 2 potential first-round trade partners for the Cleveland Browns.
New York Jets: Pick 23
Atlanta (4), Miami (6), and Detroit (7) are all rumored to have some interest in trading down.
But the players Andrew Berry rates as his biggest need-fillers don't warrant such a dramatic move.
And quarterback-seeking teams like New England (15), Washington (19), and Chicago (20) will run the price up.
Berry and his draft team have a handful of players they hope will be available at #26.
But if one of their favorites drops tantalizingly close, only to be snatched away at 24 or 25, it can ruin their day.
If your team needs a WR or CB, the 2021 NFL Draft is a good time to be looking for one. pic.twitter.com/7m08lzonlS

— Field Yates (@FieldYates) April 18, 2021
In this scenario, versatile linebacker Zaven Collins and/or their top-ranked cornerback falls to 23.
Knowing Pittsburgh (24) or Jacksonville (25) might pilfer their top choice, Cleveland makes a move.
The New York Jets already have 10 draft picks, including 5 of the top 90, but they are in a total rebuild.
And they are expected to look for offensive guard help with their second pick of the first round.
Such a player available at their #23 slot is likely to be available at 26, letting them entertain offers from the Browns.
Besides the 26th and a third-rounder, Cleveland can throw in Drew Forbes or swingman Chris Hubbard to seal the deal.
NY Giants: Round 2, Pick 42
Trading down is an artful endeavor, often predicated on another team's desperation or panic.
Ideally, Cleveland would not trade down too far, so as to maintain a value position.
But when you are already near the bottom of the pecking order, the teams behind you are not usually desperate.
Berry's best-case scenario might be if #29 Green Bay is exceptionally high on a particular player.
The fear of losing that choice to Baltimore or New Orleans could warrant giving up some picks to move up.
Holy crap, didn't see that trade coming!

(Just practicing)

— BrownsDailyMockDraft (@BrownsMockDraft) April 17, 2021
But in this scenario, Cleveland's top first-round choices are off the board and they won't reach for a lesser player.
So Berry reaches out to someone he knows is desperate, like the embattled Giants' GM, Dave Gettleman.
Gettleman has a win-now edict, but only has 6 draft picks, leaving him with few chips to barter with.
Unless, of course, he finds a trade partner willing to accept future draft picks, like Andrew Berry.
In this scenario, Berry disappoints Cleveland's Draft Day crowd by pulling out of the first round.
New York gives up their 2022 first- and fourth-round picks and 2023 second-rounder to get their man.
And the Cleveland Browns draft team works their magic to find impact players in the later rounds.