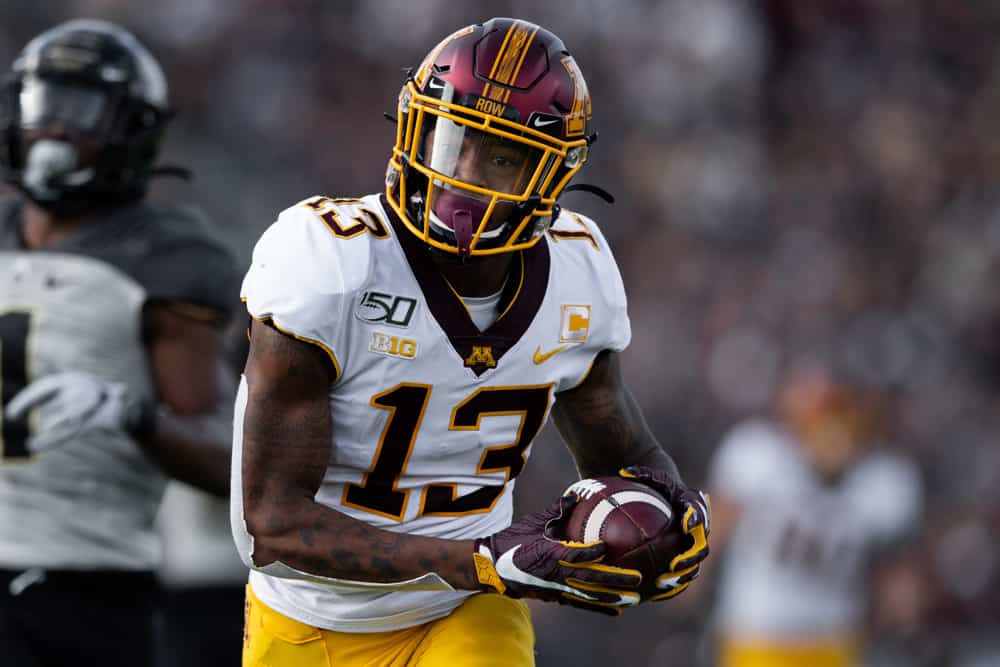 Often times we see current NFL players take a mentoring role of sorts with upcoming draft prospects.
Cleveland Browns receiver Odell Beckham Jr. leaned into that line of work as he took Minnesota receiver Rashod Bateman under his wing leading up to this year's draft.
#Browns WR Odell Beckham Jr. and University of Minnesota WR Rashod Bateman trained together and formed a bond as Bateman prepared for the draft. Here's a pic from Bateman's Instagram. pic.twitter.com/dYQbchMbYF

— Scott Petrak ct (@ScottPetrak) April 22, 2021
As talented and personal as OBJ is, it's no surprise to see him helping the next generation of receivers.
Odell is an influential person both on and off the field.
"Be you and have fun" were the words of wisdom that Bateman said he received from the Browns star receiver.

Overview of Bateman   
Rashod Bateman is a talented receiver in his own right that drove Big Ten secondaries mad for years.
He went for over 1200 receiving yards in his 2019 campaign, second-best in the conference.
His yards per reception that season, at 20.3, led all Big Ten receivers.
He was also top-ten in the conference in touchdowns and receptions.
Most explosive plays since 2019:
🥇 Ja'Marr Chase – 46
🥈 DeVonta Smith – 44
🥉 Rashod Bateman – 37 pic.twitter.com/JfUQgyl7mI

— PFF (@PFF) April 17, 2021
Rashod Bateman on throws 10+ yards downfield in 2019:

🚀 Catches – 46 (1st) pic.twitter.com/Ab0ZPT84mm

— PFF Draft (@PFF_College) April 15, 2021
Bateman was the Gophers leading receivers through a chunk of the 2020 season before he ultimately opted out due to COVID-19 concerns.
In addition to the numbers, Bateman's versatility is what the pro scouts are interested in.
"I can play in the slot, I can play on the outside. I've proven that, and I've put it on tape," he told BrownsZone's Scott Petrak.  "I'm a very detailed route-runner. I can catch the ball very well, and I am fast, even though some people doubt that. I just feel that I'm the whole package."
At 6'2", 210-pounds, Bateman has the frame to line up anywhere at receiver.
He has the physicality to handle the impact on short crossing routes, and he can run by you down the sideline.
Bateman also isn't afraid to go make a tough grab in traffic, essential for any receiver hoping to make an impact in the NFL.
Rashod Bateman is a superhero pic.twitter.com/oMUoRDD5zb

— Pro Football Network (@PFN365) April 14, 2021
Some draft profiles question his ability to handle higher-level competition during college.
Tougher matchups will be interesting to keep an eye for Bateman once he hits the NFL.

Interest for the Browns?
As it stands, Cleveland is heading into 2021 with all of their top receivers from one season ago.
That extends all the way down to sixth-stringer JoJo Natson.
There aren't too many fans clamoring for Andrew Berry to draft a wide receiver.
As one of the top receivers in this class, Bateman will command a lot of attention next week.
If the Browns don't take him with the 26th pick, it's unlikely he slips to their second-round selection.
With the Browns set at receiver already, it's unlikely that Berry uses the first-round pick on Bateman.
Pro Football Network believes he will fall between the 15th and 28th pick on Thursday.
Even if he were to fall past that 28th slot, the Browns would have to pull off a serious draft day trade to move up in the second round and take him.
Is all of that worth the additional depth at wide receiver?
That will be up to Andrew Berry and his front office friends to decide.
Regardless, Odell Beckham Jr. will be excited to see his friend try and flourish at the professional level.