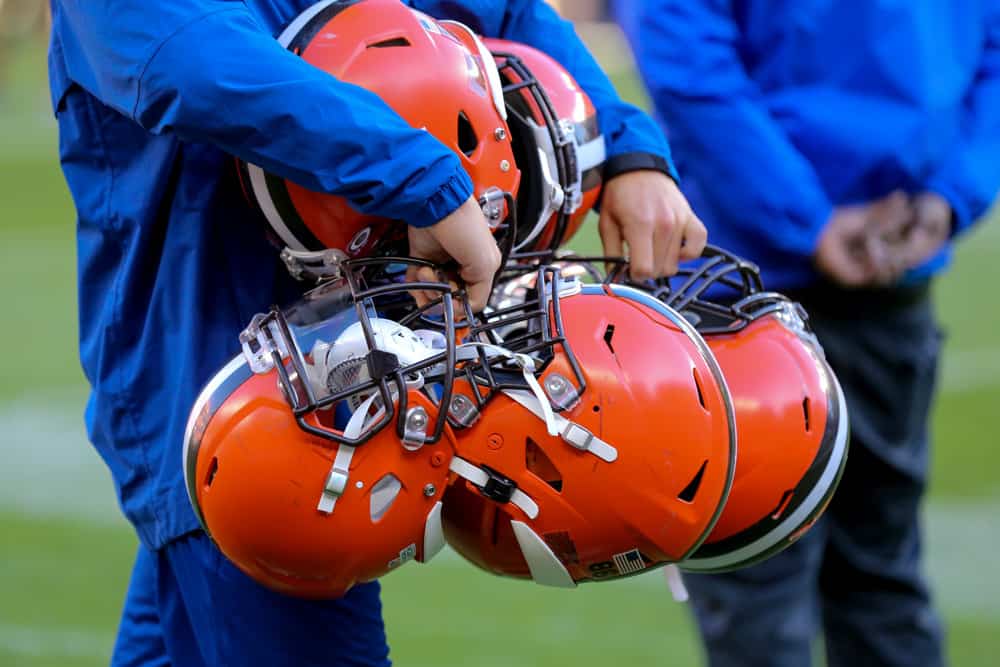 The Cleveland Browns have been rumored to be looking at some big name free agents.
Most notably, the organization has been connected with defensive end J.J. Watt.
On paper, there is a fit for Watt in Cleveland, but that doesn't guarantee anything will happen.
The front office has shown they aren't afraid to spend money in order to upgrade the team.
Watt to Cleveland has been has been a hot topic lately, but the Browns could be in the market for a couple of other top tier free agents.
1. LB: Shaquil Barrett
The seventh-year linebacker Shaquil Barrett didn't make a name for himself until the 2019 campaign.
He signed a one-year $4 million deal with the Tampa Bay Buccaneers in 2019 and received four times that amount the next season.
Barrett recorded 58 tackles, six fumbles forced, and a league-leading 19.5 sacks during his first year in Tampa Bay.
Leaders in Sacks In 2019:

Shaquil Barrett: 19.5
Chandler Jones: 19.0
Cameron Jordan: 15.5
T.J. Watt, Danielle Hunter: 14.5
Za'Darius Smith: 13.5
Aaron Donald: 12.5
Preston Smith: 12.0
Joey Bosa, Robert Quinn, Bud Dupree, Dante Fowler: 1.1.5
Justin Houston: 11.0
Josh Allen: 10.5

— Johnny Kinsley (Daft Punk Forever) (@Brickwallblitz) June 5, 2020
He received a significant payday the following season, but is likely seeking a multi-year deal this offseason.
Barrett is an above average linebacker in both run and pass defense.
Last season, he recorded 57 tackles, two fumbles forced, and eight sacks through 15 games.
He proved that his 2019 campaign was not a fluke and that he can be a significant contributor on defense.
Shaquil Barrett was a MONSTER yesterday with 9 total pressures (4 sacks) 😤💪

(via @Buccaneers)

— PFF (@PFF) September 23, 2019
The Browns are in desperate need of help at the linebacker spot.
Both Malcolm Smith and B.J. Goodson are pending free agents, which leaves Cleveland without much veteran depth at linebacker.
Barrett has proven to be an elite pass rusher and a reliable option in coverage.
There should be plenty of suitors for Barrett this offseason, but the Browns should make a significant push.
He has been a healthy and productive player throughout his NFL career.
It really wouldn't be shocking to see Barrett getting $60-70 million total this offseason, but the Browns should at least test the waters on him.
2. FS: Marcus Maye
The Browns are in serious need of an impact safety this offseason.
Hopefully, second-year safety Grant Delpit will be ready at the beginning of the 2021 season.
He missed all of last season due to an Achilles injury, but his return is great news for Cleveland.
However, Delpit's return does not solve all of the issues that the Browns have in their secondary.
They still need another reliable safety, but Marcus Maye might be able to fix that problem.
BRUTAL ☹️

Marcus Maye just broke a record for longest INT return without a Touchdown… pic.twitter.com/CayJjr2zvP

— SquadQL (@SquadQL) October 7, 2018
The former second-round pick is ready for a massive contract after putting together three successful seasons.
He suffered a season-ending injury in 2018, but has showed no signs of slowing down since then.
In 2020, Maye finished with 88 tackles, 11 passes defended, two fumbles forced, and two interceptions in 16 games.
He's a versatile safety that finished the regular season with the No. 4 overall grade among safeties at 82.8.
Maye is going to be a highly coveted free agent this offseason, but that doesn't mean the Browns should back down.
He would be an ideal fit for plenty of organizations and will likely get in the neighborhood of $60 million total this offseason.
The Browns desperately need a reliable playmaking safety, so handing out a massive deal to Maye could make sense for this organization.