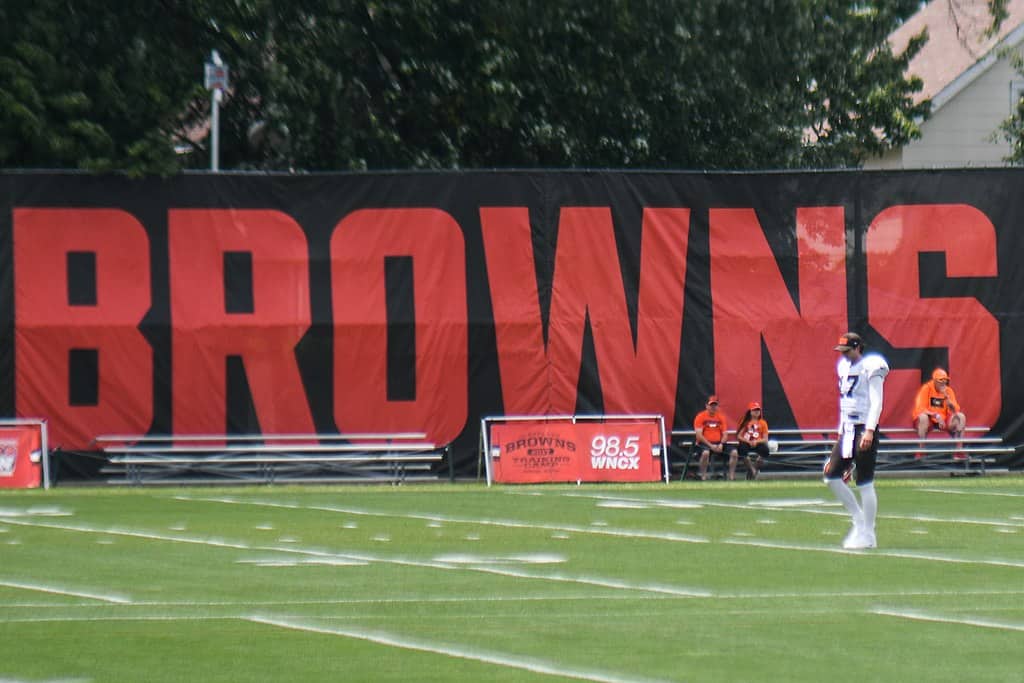 Every team has a sleeper.
In this case, the Cleveland Browns have two.
The depth chart is appearing to take some type of form on paper as teams conduct their training camps.
However, with little media access due to the COVID-19 pandemic, we are somewhat left in the dark in terms of performance at these camps.
With that being said, there are two players that could fly under the radar during this time and compete for a starting job.

No. 1: Adrian Clayborn (Defensive End)
For now, Clayborn is rated as the No. 2 pass rusher behind Myles Garrett on the right side.
However, Clayborn could challenge Oliver Vernon for the spot on the other side.
Vernon did not produce much in his 10 games since coming from the New York Giants, but it was enough for the Browns to exercise the final year on his contract.
Rumor has it? The #Browns are now out on DE Jadeveon Clowney they have decided to stick with Oliver Vernon on the final year of his contract. pic.twitter.com/Y0jrexFWYx

— NFL Rumors (@nflrums) May 6, 2020

According to Pro Football Focus, Vernon was rated 80.4 overall despite missing six games.
Vernon made 3.5 sacks and 26 tackles during his time on the field.
The largest issue with Vernon is that he has trouble staying on the field.
In his last three seasons, he has played 12, 11, and 10 games respectively.
This is a perfect reason for why Clayborn can swoop in.
PFF gave Clayborn a rating of 71.1 overall after a 15-game season with the Falcons, which included 4.0 sacks as a rotational player.
It's not crazy to believe that Vernon could get hurt, and when that happens, look for Clayborn to step up.

No. 2: Donovan Peoples-Jones (Punt Returner)
This is a real under the radar selection.
According to ESPN, Peoples-Jones is the No. 4 rated punt returner on the depth chart.
DPJ will have his work cut out for him in making the roster as a receiver.
However, he posses great skills as a punt returner, which is something that Landry has served over the last two seasons.
This could be Landry's way of passing the torch.
Last season, Landry returned five punts for 43 yards serving as the primary punt returner.
This is where DPJ steps in.
As a specialist, DPJ led the Big 10 in return yards in 2018 and was All-Big Ten Third-Team in 2018 and 2019.
It came in a loss and it wasn't for a TD, but this Donovan Peoples-Jones punt return was filthy. pic.twitter.com/KVhK3aCggA

— Brent Yarina (@BTNBrentYarina) November 26, 2017
Granted, this would be a starting spot on special teams, but starting is starting when it comes to the NFL.
Landry is a Pro Bowl-caliber wide receiver, so risking his services on special teams does not make much sense when the team has a player that can fill the void.
Give DPJ some time, and he could be the team's primary return man.
Donovan Peoples-Jones hit the ⭕️ button.

Punt return for a Michigan TD. pic.twitter.com/drWmnaSkU6

— Brad Galli (@BradGalli) September 22, 2018