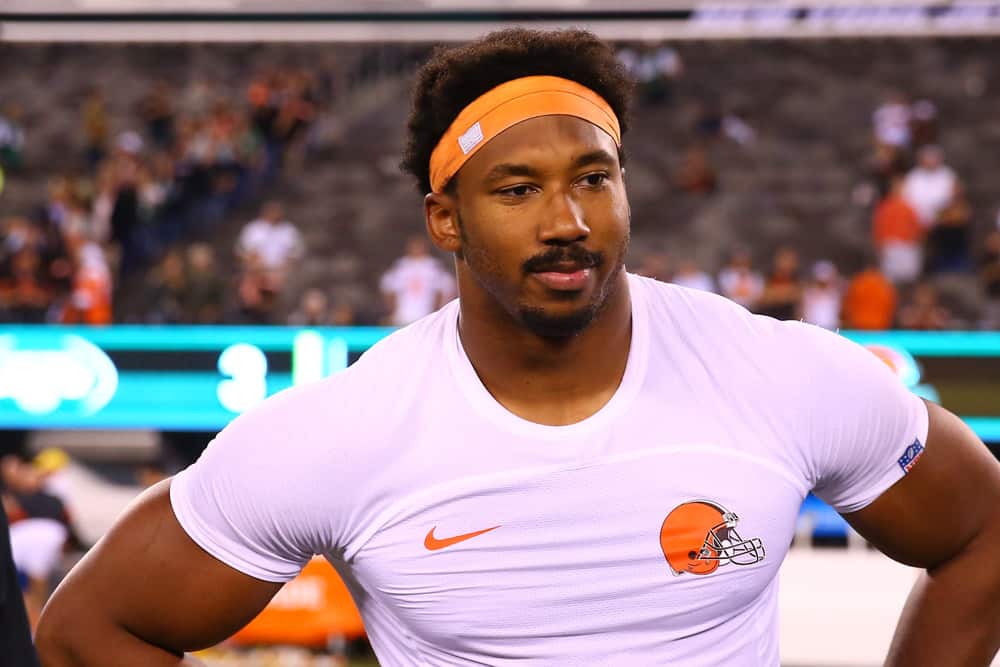 There is no doubting that Cleveland Browns defensive end Myles Garrett is a freakish athlete.
The 24-year-old has gifted athleticism for a player of his weight and height.
He decided to post a contest on his Instagram page asking his followers to guess his 40-yard dash time.
Garrett mentioned that the first person to get it correct would get followed by him on Instagram.
Well "Flash" revealed that he ran a 40-yard dash in 4.48 seconds.
Sadly, it's not documented, but it's tough to not trust someone with his kind of athletic ability.
What To Expect From Garrett
Everyone should already know that Garrett is one of the best pass rushers in the NFL.
He is already arguably the best edge rusher and he's entering his fourth season in the league.
He made the Pro Bowl in 2018, but sadly his 2019 season didn't go as planned.
Garrett only played in 10 games for the Browns last season before being suspended for the final six games of the year.
Despite that, Garrett finished with 29 tackles, 18 quarterback hits, and 10 sacks with Cleveland in 2019.
The Browns awarded Garrett a massive contract extension this offseason after his outstanding play over the last few seasons.
He signed a five-year $125 million extension with the Browns over the offseason.
A deal that includes $100 million in guaranteed money, but Garrett could prove to be worth it.
Garrett is already one of the most dangerous edge rushers in the league.
However, he could be even better if he actually added more speed to his game over the offseason.
He had an impressive combine when he first joined the league in 2017.
Myles Garrett's Combine Stats:

6'4", 272 lbs.
33 bench reps
4.64s 40-yard dash
41" vertical
10'8" broad jump pic.twitter.com/bq0Bv9LAZ0

— NFL Stats (@NFL_Stats) March 5, 2017
Despite not having proof, it is possible that Garrett did run a 40-yard dash in 4.48 seconds.
If that's true, it's scary to think about how quick Garrett truly is.
Browns fans can be hopeful that the quick speed will result in a career-year for Garrett in 2020.
He definitely has something to prove coming off that massive extension over the offseason.