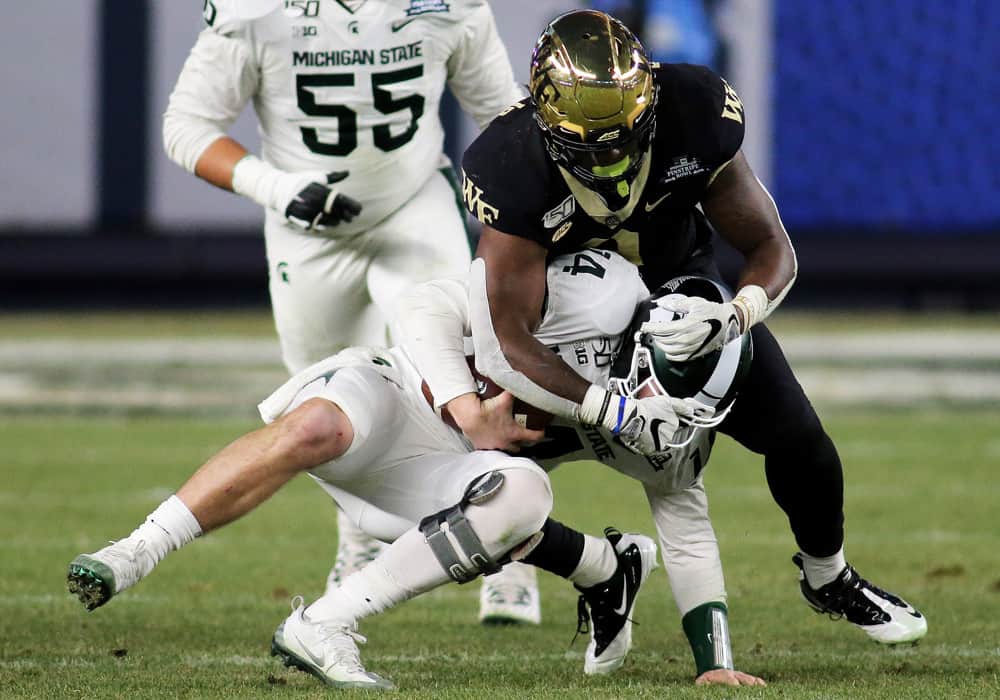 The NFL Draft is quickly approaching, which should have every football fan on the edge of their seats.
Last year, the Cleveland Browns selected tackle Jedrick Wills with the No. 10 overall pick.
This time around the Browns are going to have to wait until No. 26 to make their first selection of the draft.
There are a handful of promising prospects that could be overlooked on draft day.
1. Louisiana Tech DT Milton Williams
It's unclear why defensive tackle Milton Williams isn't getting more attention heading into the draft.
He put together back-to-back successful campaigns while at Louisiana Tech.
Williams is athletic and agile for a player of his size.
He plays with solid leverage and moves fluidly in every direction.
The fact that Williams played at Louisiana Tech is likely going to hurt his draft stock.
Although, Williams has plenty of upside and comes with a ridiculous amount of strength.
LA Tech's Milton Williams 500lb bench

PFF's biggest small-school sleeper at DTpic.twitter.com/hekE6F7Om4

— PFF Draft (@PFF_College) March 25, 2021
Possibly, Williams playing at a school with lesser competition leads teams to believe he'll struggle to make the transition to the professional level.
In 2019, Williams finished with 59 tackles, nine tackles for loss, and 5.5 sacks in 12 games.
He followed that up with 45 tackles, 10 tackles for loss, and 4.5 sacks during the 2020 campaign.
On paper, Williams is a solid prospect and some experts believe he has the upside of a Geno Atkins type of player.
That seems like a bit of a stretch of a comparison, but Williams is worth the gamble.
Cleveland desperately needs depth at defensive tackle heading into the draft.
The front office deciding to cut Sheldon Richardson this late into the offseason might come back to bite them.
This draft class is viewed as fairly weak at defensive tackle as a whole.
Williams is worth taking a risk on in the middle rounds and being hopeful that he'll be able to develop his game quickly.
2. Wake Forest DE Carlos Basham Jr.
At first glance, defensive end Carlos Basham Jr. checks all the boxes for a successful pass rusher.
He is an explosive, tough, and instinctive defender with a tremendous football IQ.
Basham plays at proper pad level and displays a variety of moves getting off blocks.
He also displays good change-of-direction skills and speed up the field, which is always a great attribute for a player at his position.
It's honestly quite surprising that the Wake Forest product isn't getting more love heading into draft day.
The next Cam Jordan?

That's what teams will get in @WakeFB edge Carlos Basham. (via @chad_reuter)

📺: 2021 #NFLDraft – 4/29 to 5/1 on NFLN/ESPN/ABC pic.twitter.com/DleKESV5QR

— NFL (@NFL) April 25, 2021
Possibly, Basham is falling in mock drafts because of how much tremendous talent there is at the defensive end spot.
His lack of size gives him some versatility, but shows that he might never be a premier edge rusher with his lacking athleticism and size.
He recorded 173 tackles, 35.5 tackles for loss, and 19.5 sacks during his four seasons at Wake Forest.
There is plenty of upside, but it's uncertain if he'll ever be able to develop into a full-time starter at the professional level.
Regardless, the Browns could use a versatile player like Basham on their roster next season.
Someone who can be rotational depth at defensive end, but also play some linebacker snaps as well.
They could likely snag Basham in the middle or late rounds due to the fact there is a ton of talent at defensive end in the upcoming draft class.