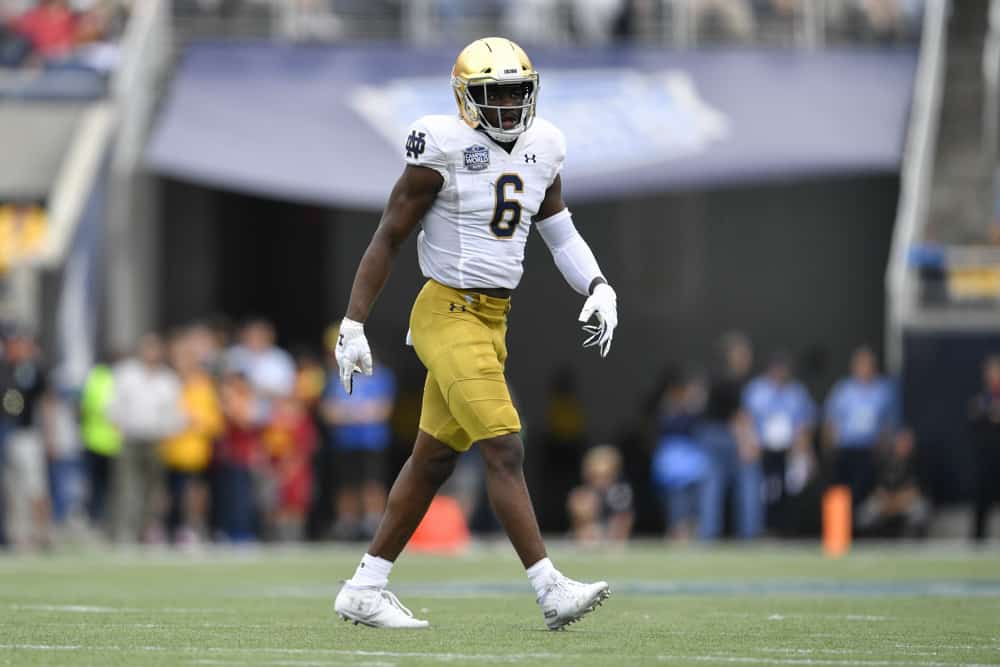 The Cleveland Browns reportedly got one of the biggest steals of the 2021 NFL Draft with their 52nd pick.
They selected Notre Dame linebacker Jeremiah Owusu-Koramoah (JOK).
What's there to know about @j_owuu ahead of the #NFLDraft? 💪@movethesticks | @NDFootball pic.twitter.com/ZhNSJNFslh

— NFL Network (@nflnetwork) March 31, 2021
Much has already been written about JOK.
Many believed he would go in the first round, and several mock drafts had him as the Browns' projected 26th overall pick in the first round.
When he fell to 52nd, the Browns traded up from 59th to snatch him.
Here is a new fact about JOK.
He is a Browns fan.
How Do We Know JOK Was A Browns Fan?
Someone went digging through Twitter and unearthed this 2019 tweet.
y'all ain't know i was a Cleveland browns fan? 🤨

— J. Owusu-Koramoah (@j_owuu) March 14, 2019
JOK was born in Virginia and went to school in Indiana so he would not have any regional ties to the Ohio area.
Certainly, as he went through the Pro Day and Zoom meetings with teams, he would not have revealed this information, welcoming an opportunity from any of the 32 NFL teams.
What The Browns Are Getting With JOK?
Just talked to to JOK…love this kid…he is fired up and HUNGRY! Already talking about Smart, tough accountable…….oooh boy…what a night

— Nathan Zegura (@NathanZegura) May 1, 2021
His Browns' fandom is a bonus.
The 6'0″ 221 pounder is described as an instinctive player.
A draft report on JOK said this:
"His rare blend of (near) linebacker size and cornerback athleticism, as well as his sky-high football IQ, could make him a valuable piece for any defensive coordinator with the imagination to use him."
He is part of a new breed of undersized but fast players in the linebacker position.
As NFL offenses continue to emphasize tempo, JOK's abilities could make an immediate impact with the Browns.
Paul DePodesta says Stefanski, DC Joe Woods and LB coach Jason Tarver are currently working the white board already discussing all the ways they can use JOK on the field. Lotta excitement in the Browns building over this pick.

— Jake Trotter (@Jake_Trotter) May 1, 2021
Coach Stefanski talked about the addition of JOK (and Tony Fields II) in a post draft press conference.
He said:
"At linebacker, certainly, the guys we were able to add this weekend – guys who can run, guys who can play the run and guys who can play in pass coverage and zone – that is a big key to our success as a defense is having a bunch of guys that can do a bunch of different things."