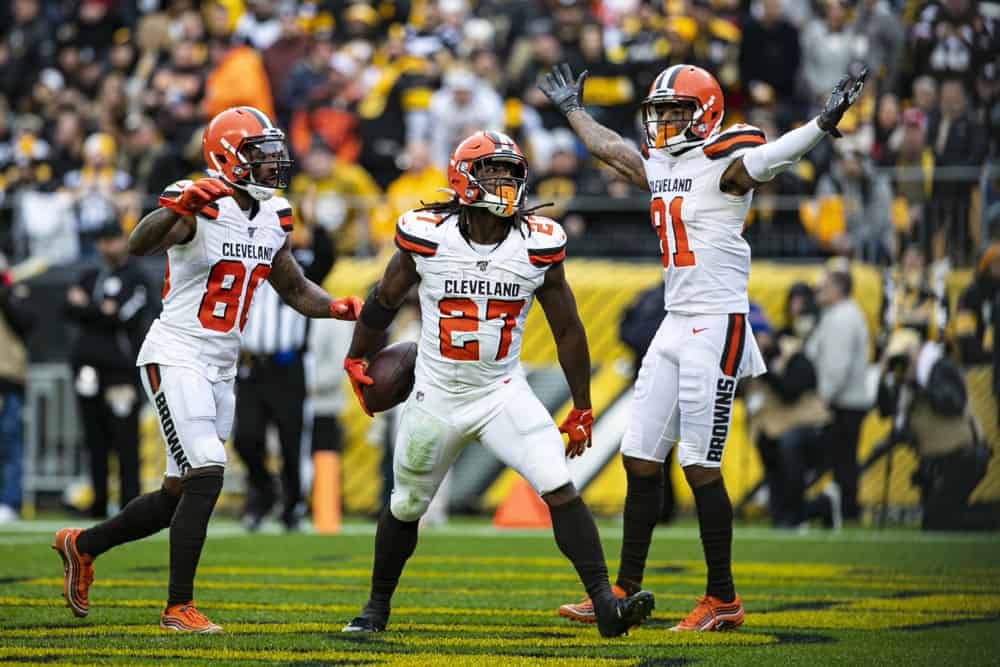 What a great time to be a Cleveland Browns fan, with the return of playoff football and winning records.
Beating Pittsburgh at home in the Wild Card might have been the best moment of the 2020 season.
But now it is time to challenge historical marks set in the bygone glory days of Browns' history.
The Cleveland #Browns 2021 schedule. #NFLScheduleRelease pic.twitter.com/pRPetwXMUP

— Browns Rally Possum (@Browns_Possum) May 13, 2021
Wouldn't it be great if last season's success kicks off 5 straight playoff seasons, matching the run of the 1985-89 squads?
And can Browns fans grow to expect victories at FirstEnergy Stadium during the Stefanski/Mayfield era?
Before Baker Mayfield's rookie season, the 21st-century Browns had just one winning record at home (2007).
Someone tried to use Bakers career record to slight him.

The Browns were 29-99 from 2010 to 2017. Yes, please use Bakers 1 game above .500 record as a negative. If anything, you showed just how great he is with how much adversity he's faced.

— Browns Time (@DevotedBrownie) May 20, 2021
From 1963 through 1969, Cleveland posted a 36-11-3 record in home games, including 6-1 in 1967.
Or maybe, Mayfield, Myles Garrett, and Nick Chubb can give fans something they haven't seen since 1957.
That was the last time Cleveland went undefeated at home, going 6-0 in Jim Browns' rookie year.
And a quick look at who's coming to the lakefront for 9 home games in 2021 offers an intriguing thought.
Can The Browns Go 9-0 At Home This Season?  
Everybody knows any NFL team can win on any given Sunday.
That's why we talk about favorites and underdogs as opposed to pre-determined winners and losers.
But we can imagine how things might go and dare to dream big.
In the 20 years before Kevin Stefanski. the Browns beat the steelers 6 times.

In just 1 year with Kevin Stefanski the Browns beat the Steelers 2 times in back to back weeks. pic.twitter.com/leGa7N7DsY

— Nick Karns (@karnsies817) May 17, 2021
Even the most diehard Browns fans know that our own AFC division games offer quite a challenge.
Since 1999, Cleveland has watched a steady pattern of defeats to Pittsburgh even in their better years.
But let's consider last season a giant eraser, and the new Browns management team a magic marker.
The lines are redrawn, and the 2021 Browns will be home favorites against the Steelers, Ravens, and Bengals.
Ravens week 💪#CLEvsBAL pic.twitter.com/J4Kvkf3suR

— Cleveland Browns (@Browns) September 7, 2020
Pittsburgh marches in on Halloween day, a perfect day to hype the Browns' emotions even more than usual.
Cleveland comes back from a bye week to either sweep Baltimore or to avenge their most recent loss.
And the Bengals' season is likely to be over before their Week 18 finale up north.
There's a reason we play the games, but racking up 3 AFC North wins for the home crowd can happen.
Browns Can Sweep 6 Non- Division Games 
Power rankings and Vegas predictions don't always mean much when it comes to division rivalries.
But if they count for anything versus non-division foes, Cleveland might just roll through their home schedule.
We compared the NFL Power Rankings of PFF, CBS Sports, ESPN, NFL.com, Sporting News, and Sports Illustrated. 
Cleveland ranks anywhere from no. 4 to no. 7 on each list, and only one opponent sniffs the top 10.
The NFL has expanded to 17 regular season games! The Arizona Cardinals are now on our 2021 home schedule. pic.twitter.com/4dxhbXRVqN

— Cleveland Browns (@Browns) March 31, 2021
In fact, Houston (Week 1) and Detroit (Week 11) bounce back and forth off the bottom between 31 and 32.
Las Vegas (Week 15) finds themselves consistently in the low-to-mid 20s range.
CBS Sports gave Denver (Week 7) their 17th spot, the only time they don't join the Raiders in the 20s.
Chicago (Week 3) earned 3 upper-teen marks along with 3 low-20 grades.
The wind in Cleveland is INSANE 🪃💨@Browns @Raiders

📺: #LVvsCLE on FOXpic.twitter.com/ep2DeyvlYi

— Everything Cleveland (@everythingcle_) November 1, 2020
That leaves Arizona (Week 6) as the toughest home opponent on the schedule, per the popular NFL Power Polls.
CBS (8) and ESPN (11) rank the Cardinals ahead of the four other polls (16-20).
But traveling from Arizona to Cleveland, even for a late game, pushes the gap with the Browns wider.
And raises the odds of another overdue accomplishment checked off by the 2021 Cleveland Browns.