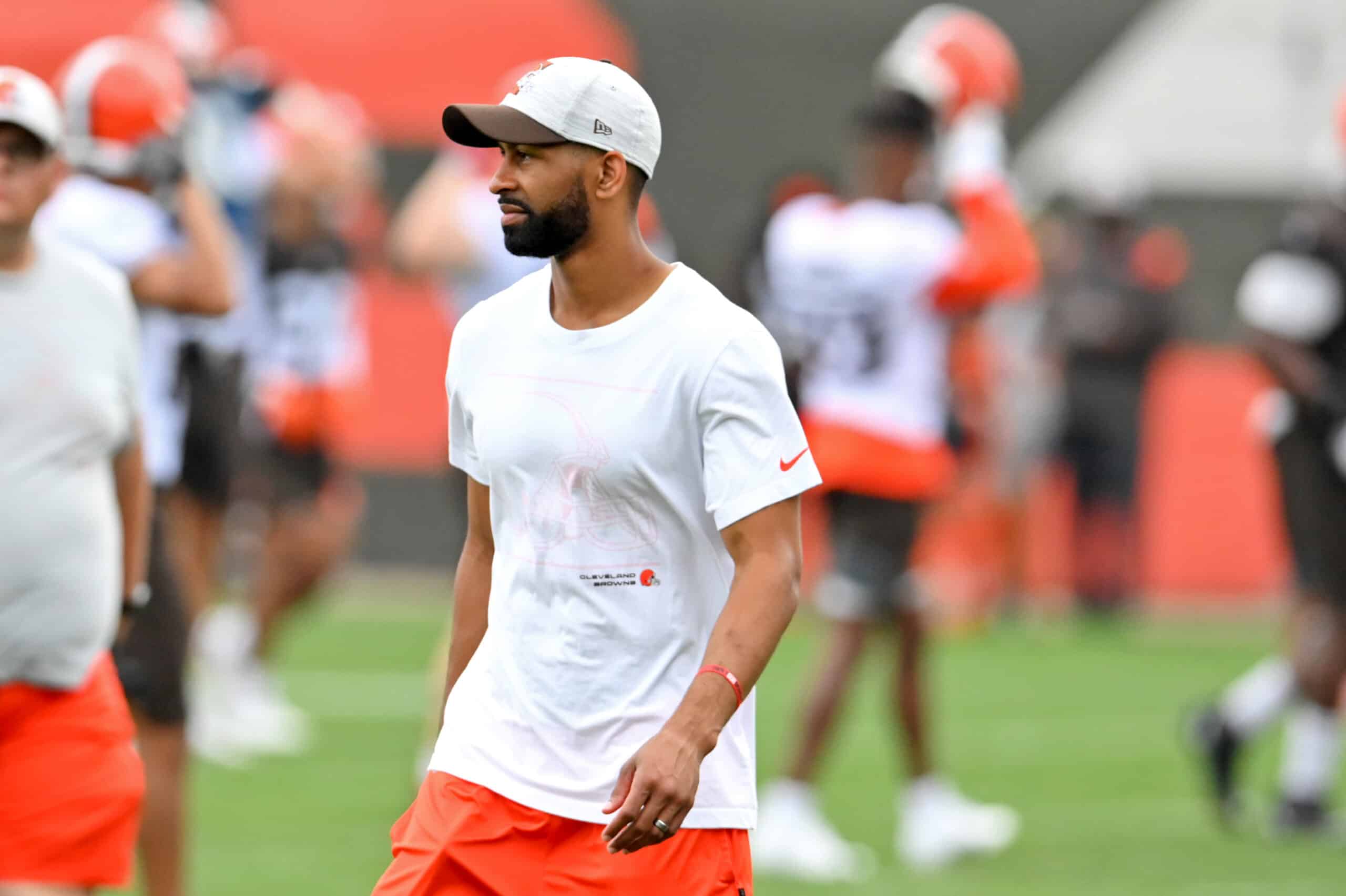 With the 2021 football season behind the Cleveland Browns, it's time to pause and look back at some of the things they did well.
While the team struggled on the field, the front office seemed to excel, making one smart decision after another.
Let's take a look at three of the best moves that the Browns made in 2021.
ICYMI Cleveland Browns Sign Wyatt Teller To 4 Year Extension. #Browns #NFL #Cleveland https://t.co/gnfxwzOHiy pic.twitter.com/PQ5KLaSg4h

— Orange and Brown Rpt (@TheOBR) November 9, 2021
1. Locking Down the O-Line 
After the Browns blowout win over the Cincinnati Bengals in Week 9, Cleveland's front office made the wise choice to lock up two of the top offensive linemen in football.
They signed guard Wyatt Teller to a four-year extension and his fellow guard, Joel Bitonio, to a three-year extension.
The moves made the pair of guards two of the highest-paid players at their position in the NFL.
However, both re-signings were well-deserved and received nothing but praise from fans and players alike.
Cleveland had one of the top running games for most of the year, and it was due in large part to the play of Teller and Bitonio.
2. Making Moves in the Secondary 
In the 2021 offseason, the Browns also made some big choices about upgrading the secondary.
Their moves included two free agent signings and drafting a cornerback in the first round.
Safety, John Johnson III, was perhaps the biggest target for the Browns in the 2021 offseason, and they managed to land him.
Johnson is a veteran who played well for the Rams in 2020, and adding him to the secondary was a huge win for the Browns.
They didn't stop there, however, as they went on to sign cornerback Troy Hill to the team.
Hill is another veteran who added depth and solid pass defense to a secondary that desperately needed it.
For their final demonstration showing that they were serious about their pass defense, the Browns drafted cornerback Greg Newsome in Round 1 with the 26th overall pick.
Newsome was a stud in college at Northwestern and he didn't disappoint in his rookie NFL season.
Report: Cleveland Browns to sign S John Johnson IIIhttps://t.co/5Aqw8x3Zi2 pic.twitter.com/tx6BgwwntJ

— Ben Axelrod (@BenAxelrod) March 15, 2021
3. Manging the Cap Space 
Perhaps one of Cleveland's best accomplishments in 2021, was their management of the salary cap.
Despite extending players like Nick Chubb, Myles Garrett, Wyatt Teller, and Joel Bitonio, Cleveland still has plenty of money to spend.
They're heading into the offseason with just over $37 million in cap space, good enough to place them in the top half of the NFL.
In other years, $37 million would have been a mind-boggling amount, but it's only half as much as the league-leading Miami Dolphins.
Having this much cap space gives the Browns freedom to explore their options moving forward.
They could possibly go after a big-name quarterback this offseason, or they could use the money to resign some of their current players.
David Njoku, Anthony Walker, and Jadeveon Clowney are all players that the Browns could lose to free agency.
They're also players who were consistent starters and provided a few bright spots for a season that had few and far in between.
No matter what they decide to do, Cleveland's front office has given themselves a good chance to make some big moves this offseason.