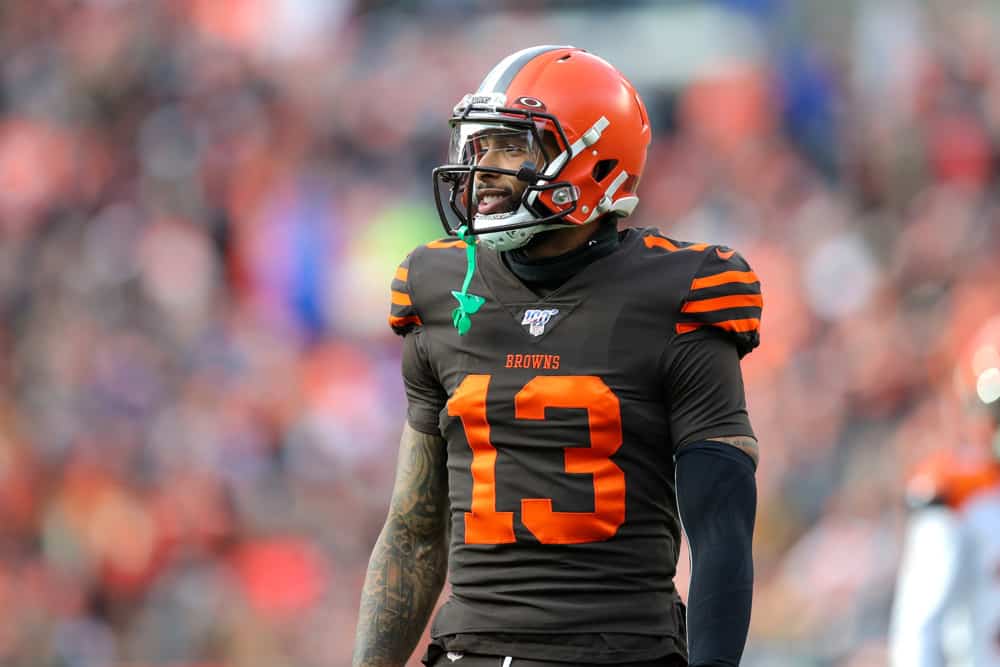 When your name is Odell Beckham Jr, great things are expected of you.
Every week, fans look for a leaping, one-handed, game-saving highlight catch among a series of exciting plays.
Beckham came to the Cleveland Browns amid the optimism of Baker Mayfield's rookie performance.
But OBJ's fifth 1,000-yard campaign in 6 tries wasn't nearly enough to save the lost season of 2019.
#Browns Odell Beckham Jr. top 10 plays of 2019:

— Everything Cleveland (@everythingcle_) May 8, 2020
Then he got knocked out of the 2020 campaign before Kevin Stefanski's passing attack came together.
Beckham's limited receiving role led to the assertion Cleveland's offense was better off without the star receiver.
But Beckham also rushed 3 times and completed an 18-yard pass, accounting for a touchdown and 3 first downs.
He was still an exciting threat in an undefined role, and now it is his turn to be defined by Stefanski.
Here are 3 bold predictions for Odell Beckham Jr in 2021.
1. Odell Beckham Jr Leads The Team in Receiving Touchdowns
Kareem Hunt led the Cleveland Browns with 5 touchdown catches last season.
Tight end Austin Hooper and Beckham's replacement, Rashard Higgins, each caught 4.
Beckham caught 3 in the first 7 games, a pace at which he would have handily led the team.
But it is not as simple as that, especially if you believe OBJ's critics and Higgins' fans.
Odell Beckham Jr. is back! Baker Mayfield and OBJ connect for their first touchdown of the season.

Will they connect for another one later this game? #Browns
pic.twitter.com/pXwTDXmYY5

— Elite Media Group (@TheEliteMedia_) September 18, 2020
Kevin Stefanski teases about a more explosive offense in 2021.
With a schedule full of poor run-defending teams, that doesn't mean Nick Chubb's role is diminished.
But it might mean taking more chances downfield with one of the most accurate deep passers in the NFL.
And that spells opportunity for Odell Beckham, only partially affected by the addition of Anthony Schwartz.
Hooper, Hunt, and several others will get theirs, but OBJ will score more touchdowns than any of them.
2. Odell Beckham Jr. Is a 3-Way Threat in 2021
Jarvis Landry and Odell Beckham Jr. are long-time friends on and off the field.
And they enjoy a friendly rivalry of sorts during each season.
Beckham gave fans a highlight-reel touchdown run last season.
But Landry would be quick to remind him of his own touchdown scamper and throw in his touchdown pass.
LSU to LSU Jarvis Landry throws the touchdown to Odell Beckham Jr. #browns

— the Sports ON Tap (@thesportsontap) October 4, 2020
That pass was one of 4 completions Landry threw during 2020, compared to Beckham's lone connection.
But OBJ would be quick to remind Landry he has 2 career touchdown passes on his resume.
Stefanski runs the Browns' offense, but his receiving tandem can be quite persuasive.
And the head coach can put their friendly rivalry to good use in his game plan.
Expect Beckham to throw, run, and catch for a score by the end of the 2021 season.
3. Odell Beckham Jr is the 2021 Comeback Player of the Year 
Kevin Stefanski and Baker Mayfield each came to the defense of Odell Beckham this offseason.
The popular notion of a "bad connection" between Mayfield and his wide receiver is quickly shrugged off.
It is difficult to gauge a player by the Freddie Kitchens disaster and the first 7 games of a new offense.
But even in that case, Beckham matches up well to Jarvis Landry's first 2 seasons with Mayfield.
Beckham is a player that can put up 1,000 receiving yards in a "bad" season, as he did in 2019.
Odell Beckham Jr. with his third touchdown today. Aldon Smith barely missed him. pic.twitter.com/0GxMoVhPoh

— Mark Bergin (@mdbergin) October 4, 2020
In a season he supposedly hurt the offense, he was on a 9-touchdown scoring pace last year.
Kevin Stefanski knows what Beckham can do and has a plan to fit him into his offense.
And Beckham has shown what a weapon he can be and how much fun he can bring to an offense.
Cleveland fans are in for a treat as they witness Beckham's Comeback Player of the Year campaign.
And that is before Odell Beckham Jr. plays a prominent role in the 2021 Browns' playoff run.