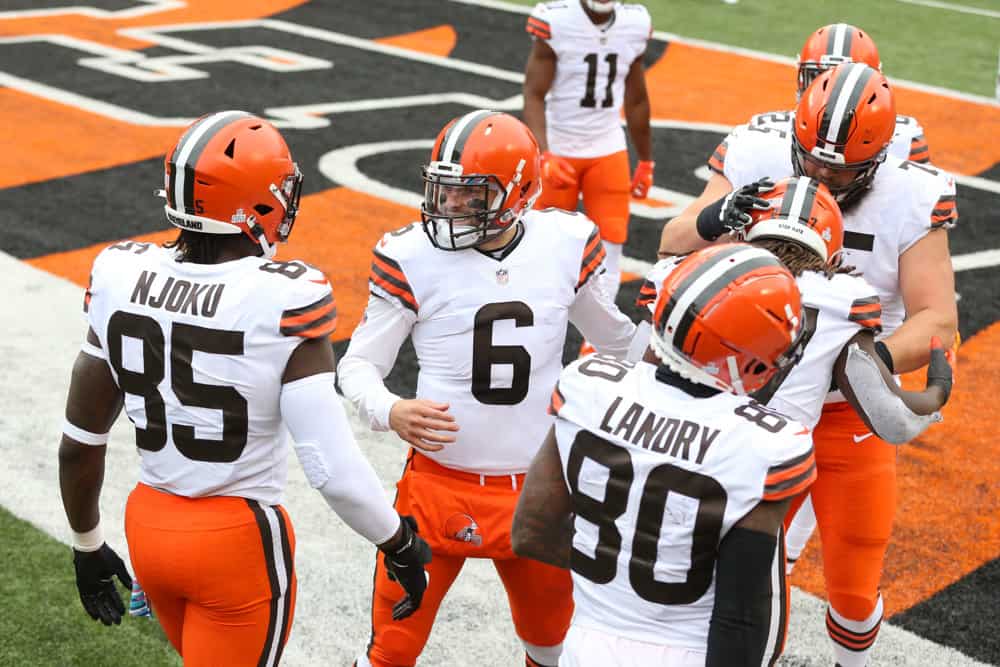 The Cleveland Browns have quickly gone from a laughingstock to Super Bowl contenders.
General manager Andrew Berry has done an incredible job over the last few offseasons.
In 2020, the Browns finished 11-5 and also won a playoff game over their division rival.
We witnessed a borderline Pro Bowl season by quarterback Baker Mayfield.
However, the 2021 season is sure to bring a handful of new surprises.
3. Jadeveon Clowney Makes The Pro Bowl
Finally, the Browns were able to come to terms on a contract with edge rusher Jadeveon Clowney.
The two sides have been discussing a potential contract for roughly two years.
Cleveland has been desperately looking for another pass rusher to play alongside Myles Garrett.
They've hopefully finally found their answer this offseason with the addition of a three-time Pro Bowl player.
Clowney has put together back-to-back disappointing seasons, but there is no doubting his ability.
Jadeveon Clowney had one of the most dominant one sack games you'll ever see. Finished with 5 tackles, 5 QB hits, 1 forced fumble and 1 fumble recovery for a touchdown #Seahawks pic.twitter.com/kB0liI2CkN

— Riley Michel (@rileymichel) November 12, 2019
Clowney is a former No. 1 overall pick that had tremendous upside coming into the league.
He put together back-to-back seasons with nine sacks or more.
Sadly, injuries took a toll on him and have hindered his success in the league.
The move to Cleveland should be a benefit to both Clowney and the Browns.
Often times, Garrett is doubled by opposing offensive lines, which opens up opportunities for other players to make an impact.
The Browns haven't been able to take advantage of Garrett's presence, but Clowney is their best chance yet.
No one should be doubting Clowney's ability, but he has struggled to stay healthy and find the right system for himself.
Assuming he's healthy, Clowney could put up monster numbers, while taking advantage of Garrett's double teams.
2. OBJ Gets Over 1,200 Yards
It has certainly been a couple of frustrating years for Odell Beckham Jr. in a Browns uniform.
His first season in Cleveland was fairly average, but things got worse in 2020.
Last year, Beckham finished with 23 receptions, 319 yards, and three touchdowns in seven games.
He suffered a season-ending ACL tear during the Week 7 victory over the Cincinnati Bengals.
Odell Beckham Jr. says he suffered a torn ACL against the Bengals and is out for the season, per @JosinaAnderson pic.twitter.com/RE9q9RnkVu

— Bleacher Report (@BleacherReport) October 26, 2020
The Browns offense oddly got in a groove once OBJ went down last season.
However, there is no denying that Beckham is one of the best receivers in the game right now.
He entered the league with three straight superstar campaigns, which also led to three Pro Bowl appearances.
Since then, Beckham has struggled to put up similar numbers, but has been dealing with nagging injuries.
Beckham even admitted that he hasn't been fully healthy since his foot injury in 2017.
He has been given time to rest and recover, so he should be 100 percent next season.
The Browns have one of the best offensive lines in the league and Mayfield has become a reliable option at quarterback.
A fully healthy OBJ should be able to produce 1,200-1,300 receiving yards with this Browns roster.
1. Mayfield Joins The MVP Conversation
One of the biggest success stories from last season was the bounce back year by Mayfield.
He had a sophomore slump in 2019, but proved all the doubters wrong last season.
Mayfield finished with over 3,500 passing yards with 26 touchdowns and eight interceptions in 16 games.
He put together arguably a Pro Bowl caliber campaign with the Browns last season.
The Browns do have a stacked offense, but Mayfield is also a big reason why they continue to succeed.
His numbers in the red zone were unreal last season and he was without one of his biggest playmakers in OBJ.
Baker Mayfield's red-zone stats:
🔸 18-25
🔸 13 TDs
🔸 0 INTs pic.twitter.com/5t6gYrQpkK

— PFF (@PFF) October 27, 2020
Most of the additions this offseason have been on the defensive side of the ball.
However, the Browns don't need to add much on offense.
They already have Jarvis Landry, Austin Hooper, Nick Chubb, and OBJ returning in 2021.
Mayfield will be protected by one of the best offensive lines in the league.
It appears head coach Kevin Stefanski has found the right scheme to get the most out of Mayfield.
Assuming Mayfield continues to improve, he could very well put himself in the MVP conversation next season.