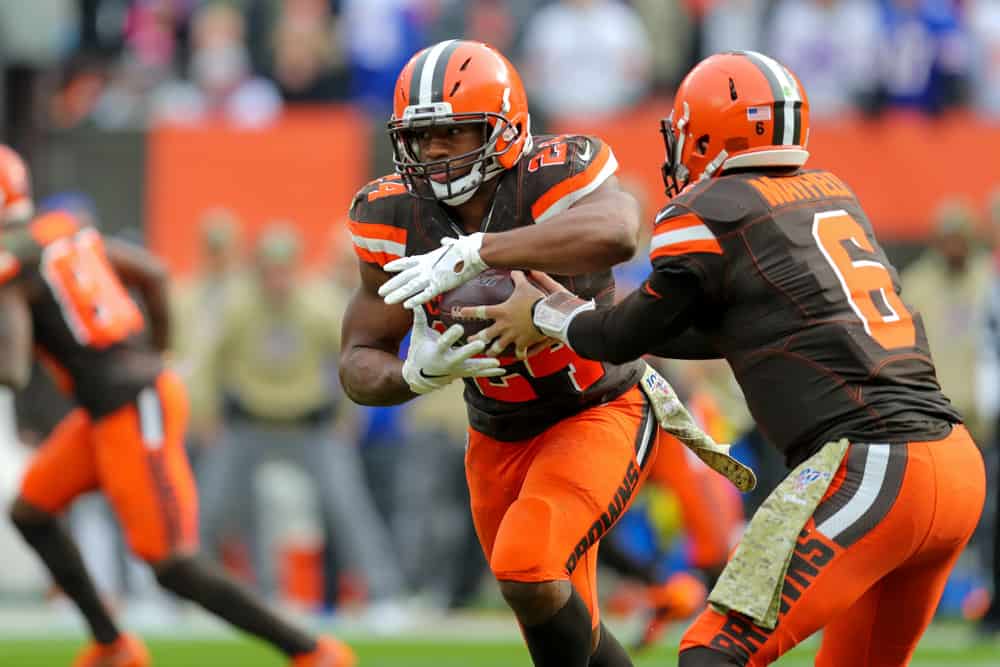 Believe it or not, the Washington Football Team has a middle of the pack defense in the league.
The team ranks 18th in passing yards allowed and 12th in rushing yards allowed per game.
One would not expect that from a team that has very few big names on the roster.
However, at 1-1, this is a big game for both parties in the early parts of the season.
Here are three bold predictions for Sunday.
No. 1: Nick Chubb Rushes For Over 100 yards
For the Cleveland Browns, the team went back to running the football against the Cincinnati Bengals on Thursday.
Hopefully, the Browns will continue that strategy when the team plays Washington.
With that said, it's going to be no easy task.
In two games, the Washington Football Team has not allowed a 100-yard rusher.
My bold prediction is that changes on Sunday.
Nick Chubb will go off for over 100 yards.
Browns get their first win with a big night from Nick Chubb:

22 Carries
124 Yds
2 TDs pic.twitter.com/E2JJhg2wvf

— SportsCenter (@SportsCenter) September 18, 2020

Last week, Kenyan Drake rushed for 86 yards, while Kyler Murray added 67 yards and two rushing touchdowns.
Look for Chubb to decimate this team's rushing defense, while Hunt contributes at a Murray-like level.

No. 2: Browns Defense Gets Sack Happy
As for the Browns defense, it's going to get wild.
The Cardinals finished with four sacks last week in their win over Washington.
Look for the Browns to go off for at least six sacks.
Through two games, Adrian Clayborn ranks tied for third in the league with 2.0 sacks.
Could Clayborn continue this hot start?
Adrian Clayborn just forcing his way in for the sack 👀 @AJaClay @Browns pic.twitter.com/8F1NkRJ5aw

— The Checkdown (@thecheckdown) September 18, 2020
Myles Garrett finished with a sack and a forced fumble against the Bengals.
For one of the weaker offensive lines in the league, this could be a huge day for Garrett on the defensive front.

No. 3: Baker Mayfield Doesn't Get Sacked Once
You want bold?
How about this prediction?
Baker Mayfield will not get sacked one time when the Browns play against Washington.
The Washington football team leads the league with 5.5 sacks as a team.
That includes Chase Young (2.5) and Ryan Kerrigan (2.0) leading the way.
The 2020 No. 2 overall pick (Young) has looked like an absolute monster on defense this season.
CHASE YOUNG WITH HIS FIRST CAREER SACK AND THE STRIP! 💪😈 pic.twitter.com/0yiwlO9z0A

— Barstool OSU (@BarstoolOSU) September 13, 2020
However, the Browns will be ready with a solid game plan.
Against the Bengals, Mayfield was not sacked once.
He finished the game 16 of 23 (nearly a 70% completion rate) for 219 yards.
Jack Conklin is expected to return from injury this week, which is an added bonus as well.
If the team runs the ball early and often and keeps Mayfield within the 25-30 pass attempt range, Mayfield could go without getting sacked in consecutive games.
Baker Mayfield with a 43 Yard TD pass to OBJ 🔥 #nfl #Browns #Bengals pic.twitter.com/ebku6TxU49

— Cross Town Rivals: The Podcast (@CTR_ThePodcast) September 18, 2020