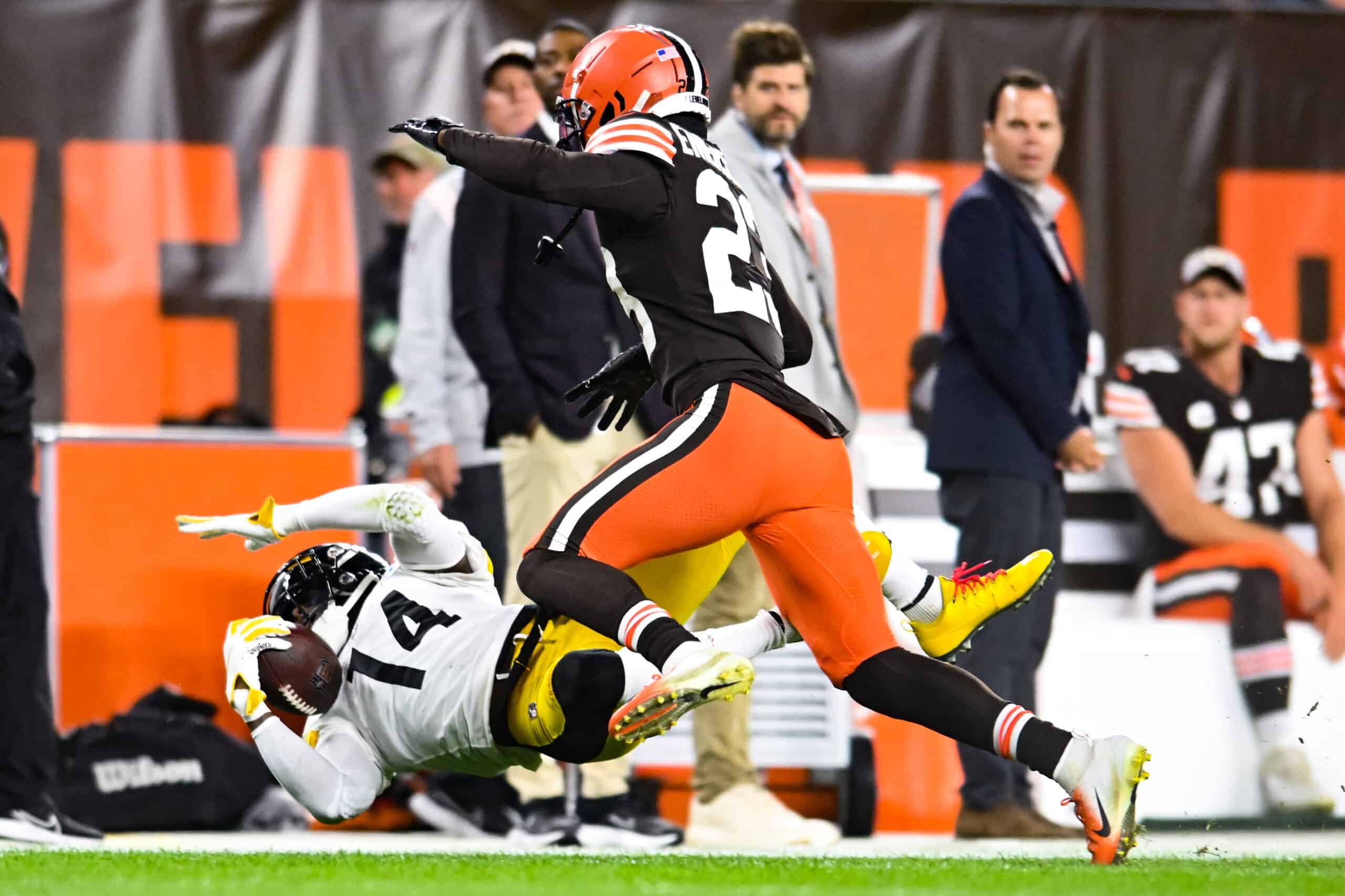 This past Cleveland Browns season certainly didn't meet expectations from their fans.
Finishing below .500 and missing out on the playoffs for a second straight season was never on the agenda.
However, there are still a few individuals who went above what their initial role may have asked.
Here are a couple of guys who proved themselves and went above expectations in 2022.
Jacoby Brissett
No one thought Jacoby Brissett would come into Cleveland and carry them into a playoff spot until Deshaun Watson returned.
Brissett's job was to simply keep this team afloat and in the hunt until the $230-million man took over.
That didn't exactly happen with the Browns going 4-7 with Brissett as the starter.
But the issues stemmed from elsewhere outside the quarterback position.
Looking at the final Quarterback Rating numbers, seen here per Jake Trotter of ESPN, Jacoby finished 8th in the league with a 60.0 rating.
Final QBR rankings:
1. Mahomes (77.9)
2. Allen (71.2)
4. Hurts (66.4)
5. Goff (61.2)
7. D. Jones (60.4)
8. Jacoby Brissett (60.0)
10. Burrow (58.7)
19. Kyler (51.8)
20. Pickett (51.4)
25. M. Ryan (43.4)
27. Deshaun Watson (37.3)
28. R. Wilson (36.8)
31. Baker (24.7)

— Jake Trotter (@Jake_Trotter) January 9, 2023
Brissett finished the season with 2608 passing yards with a 64% completion rate with 12 touchdowns and 6 interceptions.
Those numbers are more than you could ask for out of most backups. He certainly had his share of mistakes including some costly interceptions.
Overall, though, as a leader both on and off the field, Brissett more than delivered this year.
Brissett said earlier this month that if this is it for him in Cleveland, he hopes he served as a good teammate.
D'Ernest Johnson gave him that affirmation, as seen here in this Twitter clip.
I asked #Browns QB Jacoby Brissett what he hopes to leave with the team if this is the end of his time in Cleveland.

He said he hopes he was a good teammate.

After his answer, D'Ernest Johnson yelled over to tell him "You're a great teammate bro." pic.twitter.com/5NfCvkidke

— Camryn Justice (@camijustice) January 6, 2023
Whether he stays or goes, Brissett is sure to hold a special place in the hearts of plenty of Browns fans for what he did this season.
Ethan Pocic
Disaster struck the Browns early this year when starting center Nick Harris went down with a season-ending knee injury in August.
Enter Ethan Pocic, who slid into Harris' starting role for the majority of the season.
While he did miss a few weeks himself with an injury, Pocic finished the year as Cleveland's fifth-highest rated player according to Pro Football Focus.
Highest graded Browns offensive players in 2022 (min. 400 snaps):

🥇 Nick Chubb – 90.3
🥈 Joel Bitonio – 87.6
🥉 Jacoby Brissett – 82.6
4⃣ Amari Cooper – 81.2
5⃣ Ethan Pocic – 79.2 pic.twitter.com/ywhapxpHXL

— PFF CLE Browns (@PFF_Browns) January 10, 2023
Not too many expect a backup center to be one of the team's better offensive players.
Yet, Pocic did that this season.
While Cleveland's offensive line did underwhelm, especially in the second half of the season, it's hard to fault Pocic too much for that.
He rose to the occasion and became one of the Browns' more consistent guys up front in 2022.
Martin Emerson
In his rookie season, Martin Emerson quickly climbed the ranks of Cleveland's secondary.
Pro Football Focus rated his season better than that of Denzel Ward and Greg Newsome.
Out of rookie corners, Emerson allowed the third-lowest completion percentage when challenged through the air.
#Browns rookie CB Martin Emerson Jr's rookie year in review:

• 50 tackles
• 1 sack
• 45 receptions allowed on 82 targets
• 13 passes defended
• 74.9 coverage grade

Great rookie campaign for a player I'm very excited to see continue to develop.

(Stats per PFF) pic.twitter.com/YpXdycgxlt

— MoreForYouCleveland (@MoreForYou_CLE) January 9, 2023
Lowest completion % allowed when targeted among NFL rookie CBs this season:

1. Alontae Taylor, Saints (48.5%)
2. Tre Avery, Titans (48.8%)
3. Martin Emerson, Browns (50.5%)
4. Tariq Woolen, Seahawks (51.5%)
5. Trent McDuffie, Chiefs (52.9%)
6. Sauce Gardner, Jets (53.5%) pic.twitter.com/a3MyQVqJwU

— Bobby Football (@Rob__Paul) January 12, 2023
On a defense that struggled mightily, Emerson serves as a bright spot toward the future.
Pro Football Journal put Emerson on their All-Rookie Second-Team, so folks around the league are taking notice of the Mississippi State product.
If Emerson can become more consistent against the league's better receivers, he could be a force in Cleveland's secondary for a long time to come.
For now, fans will take with how well he figured things out in his rookie season.