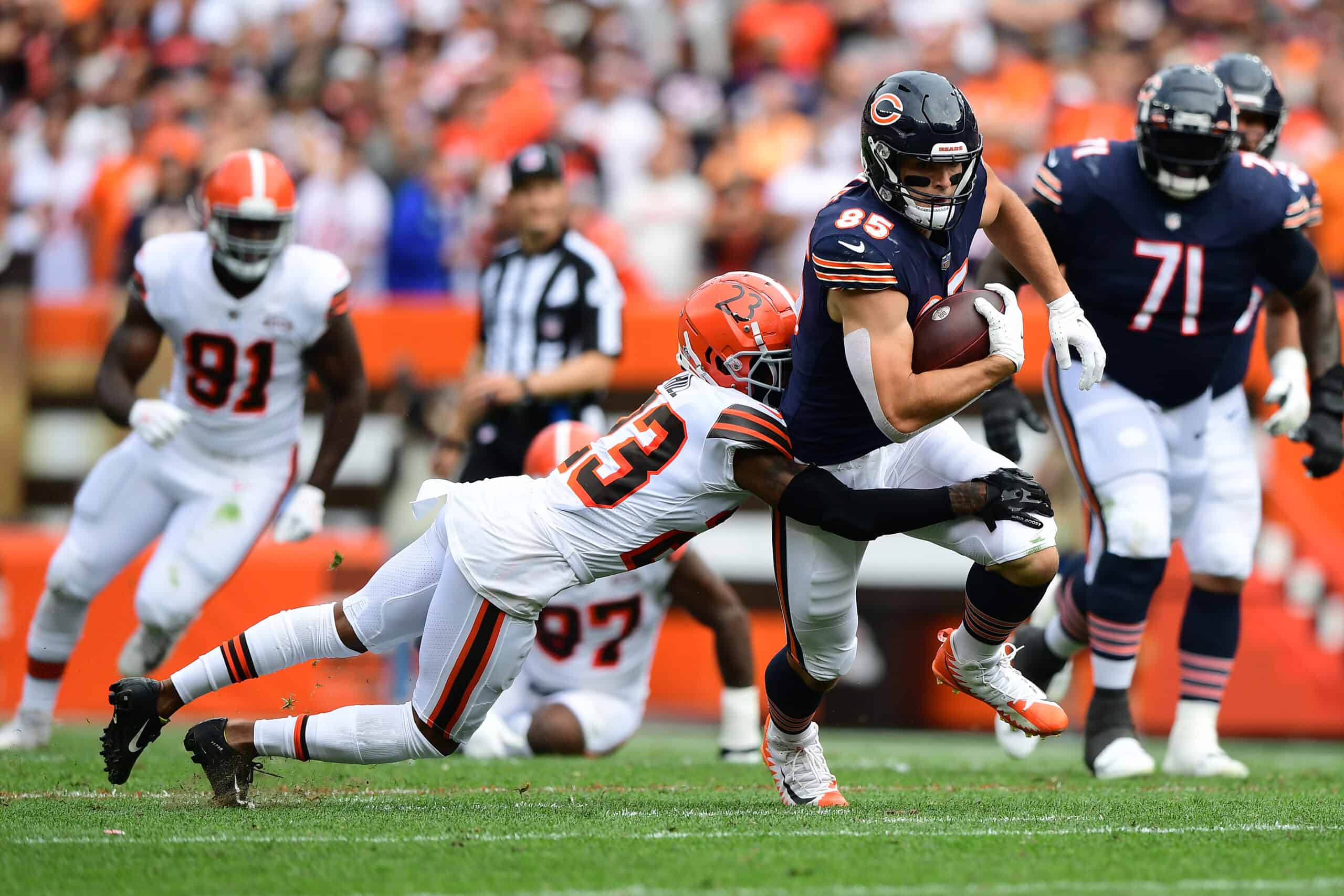 We spent a great deal of time hyping up every Cleveland Browns draft pick and free-agent acquisition.
We predicted great things for the players coming back from injury.
And we topped it off by proclaiming the Browns preseason favorites for a Super Bowl run.
So, how can we find 3 players who exceeded expectations this early in the season?
.@TheRealTRizzo "If we (@Browns) don't go to the Super Bowl this year, I will be disappointed."

— ESPN Cleveland (@ESPNCleveland) August 19, 2021
Well, we did, even if some pundits and analysts will tell us they told us so.
Not all of these players have outstanding statistics or league-leading efforts.
But they come to play every week and manage to do things as well as can be expected.
In fact, here are 3 players who exceeded expectations through 3 games.
1. Jeremiah Owusu-Koramoah 
If Jeremiah Owusu-Koramoah continues to play as he has, Cleveland's MVP might be the guy who started the pre-draft rumor of health issues.
We knew Owusu-Koramoah was fast and a strong tackler with a reputation as a strong coverage linebacker.
But there is always a question of whether rookies can match the speed of NFL competition.
JOK already has 3 passes-defended, including one where he jammed his foot into the turf and cut back to knock a pass away.
Jeremiah Owusu-Koramoah (90.1) is the highest-graded LB in the NFL (60 snap min)@NDFootball pic.twitter.com/vQuX8vqJYz

— PFF College (@PFF_College) September 28, 2021
He is adept at separating the receiver from the ball after the catch if he can't get in front of it.
Owusu-Koramoah's field vision and instincts might be his strongest quality.
Besides his defensive prowess, Owusu-Koramoah is doing a fine job on kick and punt coverage teams.
JOK has a burst that stops plays in their tracks and makes him an early favorite for Defensive Rookie of the Year.
3. Demetric Felton 
Demetric Felton is another multi-talented rookie.
The diminutive 6th-round draft pick can line up all over the field as a receiver or runner.
And his return game has fans salivating for a Browns kick or punt return touchdown.
Felton is not the fastest player on the field, but he might be the quickest and most elusive.
Demetric Felton spin move shook three defenders 😨

(via @NFL)pic.twitter.com/zH0SMt5ayL

— Bleacher Report (@BleacherReport) September 19, 2021
He uses a variety of juke moves, spins, and jumps to elude tacklers and change directions.
His diminutive size doesn't allow for many broken tackles.
But when defenders can't get their hands on the player, that is not as much of a liability as it might be.
With excellent route running and sure hands, Felton has already proven himself a big-play threat.
3. Malik McDowell 
When Malik McDowell made the final roster, it was a huge accomplishment for the first-year player.
But when he started in Week 2 ahead of Andrew Billings and Jordan Elliott, it was stunning.
McDowell had a big tackle for a loss in the season opener, still his most visible moment of the season.
We saw in preseason how McDowell manhandled offensive linemen, and he has an 8-percent pass rush win rate.
#Browns defensive line grades and numbers:

Myles Garrett: 83.5 (5.5 sacks)

Jadeveon Clowney: 67.9 (2 sacks)

Malik Jackson: 53.9 (1 sack)

Malik McDowell: 74.0 (0 sacks)

Takk McKinley: 67.2 (1 sack)

— Mike (@big_mike9169) September 28, 2021
In Week 3, we saw McDowell maintain control of his blocker but not push him into the backfield.
That put him in a position to cast the blocker aside and prevent the quarterback from escaping peripheral pressure.
Broadcasters caught the sideline moment afterward with his edge rushers glad-handing McDowell.
And that is why PFF still ranks him among the best players on the Browns' defense.