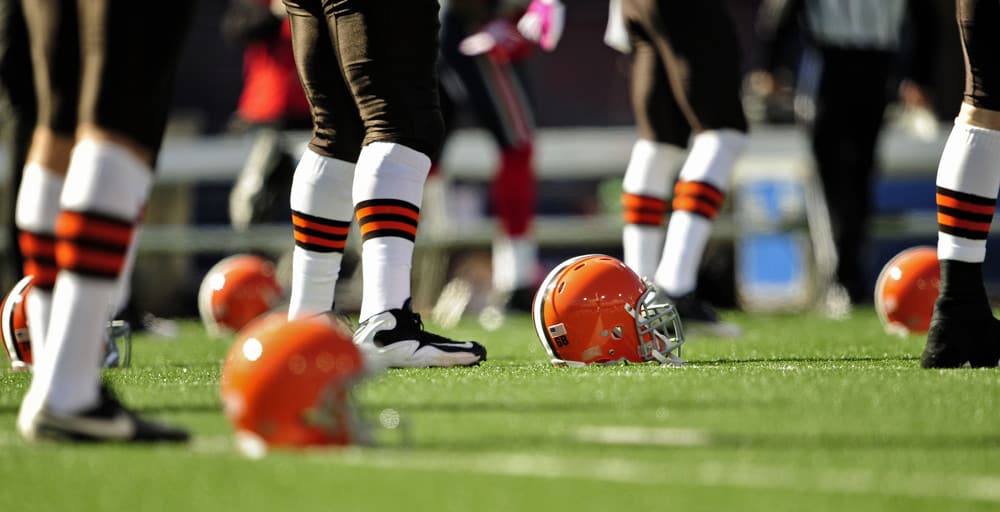 There are some new faces on the Cleveland Browns heading into 2021.
Andrew Berry and the front office kept themselves busy this weekend and made a killing at the NFL Draft.
The latter is becoming a common theme in northeast Ohio.
The Cleveland #Browns are the only team with an A+ NFL Draft grade in both 2020 & 2021 pic.twitter.com/RtG3G7Wg1n

— PFF Draft (@PFF_College) May 4, 2021
As new faces enter, however, old faces exit.
"Out with the old and in with the new", as the saying goes.
After this season comes to an end, regardless of how it ends, the roster will face more turnover heading into the fall of 2022.
That's commonplace with just about every team in the NFL on a season-by-season basis and shouldn't be a panic-inducing thing.
Let's dive into some of the guys who might be heading into their final season with the brown and orange.

1. David Njoku, Tight End
David Njoku's career in Cleveland thus far has been anything but normal.
Since being taken in the first round of the 2017 draft, Njoku has struggled to stay on the field consistently.
Injuries have played a role in that, as have rumors of him demanding to leave Cleveland in October of 2020.
Yet, he finds a way to stick around and produce despite inconsistent play.
He was one of the team's best offensive weapons in the playoff loss to Kansas City.
The highest-graded #Browns on offense and defense vs. #CHIEFSKINGDOM (min. 25 snaps):

David Njoku – 87.2
Karl Joseph – 78.0 pic.twitter.com/X85KCG7yer

— PFF CLE Browns (@PFF_Browns) January 18, 2021
Austin Hooper sits on top of the depth chart right now for tight ends.
With Hooper's contract good until 2024, Cleveland will have a decision to make with Njoku.
He's not a bad tight end, and certain social media threads would have some think otherwise.
Again, some injuries and miscommunications have been a thorn in his side since the start.
With other stars on the team needing paid soon, Cleveland may want to let Njoku look for a big pay day and fresh start elsewhere after this year.

2. Rashard Higgins, Wide Receiver
This is one fans don't want to see and were lucky enough to avoid this past offseason.
However, after 2021, it's likely Rashard Higgins continues his professional career elsewhere.
He prioritized playing in Cleveland over more money this season, a gesture every fan in northeast Ohio can appreciate.
"We just made a historic run, something that hasn't been done in 20 years", said Higgins on a Zoom call in March. "It's just like going to another team, how does that really benefit me"?
Well, here's how. He mentions in that Zoom call that another million or two million dollars isn't a difference maker for him.
While that may be true, he'd probably have to leave even more on the table after this season if he repeated his actions.
Money was tight this winter, hence a low-key one-year, $2.3 million deal.
Pocketbooks will open a bit next time around with fans back and new TV deals for the league.
If Higgins is a highly productive player this year, he may end up pricing himself out of Cleveland after 2021.

3. Jadeveon Clowney, Defensive End
This free agent period was a dream for Browns fans, and Jadeveon Clowney is a big reason for that.
He's been one of the league's more prominent defensive ends since being drafted first overall in 2014 but has seen his production fall off the past two seasons.
With the Browns having ample cap room to work with, they snagged Clowney on a one-year deal worth $8 million.
The question was whether that would turn into a second, longer deal with Cleveland or not.
Time will tell if this is a rental for Cleveland or not.
While his best days may be behind him, Clowney still has some playmaking ability left.
cLoWnEy oNlY hAd 3 sAcKs #Raiders pic.twitter.com/ntop4nRzIY

— 𝐑𝐲𝐚𝐧☠️𝐇𝐮𝐫𝐬𝐭 (@Raider_Ryan1) July 8, 2020
Plus, with Myles Garrett rushing with him this year, Clowney may have a career resurgence of sorts.
Clowney, on playing with Myles Garrett: "I'm looking forward to playing with somebody dominant on the opposite side. … Maybe I can go 1-on-1 more." pic.twitter.com/ewkvrRVhAL

— Jake Trotter (@Jake_Trotter) April 14, 2021
As mentioned with Higgins, this could be a situation where he plays well enough to earn a massive deal elsewhere.
Cleveland still has financial flexibility and could bring him back even if he has a great season.
I don't know if I would pull the trigger on a $100 jersey though.