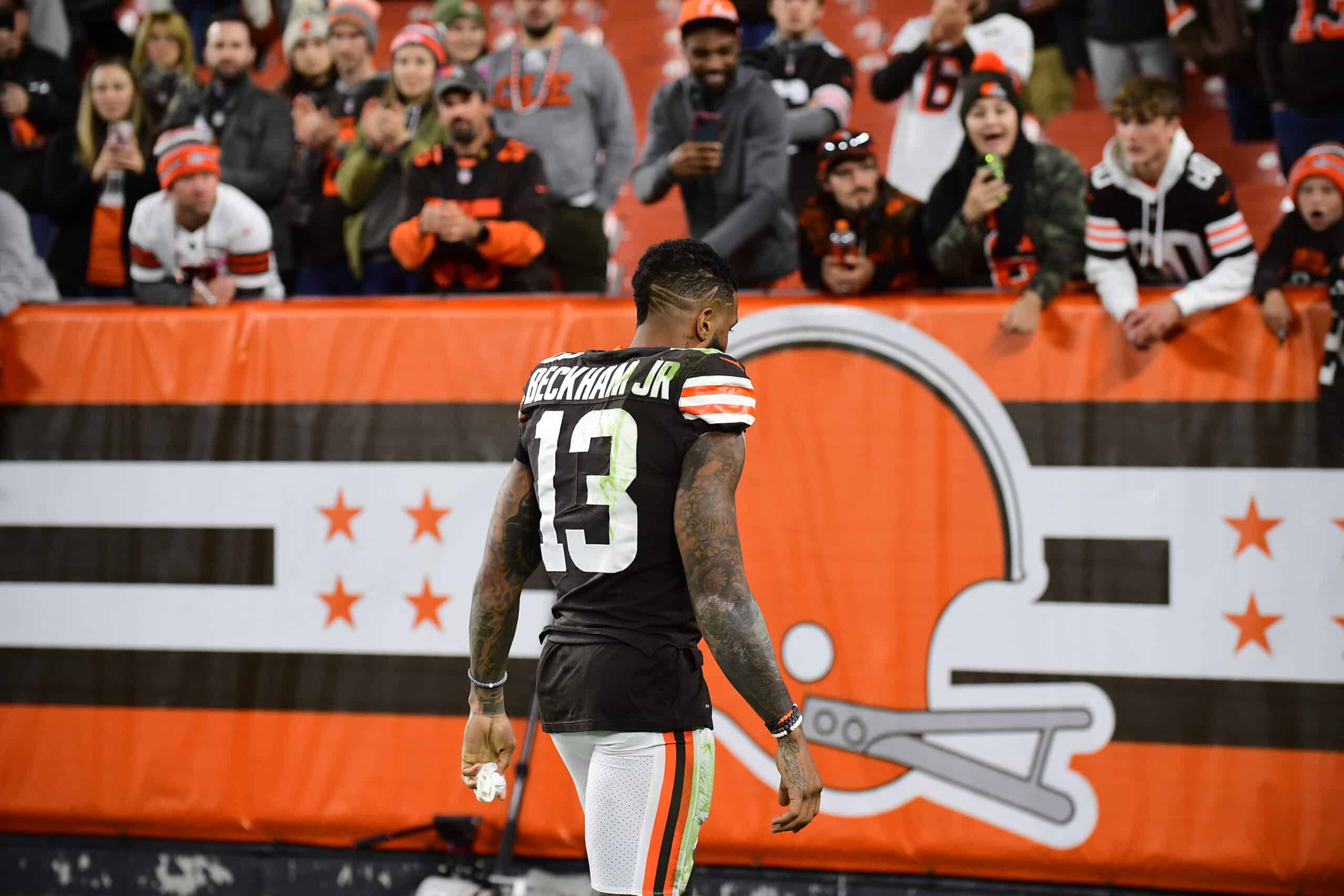 This was a frustrating week to be a Cleveland Browns fan.
The injuries continue to pile up, while the team underperforms on the field.
Things didn't get better for the Browns during their Week 6 matchup with the Arizona Cardinals.
The undefeated Cardinals were able to handle the Browns with ease.
Despite that, there were a few players who stood out for the Browns on Sunday.
1. Donovan Peoples-Jones
We'll kick it off with the most obvious among all the Browns players.
Second-year receiver Donovan Peoples-Jones put on a show during the loss to the Cardinals.
He was solid versus the Los Angeles Chargers and certainly carried over his momentum into this game.
The speedy receiver hauled in four receptions for 101 yards and two touchdowns in the loss.
Cass Tech grad Donovan Peoples-Jones had 4 catches for 101 yards and 2 TD's today for the Cleveland Browns.

Here's a 57-yard TD catch he had on a Hail Mary. pic.twitter.com/MQMvocCTKV

— The D Zone (@TheD_Zone) October 18, 2021
It has been a difficult time for the Browns offense without Jarvis Landry available.
However, it has given Peoples-Jones a chance to show what he can do.
Hopefully, he is able to continue playing like he has over the last two games.
The Browns would love for DPJ to become an every week contributor on offense.
We won't get carried away after two solid games, but he is giving the Browns something to think about heading into next week.
2. Anthony Walker
There wasn't much defense played by the Browns in this game.
However, linebacker Anthony Walker Jr. did his part in what ended up being a lopsided game.
The fifth-year linebacker finished tied for the team-high with six tackles in Sunday's loss.
This was only his third game of the season, but Walker showed what he is capable of doing when healthy.
He recorded 15 tackles through his first two games and added another six to his total.
That shouldn't surprise many considering he was a solid tackler during his time with the Indianapolis Colts.
Walker posted nearly three straight seasons of 100-plus tackles while playing in Indy.
The Browns are going to need Walker to continue playing like this going forward.
They need somebody they can count on to make consistent tackles.
As already mentioned, it was a brutal game for the Browns defense in this one.
They allowed 37 points, but at least there's somewhat of a bright side with the performance of Walker.
Hopefully, the Browns will iron out some of the issues on defense before Week 7.
3. Odell Beckham Jr. 
The injury to Landry has taken a toll on this offensive unit over the last few weeks.
Luckily, the Browns still have three-time Pro Bowl wideout Odell Beckham Jr.
The stud receiver missed the first two games of the season, but has been helpful since then.
He is not posting superstar numbers, but at least he's able to help the Browns' offense.
In Week 6, OBJ hauled in a team-high five receptions for 79 yards.
The duo of Peoples-Jones and OBJ has been performing well over the last two games.
Name a more iconic dancing duo. We'll wait.@obj | @dpeoplesjones | @Browns

📺: #AZvsCLE on FOX
📱: NFL app pic.twitter.com/cb3Q8zmSma

— NFL (@NFL) October 17, 2021
Sadly for Cleveland, the defense has been unable to stop any offensive unit lately.
Despite that, OBJ does deserve credit for putting together a decent performance on Sunday.
He was one of the few offensive players that showed up for this team against the Cardinals.