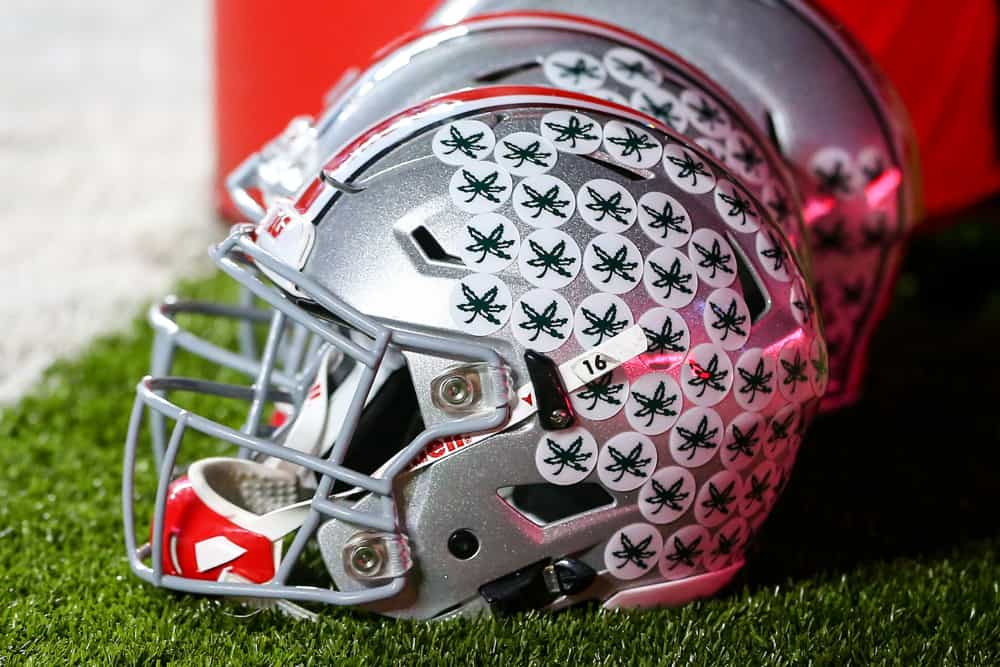 Ohio loves their Ohio State football.
Most folks seem to have a love/hate relationship with Buckeye football.
One side can't get enough scarlet and grey while the other side waits for the first one to shut up.
This kind of emotional involvement tends to skew how Ohioans view Buckeyes in the NFL Draft, either for better or worse.
Each year, however, there seems to be at least a few Columbus products that could be of interest to the Cleveland Browns.
Cleveland is not immune to drafting Buckeyes, either, as Brian Robiske did play professionally in northeast Ohio once upon a time.
So, who are the Buckeyes Andrew Berry could have his eye on in 2021?

1. Luke Farrell, Tight End
After his performance in the College Football Playoff semifinal against Clemson, Luke Farrell's stock likely jumped a bit from where it was before the postseason.
It doesn't matter how tightly Luke Farrell was covered on this play. pic.twitter.com/g0LSWSLkOG

— Bucknuts (@Bucknuts247) January 2, 2021
His tight end colleague at Ohio State, Jeremy Ruckert, has long been viewed as the superior of the two.
Still, Farrell's ability should not be overlooked.
He proved his ability to make tough catches in traffic and can also get nasty with his run-blocking.
A little bit of Luke Farrell in action. pic.twitter.com/PAwkUeoYrh

— Colin Hass-Hill (@chasshill) August 6, 2019
Austin Hooper is the clear top-dog in the Browns tight end room.
David Njoku is also set to make $6 million next season after the Browns picked up his fifth-year option.
It's doubtful Njoku is here past next season, however. Farrell may be worth taking a flier on as a project if he's available late.

2. Baron Browning, Linebacker
Going into last season, the Browns linebackers unit was viewed as the weakest on the defense.
I don't think they changed anyone's mind by the end of the year.
That group needs addressed before the fall arrives, and Baron Browning might be able to help.
Then Baron Browning got in on the party pic.twitter.com/YQLjT5ykvr

— Bill Landis (@BillLandis25) January 30, 2021
Baron Browning has been having his way in 1v1 all week. pic.twitter.com/l2wJ3Oa13I

— Erik Hindenburg (@HindenburgScout) January 28, 2021
Browns linebackers finished with just 2.5 total sacks last season.
In Browning's last full season in 2019, he logged five total sacks.
He tallied just one in seven games last season, so perhaps there is reason for concern there.
If that pass-rushing ability can translate to the NFL, Browning could be of serious use for the Browns defense.
The usual conversation with Ohio State linebackers surrounded Pete Warner and Tuf Borland, but Browning is plenty talented in his own right.
Despite a rough effort from the Buckeye defense against Alabama in the National Championship, Browning managed to be productive in plays he was involved in.
Baron Browning forces a fumble to set up Ohio State's game-tying score#OSUvsALA #CFBPlayoff 

— Jack O'Brien (@JackOBrienNFL) January 12, 2021
With as rough as it's looking in Cleveland's linebacker room, taking a chance on Browning might pay off for Andrew Berry.

3. Justin Hilliard
If Browning doesn't fit Berry's fancy, than perhaps Justin Hilliard will.
Perhaps I'm too pessimistic about Warner and Borland, but I just don't believe they project well to the NFL.
Hilliard is another linebacker that fell under the shadow of those two but should still be taken seriously in this year's draft.
This past weekend's Senior Bowl was another opportunity for Hilliard to showcase his ability, and he did not disappoint.
Justin Hilliard showing up early in the Senior Bowl pic.twitter.com/Sx8I0KKveO

— Bill Landis (@BillLandis25) January 30, 2021
Hilliard is a versatile linebacker who physically resembles what a modern NFL linebacker needs to look like in terms of strength and speed.
That's not a guarantee for success as Cleveland witnessed a regression this year out of Mack Wilson.
Justin could still be an interesting project for a Browns defense in desperate need of linebacker help.