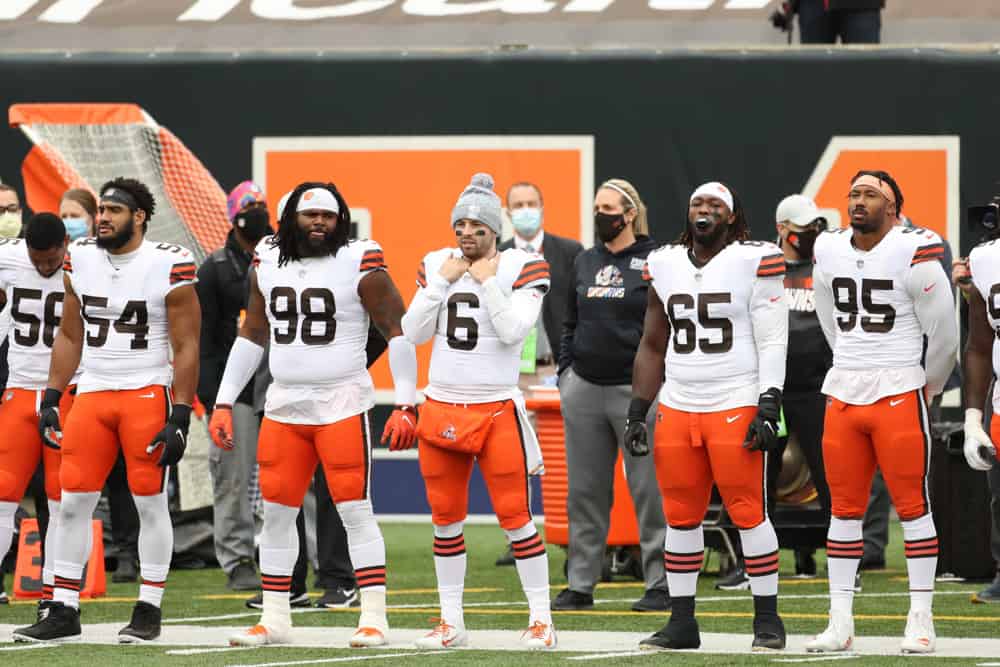 The Cleveland Browns enter this offseason excited.
That's different from the optimism (or pessimism) of years past.
The Browns have a solid foundation moving forward with head coach Kevin Stefanski and quarterback Baker Mayfield.
Now, it comes to being able to take that next step.
Cleveland wants to BEAT Kansas City, not just say "oh we played them well" after a loss.
Andrew Berry and the Browns front office will face the questions and decisions that will get their ballclub over the next hurdle.

1. The Contract of Baker Mayfield
A contract extension for Baker is a topic that has been discussed ad nauseam since the season ended.
That isn't a bad thing.
30 different quarterbacks have taken the opening snap for Cleveland since 1999, and Mayfield has ensured that number won't move to 31 anytime soon.
It didn't look that way early this past year, but his efforts over the second half of the season has his team confident in him.
Berry "very pleased" with QB Baker Mayfield. "He's grown before our eyes." Berry wouldn't get into any discussions about a contract extension for Mayfield, but made it clear team is excited about him and his future.

— Tom Withers (@twithersAP) January 15, 2021
December was especially remarkable for Mayfield as he threw for 1,259 yards (third most in the NFL in December), eight touchdowns and just one interception.
Quarterbacks should never be judged off one month of play alone.
However, Mayfield displayed signs of growth and maturity as the year went on and led the team to a road playoff victory.
The Browns would be crazy not to place him at the top of their offseason priority list.
Baker Mayfield this season:

12-6 record

349-557 (62.6%) – 4,030 yards – 30 TD – 9 INT #Browns

— Hayden Grove (@H_Grove) January 18, 2021
2. Who Can Play Opposite of Myles Garrett?
Myles Garrett's impact on the field took a bit of a dip following his complications with COVID-19.
That's no fault of his own, as we've seen the virus have major respiratory effects on even the most stellar of athletes.
#Browns thank you for a hell of a ride. Impressive how hard this team battled against the obstacles they faced. Huge s/o to @MylesLGarrett , dude was never 100% after his bout with Covid and battled and showed up every chance he got. That shouldn't go unnoticed #NEWBrowns

— Kevin Phipps (@CoachPhippsCUTF) January 17, 2021
COVID really affected Myles Garrett more than I thought it would. My man looks gassed after every play.

— tiddy hound (@HughGRection58) January 18, 2021
Post-COVID Myles Garrett is just not the same player.

The sample size is now there and it's undeniable.

— Mitchel Inkrott (@Mitchel_Inkrott) January 17, 2021
When at the top of his game, however, Garrett is a force to be reckoned with.
Even while dealing with coronavirus, Garrett tallied 12 total sacks, good for the sixth most in the NFL.
Cleveland tried the Olivier Vernon experiment this year which, surprisingly, really took a turn for the better over the second half of this past season.
The top-4 graded #Browns on defense in the 2020 regular season:

Myles Garrett – 87.7
Olivier Vernon – 74.2
Ronnie Harrison – 74.0
Denzel Ward – 72.9 pic.twitter.com/qSMKidFrdC

— PFF CLE Browns (@PFF_Browns) January 15, 2021
Unfortunately, an Achilles injury in the regular season finale against Pittsburgh could really impact his value as a free agent.
Regardless, the Browns may want to move on to a cheaper and younger option to put opposite of Myles.
That doesn't mean they should just fill that spot with whoever, it needs to be someone who can make an impact.
Drafting someone will never guarantee that success, but it may be Cleveland's best route here.
Names like Jaelan Philipps out of Miami and Rashad Weaver out of Pittsburgh come to mind.
Both break down well as prospects, were impactful in their collegiate days, and could make an immediate impact on the Browns defense.
#Miami Jaelen Phillips:
First play sets up the next
1st rush beats the RT w/ speed & bend on the outside, doesn't even get touched before the QB gets it off
2nd rush RT is only thinking about the outside rush. Phillips takes him to the inside w/ a swim and gets the sack pic.twitter.com/U8a59kMhxF

— Brandon Coyle / NFL Draft (@CoyleNfl) December 31, 2020
Rashad Weaver | EDGE | Pitt

+ Massive frame; 6'5" 270lbs
+ Powerful hands on the end of fantastic length
+ Consistently keeps his chest clean w/ hand usage & reach
+ More than adequate ankle flexion, esp at 270
+ High energy, high effort player
+ Good pass rush plan vs diff OTs pic.twitter.com/lvHo1tsgAw

— Matt Lane (@ChiefinCarolina) January 18, 2021
3. Will Rashard Higgins be Back?
Rashard Higgins has had an up and down career in Cleveland.
One week he seems to be Mayfield's favorite target, the next he's listed as inactive without any injury concerns.
It happened in 2019 with Freddie Kitchens and again in 2020 back in late-September and early-October.
His fumble at the endzone against Kansas City, resulting in a turnover and touchback for the Chiefs, will be remembered for a long time.
But, "Hollywood" proved his worth this year even though some of his numbers don't scream excellence right into your face.
#Browns Stefanski said they have a rule not to reach for the goal-line because of the touchback rule, "but Rashard Higgins is a warrior. I'm never going to doubt that kid's effort. He gives you everything he's got."

— Mary Kay Cabot (@MaryKayCabot) January 17, 2021
#Browns avg. yards per route run among 112 WRs with qualifying snaps in 2020:

Jarvis Landry – 2.11 (17th)
Rashard Higgins – 2.04 (23rd) pic.twitter.com/8Hz36otgRy

— PFF CLE Browns (@PFF_Browns) January 20, 2021
The Browns have cap space to work with if they want to bring Higgins back.
PFF has him as a top-20 receiver in the NFL, but Cleveland still can't afford to overpay him.
So much money is already tied up in Odell Beckham Jr. and Jarvis Landry.
Higgins will likely only be back if he agrees to a deal on the low end of the spectrum of contract offers he is expecting.