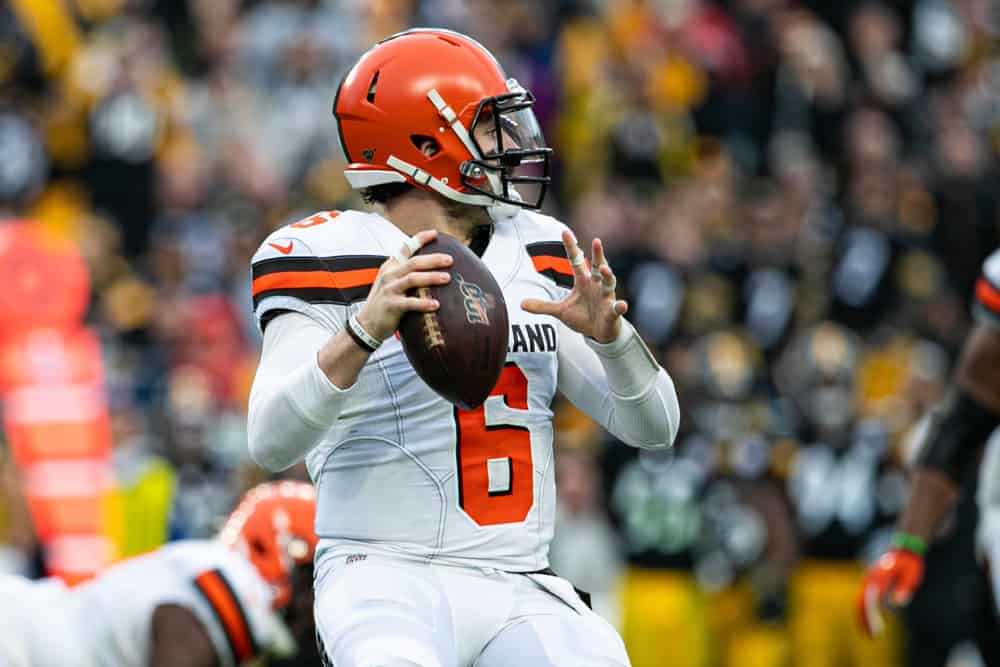 There is no doubt that the Cleveland Browns exceeded all expectations in the 2020 season.
Though they fell short in the divisional playoff game against the Kansas City Chiefs, there is plenty of optimism that the team is on an upward trajectory in 2021 and beyond.
At Brownsnation.com, we have selected who we believe is the 2020 MVP.
This person was instrumental in the team's winning ways in 2020 and will definitely be an integral part of the success in future seasons.
Without further ado, the 2020 Cleveland Browns MVP is quarterback Baker Mayfield.
.@bakermayfield's top plays from the 2020 season 🎯 pic.twitter.com/LaIYo58SQC

— Cleveland Browns (@Browns) January 21, 2021
Why Baker?
There are a host of reasons Baker is the choice.
1. He Stayed Healthy.
In 2020, that took on a renewed meaning.
Not only did he not fall to injury, but he also did not contract COVID-19 or need to miss game time for COVID-19 reasons.
The offensive line deserves credit for protecting him; he was sacked less.
Many times the offensive linemen were injured, and Baker needed to work with a lot of moving and changing parts.
Baker shared a classic 2020 example that happened during the wildcard win over the Steelers.
"We had Michael Dunn step in at left guard for Joel Bitonio. And then, Michael got hurt and a guy named Blake [Hance], that I introduced myself to literally in the locker room before the game, stepped up in the fourth quarter."
2. He Threw Accurately.
#Browns QB Baker Mayfield was the second highest graded quarterback of the divisional round behind Aaron Rodgers. pic.twitter.com/FcLSRuCead

— Browns Dispatch (@brownsdispatch) January 18, 2021
Through the entire season and postseason run, Mayfield threw 30 touchdown passes and only 9 interceptions.
He played five consecutive games (November 1 – December 6) without throwing a single interception.
After throwing one against the Ravens on December 14, he went another four consecutive games without throwing another interception.
This means he made better decisions; some of that could be attributed to his work with offensive coordinator Alex Van Pelt who has a track record of helping quarterbacks (Aaron Rodgers is another example).
3. He Showed Maturity.
That maturity was evident during the preseason Zoom sessions.
Gone was the brash Baker who made a splash.
He was replaced with a quieter Baker who very early on said that he wanted his preparation and play to do the talking for him.
Baker was the charismatic leader of the team, but it was clear from the start he was handling things differently in his third season.
"I would say it is within our locker room, getting around the guys and realizing that I have to do much more than just let my play on the field to be the quarterback for this team. I have to put my arm around these guys, lead them and show them the way, and especially during these uncertain times … I'm very passionate about it."
Certainly, some of the credit for the mindset goes to the newly minted NFL Coach of the Year, Kevin Stefanski.
Given that Mayfield had four coaches in his three seasons, he had a lot to absorb, but it's clear that Stefanski's way got through to Mayfield and created positive results.
Look out 2021 when Mayfield doesn't have to learn a new scheme and hopefully can go through post-pandemic (and more typical) preseason preparation.