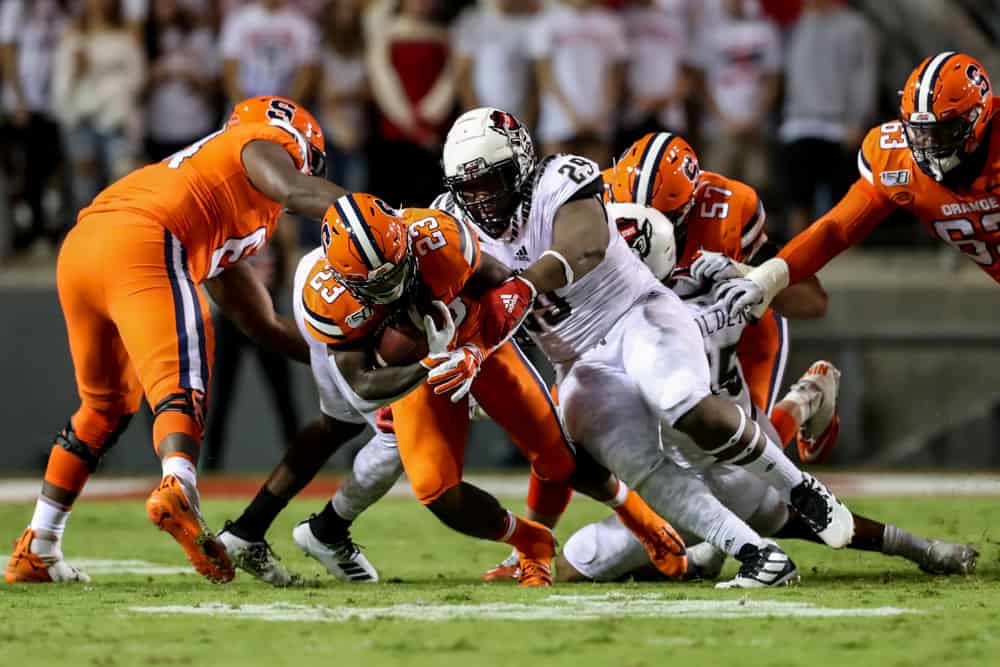 As we head into the second day of the 2021 NFL Draft, the Browns will be looking for impressive draft-day steals.
Just one day after Andrew Berry celebrated the birth of his child, Cleveland will be drafting in the second and third rounds.
Here are three players that should be on Berry's draft board:
1. Jamar Johnson, Safety
The Indiana junior entered the draft after a career year.
After two years as a backup, Johnson elevated to being the Hoosiers' best prospect in 2021 draft.
In Johnson's final two collegiate seasons, he was a menace to opposing passing offenses:
Jamar Johnson: 31.7 passer rating allowed since 2019

1st among draft-eligible safeties 👀 pic.twitter.com/mHJuHsf0ih

— PFF Draft (@PFF_College) April 27, 2021
There is a lot to like about Johnson, who exploded for four interceptions in 2020 after having a combined three in his previous two seasons.
He shows his impressive range with this interception:
I'm late watching Indiana Safety Jamar Johnson. Love what I've seen.

+Rangy
+Fluid hips
+High FBI
+Instinctive

Fun player!

🎥: @RussNFLDraft pic.twitter.com/6jvfEh8Nsj

— Damian Parson 🏈 (@DP_NFL) April 28, 2021
If Johnson is still around by the time the Browns are selecting in the third round, they would be wise to get him.
2. Elijah Molden, Cornerback
Molden comes out of University of Washington, where he made three All-Pac-12 teams:
2018: Second team All-Pac-12
2019: First team All-Pac 12
2020: First team All-Pac 12
In 2019, he led the Pac-12 in interceptions, passes defended, and fumbles forced.
He also stepped up his play in the 2019 Las Vegas Bowl, as he was named the MVP.
Washington defeated No. 18 Boise State, 38-7, in the bowl game, and he had an interception and forced fumble in the win.
For those reasons and many more, Pro Football Focus is very excited about Molden:
PFF Big Board Rank:
🔸 CB Elijah Molden – 35
🔸 OT Sami Cosmi – 38
🔸 WR Kadarius Toney – 39@PFF_Anthony's 🔟 most undervalued 2021 NFL Draft prospects ⬇️ https://t.co/Z8aKOCvSl3

— PFF (@PFF) April 26, 2021
In addition to his ability to make an impact at the cornerback position, Molden can help on special teams.
He had almost 500 career snaps on special teams in college.
Although he will not be a higher pick than his father – Alex Molden, No. 11 selection in 1996 – the younger Molden may be able to make a larger impact in the NFL.
The Browns should be keeping an eye on Elijah Molden.
3. Alim McNeill, Defensive Tackle
Alim McNeill remains an important target for the Browns, but the team should hope that he will still be around when they pick.
His pre-draft buzz at the defensive tackle position has allowed him to be projected by NFL.com as a second- or third-rounder.
While McNeill may start his career as a backup in Cleveland, the North Carolina State junior has a lot of upside:
NC State DT Alim McNeill isn't being talked about enough. Dude is an absolute wrecking ball in the interior of the defense.

• 6'2" 315lbs
• very good athlete for big man
• pocket pusher as a pass rusher
• excellent anchor against doubles
• uses length very well
• dog pic.twitter.com/1mRdgJ7pS1

— Connor Livesay (@ConnorNFLDraft) January 16, 2021
In 2020, McNeill was an AP second team All-American and first team All-ACC.
The Athletic and Pro Football Focus also named him an All-American.
If the Browns can add to their defensive line and their secondary on day 2, then Cleveland should be looking strong on the second day of the draft.
After a very strong offseason for the organization, the sky seems to be the limit for the 2021 Browns.
There are a lot of positives about these three options, and they cannot go wrong with any of these players.