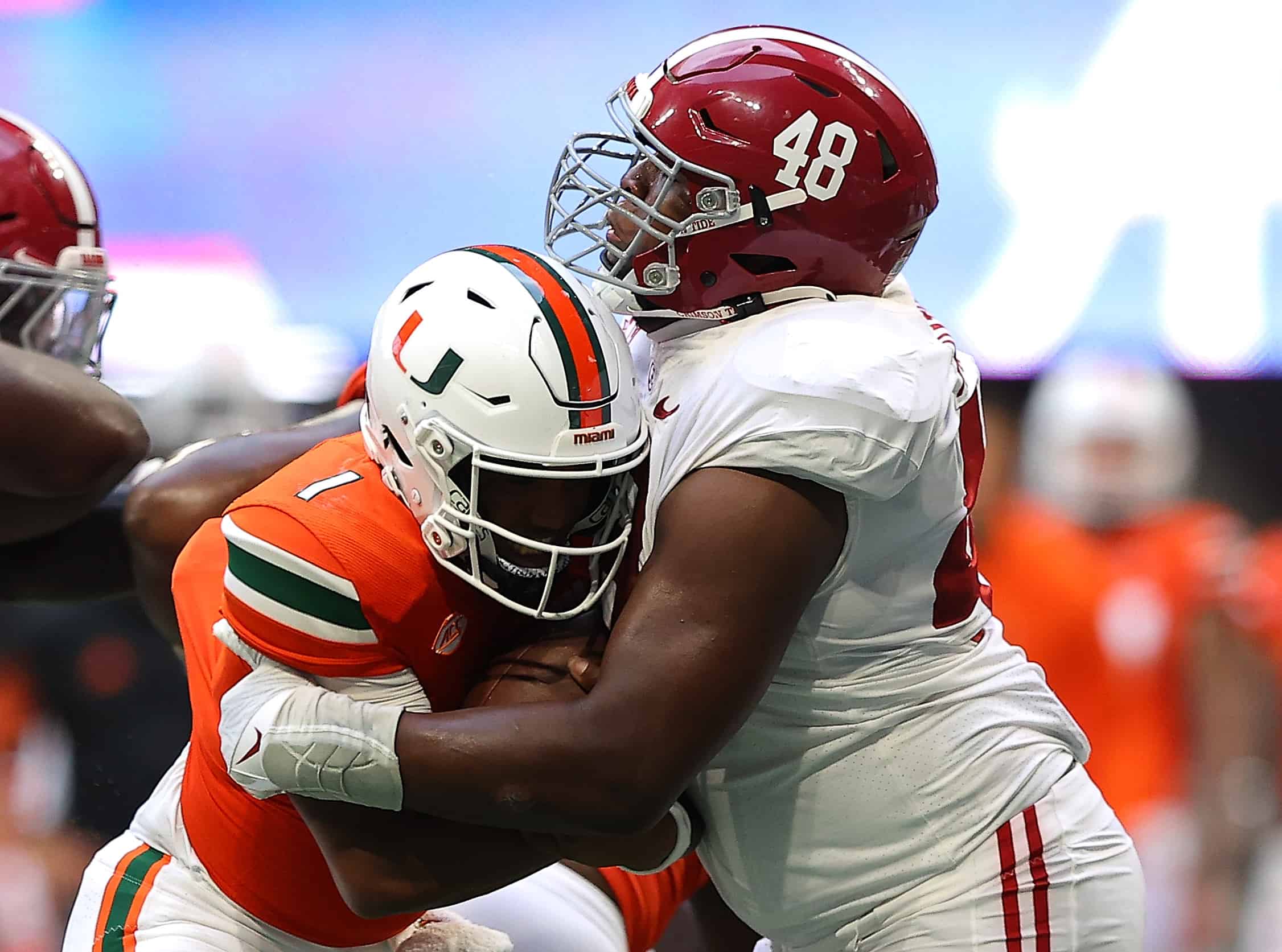 It's time for football fans to turn their attention to the NFL Draft with the 2021-2022 officially over.
That being said, one of the bigger upcoming events will be the NFL combine.
A chance for the best prospects in college football to display their abilities.
The Cleveland Browns front office will certainly have high intrigue in the combine with multiple areas to address this offseason.
Hopefully, the Browns will be able to find themselves some legitimate defensive tackle prospects during the combine.
Phidarian Mathis
Alabama has a strong track record of producing reliable defensive line talent.
In the last six drafts, Alabama has seen eight Crimson Tide interior defensive linemen go in the first two rounds.
That being said, Phidarian Mathis is an intriguing prospect heading into the NFL combine.
He spent four seasons at Alabama, but really didn't earn respect until the 2021 season.
Mathis put himself on the map with an explosive senior season at Alabama.
Phidarian Mathis : Season-high 9 tackles, 1.5 for loss, a sack, 3 QB hits & a fumble recovery pic.twitter.com/29Kl8XTMf0

— Lee Harvey (@AyeThatsLee) November 7, 2021
He has the strength, athleticism, and intelligence to be a legitimate force in the NFL.
It's also worth noting that Mathis has the ideal experience for the professional level.
He's someone who can immediately make an impact on the roster.
The Browns are looking for immediate impact tackles who won't need of ton of coaching.
Mathis is someone who has all the physical attributes needed to be a dominant tackle.
In 2021, he recorded 53 tackles, 10.5 tackles for loss, and nine sacks in 14 games.
He has developed into one of the most dominant defensive linemen in college football.
Travis Jones
One player is who quickly moving up draft boards is Connecticut defensive tackle Travis Jones.
Unlike Mathis, Jones is a bit of a work in progress, but has a ton of upside.
He uses his size to plug gaps in the ground game extremely well.
He also has the strength and technique to attack as a bull-rusher.
A dual-threat tackle who has plenty of room to grow and the intelligence to be a leader.
The biggest concern is whether or not Jones is ready to make that next jump.
He has been reliable throughout his career at Connecticut.
In 2021, he finished with 48 tackles, 7.5 tackles for loss, and 4.5 sacks in 11 games.
Jones is someone who might not be ready to start right away at the professional level.
However, the talent and upside is there, so he's certainly worth considering.
Neil Farrell Jr.
The Browns seem to have a habit of bringing in talent from LSU.
Well, they might have another addition this offseason in the form of defensive tackle Neil Farrell.
Farrell has all the tools to be a solid nose guard in the NFL.
His strength and disciplined upper-body technique are his two biggest assets.
LSU DT Neil Farrell with a strong bull rush against Virginia Tech OL Lecitus Smith

Catch the #SeniorBowl live on NFL Network on Saturday, Feb. 5 at 1:30 p.m. CT. pic.twitter.com/ZVHnagDLze

— Kevin Knight (@FalcoholicKevin) February 2, 2022
Farrell has great eyes and is able to maintain gap control without losing vision.
He is a prospect that appears ready to play at the next level.
In 2021, Farrell finished with 45 tackles, 9.5 tackles for loss, and two sacks in 12 games.
He has the size, strength, and discipline to be a reliable space-eater in the middle.
Farrell isn't quite as explosive as the other two tackles on this list.
However, he has the upside of being a legitimate starting tackle at the professional level.