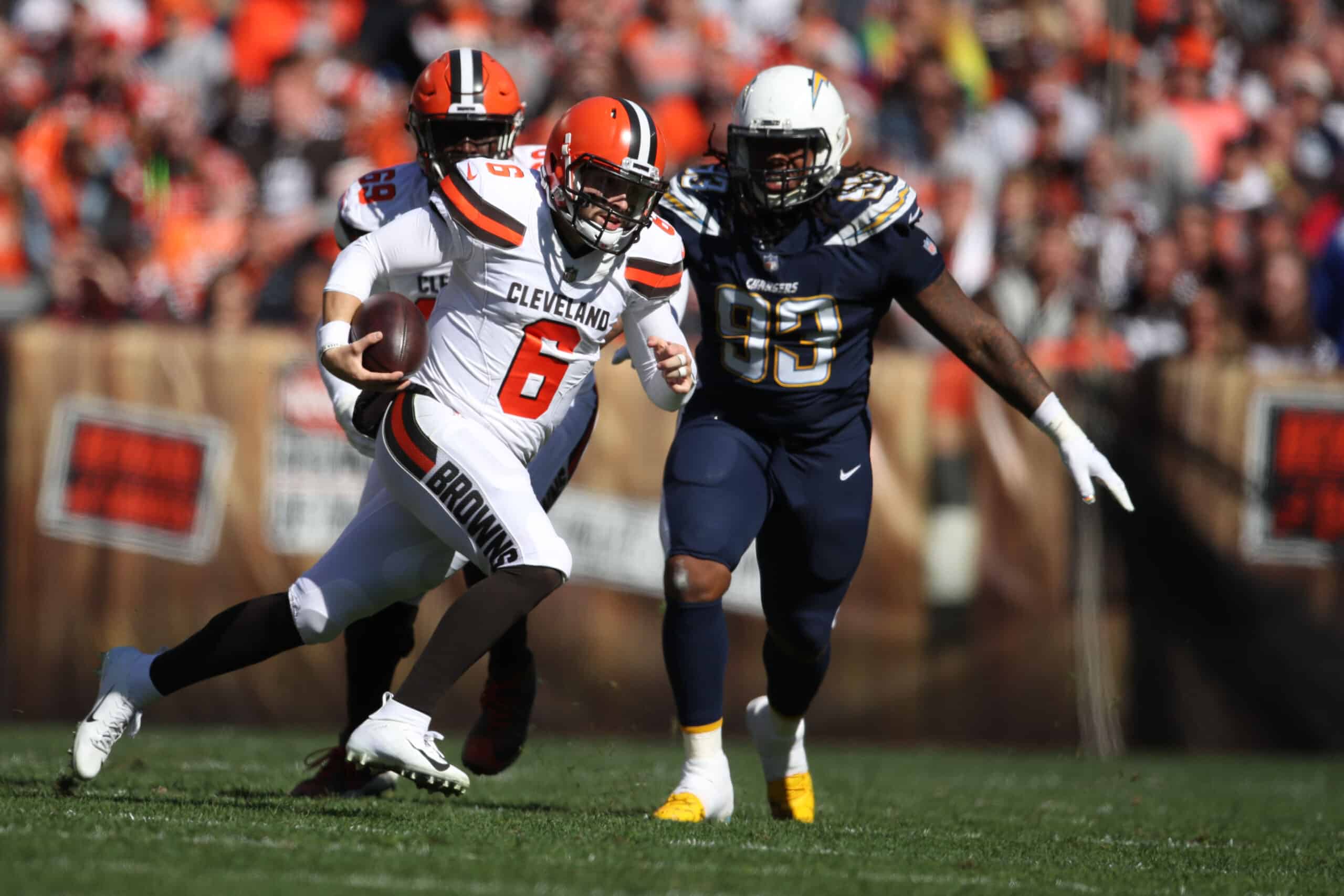 Baker Mayfield and his Cleveland Browns face a tough opponent on the road Sunday.
Coming off a solid Monday Night win against the Raiders, the Los Angeles Chargers sit atop the AFC West.
But their 3-1 record is no better than the Browns' AFC North division-leading 3-1.
It might not be ideal for Cleveland to face such a game coming off their worst offensive output of the year.
#Browns Kevin Stefanski: "In the NFL, if you want to be a good team you've got to find a way to win."

— Camryn Justice (@camijustice) October 4, 2021
But in reality, there was only one phase of the Cleveland attack that came up short in Week 4.
And it's not that awful to play any game with a quarterback who feels he has something to prove.
The Browns defense, special teams, and running attack are all on a roll heading into Week 5.
And Mayfield provides just one of our 3 keys to a Browns' victory over the Chargers.
1. Mayfield Must Shrug Off Week 4 
Perhaps the most alarming aspect of Baker Mayfield's uncharacteristic performance last week was his post-game interview.
That was the part when Mayfield tried to explain why he missed a wide-open Odell Beckham Jr late in the game.
But we are sure Stefanski, who also took the blame for Mayfield's outing, got to the bottom of that (and other) misfires.
#Browns Baker Mayfield: "That piss-poor performance by me isn't going to cut it. I've got to be better. It's just that simple"

— Mary Kay Cabot (@MaryKayCabot) October 3, 2021
Now, Mayfield has to re-establish himself with some chunk passing plays right from the start.
And hitting Beckham in stride on another fly route or even a simple slant wouldn't hurt, either.
Stacking the box doesn't usually work against Nick Chubb and Kareem Hunt.
But early success from Mayfield will make the Chargers think twice about trying it anyway.
2. Browns Must Contain Herbert
Patrick Mahomes and Tyrod Taylor found easy escape routes between Cleveland's edge and interior rushers.
Part of the defense's success in Weeks 3 and 4 was in closing the gaps those passers stepped into.
Cleveland's pass rush seems more coordinated and focused on creating a wall as much as getting depth.
And that buys the time for Myles Garrett and others to hit or grab the passer.
This man is 6'6 310 Ibs. Myles Garrett simply does not care. #Browns pic.twitter.com/vwj85IE6jK

— MoreForYouCleveland (@MoreForYou_CLE) October 3, 2021
But Justin Herbert's escapability prowess is closer to Mahomes than it is to either Justin Fields or Kirk Cousins.
It is vital that Cleveland's pass rushers stay controlled and don't let the Chargers' running quarterback step around them.
Los Angeles' heavy use of short passes makes the pass rush pivotal in letting linebackers and safeties play their roles.
If the second level has to come up to stop Herbert, he'll dump the ball off to Austin Ekeler and his tight ends all day.
3. Browns Want To Dominate Time of Possession 
Last season, Browns' opponents scored about 6 more points on average in the 4th quarter than the previous 3.
That trend continued in Week 1, and even Houston's rookie backup QB notched a touchdown in Week 2.
But the Browns shut out Chicago and Minnesota in the last quarter, playing full throttle to the end.
Several players boasted about their offseason conditioning programs this year.
Time of possession:#BROWNS 35:32#SKOL 24:28 pic.twitter.com/q9oB1Tno0o

— 🇺🇸The Brown Spider!!!🇱🇷 #D4L (16-1) (@BrownSpiderCLE) October 4, 2021
But the real reason the defense was fresh in the 4th quarter is the offense's control of the clock.
Cleveland had the ball for almost 40 minutes in Week 3 and 35 minutes in Week 4.
With the Chargers' subpar run defense, there is no reason the Browns should not continue that trend.
And that will make it easier for the Browns defense to stay on top of LA's talented offense.