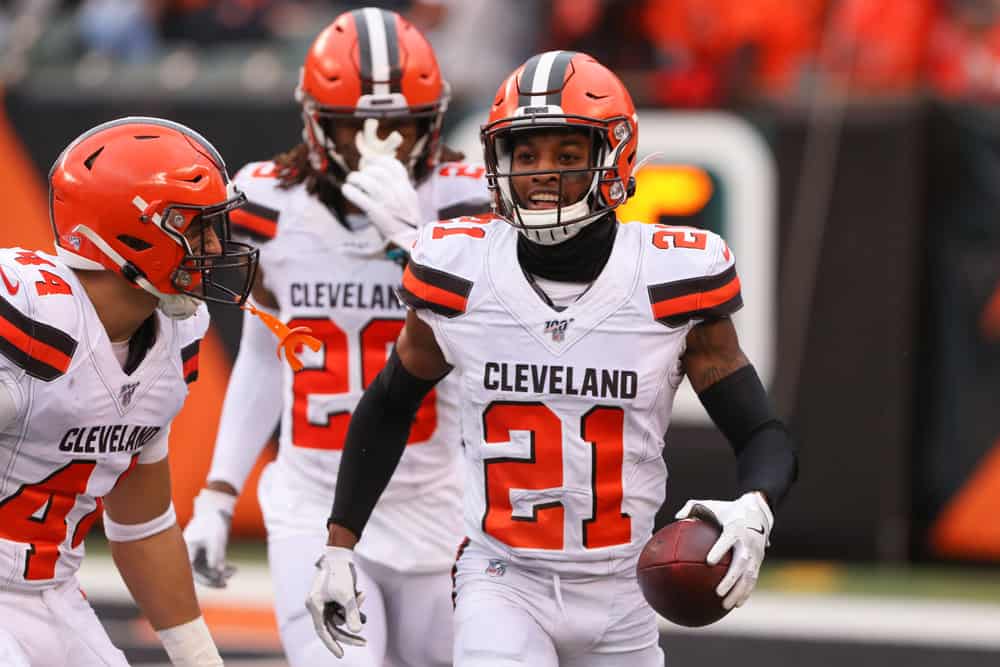 The Cleveland Browns knew they were getting a star defensive back when they drafted Denzel Ward in the first round during the 2018 draft.
Ward was phenomenal at Ohio State and his game has transferred well to the professional level.
Through two seasons, the 23-year-old has already landed himself in the Pro Bowl.
He was one of the few bright spots for the Browns on defense last season.
However, Ward isn't a perfect player and there are a few things he does need to clean up in his game.
1. Tackling
Ward isn't the only defensive back that struggles to bring down big-bodied receivers.
During his rookie season, Ward recorded 53 tackles, 11 pass deflections, and three interceptions through 13 games.
He finished that season with a 15.9 percent missed tackle rate.
That's not awful, but the number rose to 21.4 percent during the 2019 season.
Ward played one less game than the year prior and finished with 44 tackles, 11 pass deflections, and two picks.
He missed time due to a hamstring issue, so that could have played a part in his tackling issues.
The talent is there, but injuries and lack of size could be playing a role as well.
Ward looked like an unstoppable force during his time in college.
Meet the undisputed top cornerback in 2018 NFL Draft: Denzel Ward 🔥 pic.twitter.com/tWWZx1u7hi

— Bleacher Report (@BleacherReport) March 21, 2018
There is no doubting his talent, but he needs to be a more reliable tackler.
Getting his missed tackle percent down to around 12 or 13 percent would be more respectable.
2. Staying Healthy
Ward has put together two solid seasons in Cleveland, but both years he spent time on the sideline.
He missed three games in 2018, then was absent for four games last season.
Last year, Ward was knocked out for those four games due to a hamstring injury.
Those types of issues have a tendency to linger, so it's not surprising that Ward missed significant time.
The Browns can't afford to have their star defensive back sidelined for around 20 percent of their games.
They obviously want him there every single game locking down a star receiver.
Sometimes injuries are just something that is out of someone's control.
Ward needs to stay healthy for a full season if he wants to have more success in this league.
Everyone knows injuries happen and it sucks, but having a full 16-game season is key for Ward in 2020.
3. Locking Down Big Receivers
One of the few negative aspects about Ward coming into the league was his lack of size.
He is not the ideal size for a No. 1 defensive back in the NFL, but has held his own thus far.
However, Ward can sometimes get bullied by a bigger receiver in the red zone.
Ward has the speed to keep up, but struggles on 50/50 balls against the larger receivers.
His natural physical ability has made up for his lack of size, but Ward continues to get boxed out at times.
Two-time Pro Bowl defensive back Marshon Lattimore is similar in size to Ward.
He has worked out on his game and made adjustments, so he can better defend against bigger receivers.
Marshon Lattimore forces Amari Cooper to fumble and the #Saints recover!#NOvsDAL pic.twitter.com/nm29iZEHK9

— New Orleans Saints (@Saints) November 30, 2018
Ward has the talent and potential to be a superstar in the NFL.
It's all about making a few minor adjustments to his game.
Ward could very well become one of the best defensive backs in the league within the next few seasons, assuming he improves in these areas.