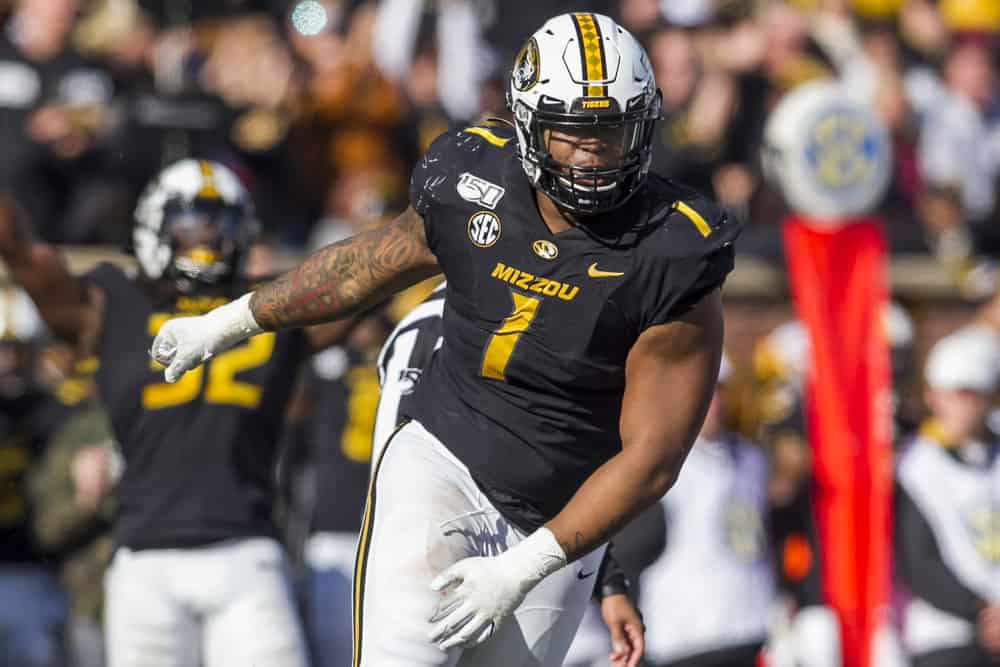 On Thursday, Jordan Elliott officially agreed to his four-year rookie deal with Cleveland Browns.
The Browns selected the Missouri defensive tackle with the No. 88 overall selection.
It is quite surprising that Elliott fell that far after being projected fairly high on most draft boards.
However, Elliott mentioned that he was not shocked that he landed in Cleveland.
"It was just a feeling that I had a long time ago," he said, "probably when I first met before the draft."
Elliott goes on to say that he feels like it was just something that was meant to happen.
It appears that the rookie pass rusher is excited to be part of the Browns family.
Jordan Elliott in College
Elliott transferred to Missouri from Texas following his freshmen season in 2016.
He spent 2017 on the scout team for the Tigers after transferring and being forced to sit out the year.
However, Elliott was an impact player on the d-line each of the next two seasons.
Jordan Elliott cannot be contained. pic.twitter.com/hKZxtjKFO8

— CBS Sports (@CBSSports) November 23, 2018
He earned second-team All-American by the Associated Press and first-team All-American by Pro Football Focus.
Elliott finished with Missouri career with 68 tackles, 16.5 tackles for loss, and 5.5 sacks through two seasons.
He saved his best performance for last and really shined bright during his junior campaign.
The Browns are getting a quality gap protector with good athletic ability.
What Does Elliott Bring To Cleveland?
He is a lengthy player that has value as a pass rusher and run defender.
Elliott has quick hands, high motor, and jumps off the ball extremely well.
Sadly, he only started one season in college, so he does not have a ton of experience.
There are still multiple areas of his game that are raw and need major attention.
However, the Browns are getting a player with first-round talent with a third-round pick.
Jordan Elliott is a first-round talent in the 2020 NFL Draft. pic.twitter.com/jEn0GMO0Yx

— PFF (@PFF) January 7, 2020
The Browns don't exactly need Elliott to make an impact right away, which is good for both sides.
This gives him time to adjust to the system and work on ways to improve his technique.
Cleveland has Sheldon Richardson and Larry Ogunjobi holding down the defensive tackle spots.
Elliott can be used as a quality rotational player, but won't be forced to start in 2020.
The Browns have reliable starters right now, but Elliott provides great depth at the defensive tackle position.
He needs to work on his hand placement and maintaining pad leverage.
The talent and potential is there, but it's about getting his technique right for the professional level.
This could possibly be a steal for Cleveland, assuming Elliott is able to make a few adjustments to his game.
Elliott could end up being a reliable starter for Cleveland in the near future.