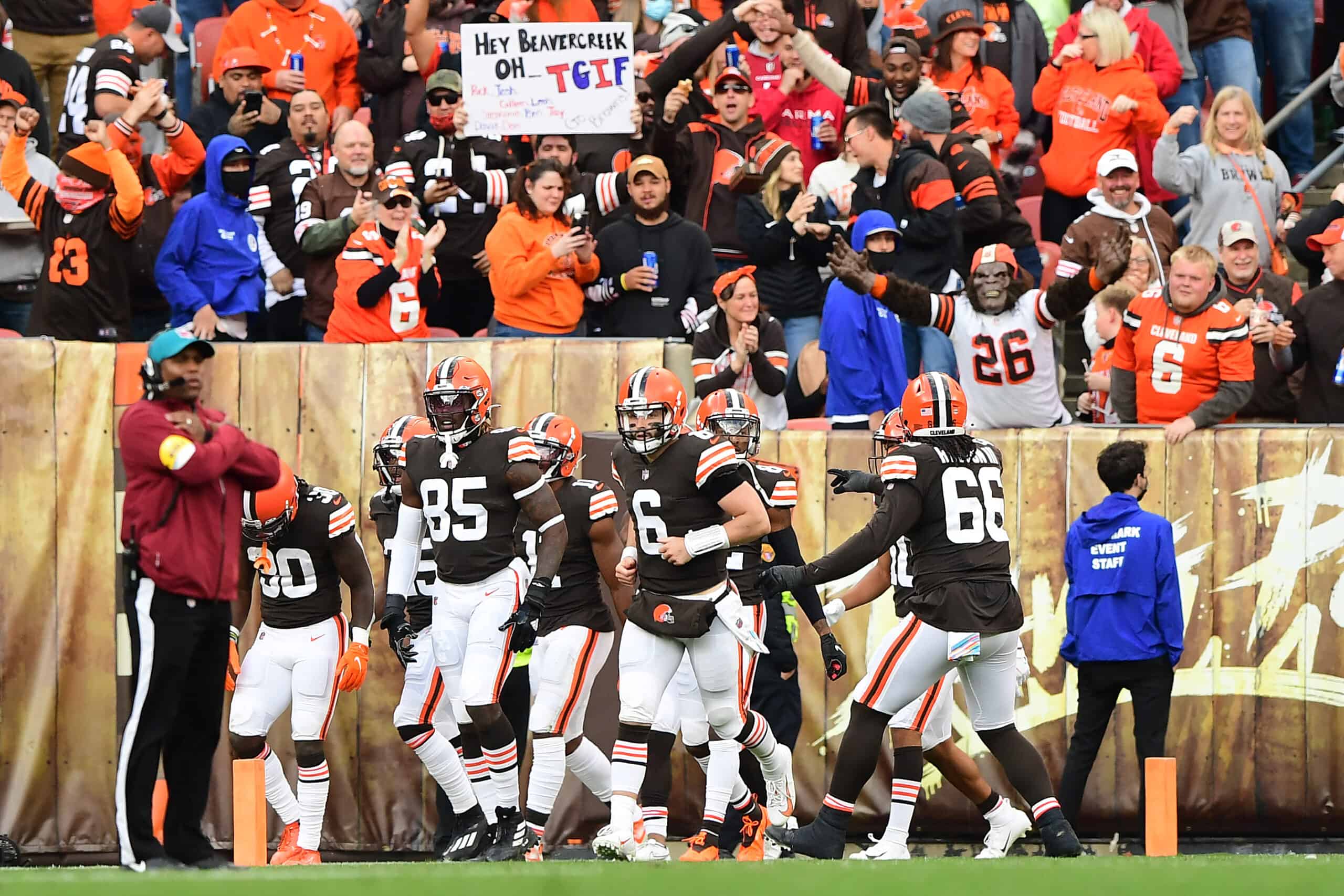 The Cleveland Browns return home for a quick stop to take on the last-place Detroit Lions (0-8-1).
Lions starting quarterback Jared Goff is doubtful with an oblique injury, so the Browns could be up to two-touchdown favorites by game time.
There are a lot of matchups to watch in Week 11.
The Browns are in need of a bounceback game at FirstEnergy Stadium.
Can they shut down backup quarterback Tim Boyle, D'Andre Swift, and the Lions?
Undrafted in 2018, Boyle became Aaron Rodgers' backup, and he will most likely make his first appearance as a Lion on Sunday.
Boyle enters Week 11 with four career passing attempts in his short time in the NFL.
If the Browns can contain Boyle, then the team should be able to stack the box against Swift.
Therefore, let us take a look at the three matchups to watch on Sunday:
1. Browns Rush Defense vs. D'Andre Swift
Even with Detroit's bye week having passed, D'Andre Swift is fifth in the NFL in touches with 173.
With Swift coming off of a huge game, the Lions continue their AFC North road trip in Cleveland.
Last week at Pittsburgh, Swift posted a career-high 130 yards.
He did accomplish it on 33 carries though.
Detroit's change-of-pace running back Jamaal Williams, who has not played since Week 7, is questionable with a nagging thigh issue.
Head coach Dan Campbell will have his hands full against a Browns defense that has allowed the sixth-fewest total yards this season.
Campbell called plays for the first time in Week 10, and he seems to have the support of offensive coordinator Anthony Lynn:
#Lions OC Anthony Lynn on HC Dan Campbell calling plays last Sunday: "I would be a hypocrite if I didn't agree with what he did. I thought it worked well. I thought we worked well together last week. He asked me my opinion on certain things and he makes those calls."

— Eric Woodyard (@E_Woodyard) November 18, 2021
Campbell may give another 30-plus touches for his best player.
This time around, he hopes to get Swift in the end zone.
The second-year running back has not scored in either of the last two weeks, his longest scoreless streak of the season.
The Browns will have the tough task of containing one of the best young running backs in the league.
Fortunately, both Myles Garrett and Jadeveon Clowney are healthy and ready for action on Sunday.
The Browns have allowed the fourth-lowest rushing yards per attempt this season.
2. Baker Mayfield's Passing Attack vs. Detroit's Secondary
The Browns are hoping to get closer to being fully healthy.
Baker Mayfield, who is expected to play through his shoulder ailment, looks to prove that he and this Browns team are worthy of the playoffs yet again.
Jarvis Landry, who leads the Cleveland wide receivers in receptions (23), will most likely draw cornerback Amani Oruwariye.
Oruwariye, a fifth-round selection in 2019, has been very impressive in his third season.
The 25-year-old Penn State product leads the team with a career-high three interceptions (rank ninth in the NFL) and six passes defended.
Last week, the Lions allowed 242 passing yards to Mason Rudolph and the Steelers.
Detroit's defense stood tough in overtime in what turned out to be one of the oddest games of the season:
Lions/Steelers' OT possessions 😅 pic.twitter.com/EXCDnIphWS

— NFL on ESPN (@ESPNNFL) November 14, 2021
On the bright side, Browns fans do not need to worry about the Detroit offense being top-notch.
3. Browns Offensive Line vs. Lions Defensive Line
Unfortunately, Jack Conklin remains on injured reserve with a dislocated left elbow.
However, Nick Chubb and Demetric Felton are expected to be back for Sunday's contest.
With the running back group close to full strength, the Browns should be looking good on the ground.
While Cleveland waits for Kareem Hunt to return, Chubb will shoulder the load.
Chubb leads the NFL with six yards per rushing attempt this season and also has 103 rushing yards per game.
Additionally, he has six touchdowns in seven contests.
Even without Chubb for a few games, the Browns still are first in rushing touchdowns and rushing yards per attempt this season.
Can the Cleveland offensive line overpower the Detroit defensive line and dominate the rushing game?
If so, it should be an easy Browns win.