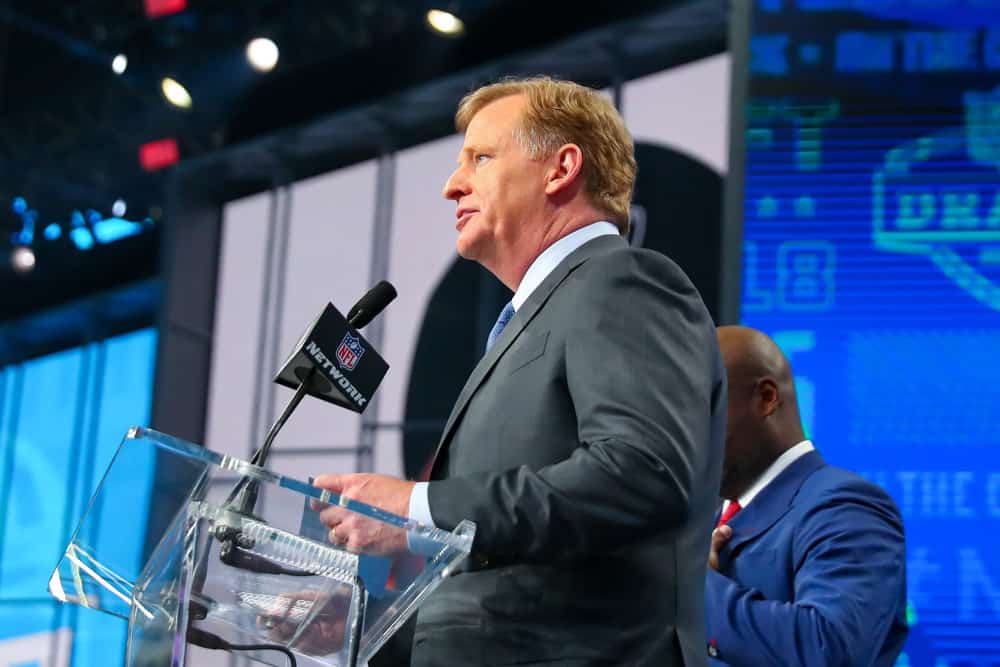 For the first time in a long time, the Cleveland Browns will pick in the latter stages of the NFL Draft.
Their No. 26 overall position is a testament to their resurgent 2020 season and a coveted playoff win.
Beating Pittsburgh in the AFC Wild Card round was more than just a milestone for the Browns.
It assured them they would not end up with the 22nd overall pick, a position with some negative history in Berea.
Since 1967, 5 QBs have been drafted with the 22nd overall pick, the last 3 to the Cleveland Browns. pic.twitter.com/YKUsjW32xj

— NFL on ESPN (@ESPNNFL) May 9, 2014
Cleveland was more successful in finding a franchise quarterback with their 2018 first overall pick.
Successful enough that they won't be picking a passer with the 26th pick in this year's draft.
But that doesn't mean picking so low will be easier, if the last decade of NFL Draft history tells us.
Few fans will remember Jonathan Baldwin (2011), Datone Jones (2013), or Marques Smith (2014).
John Elway's QB since Peyton Manning's retirement:

Trevor Siemian
Paxton Lynch
Brock Osweiler
Case Keenum

— Andrew Siciliano (@AndrewSiciliano) December 31, 2018
Paxton Lynch (2016) is remembered as much for John Elway's legacy of bad quarterback ideas as for any NFL success.
The jury is still out on last year's #26 pick, Jordan Love, but so far, there are few success stories at that slot.
Here are 3 of the best No. 26 overall draft picks of the past decade, and the one Browns fans hope will be the best.
Calvin Ridley, WR 2018 
The 2018 draft wasn't just a home run for the Cleveland Browns.
Fans in Atlanta couldn't understand why their team would pick a wide receiver in the first round that season.
After all, they already had Julio Jones and other weapons in a potent offense.
Calvin Ridley is the only WR with top-5 PFF Grades in each of the first two weeks:

▪️Week 1: 89.5 (2nd)
▪️Week 2: 82.6 (4th)pic.twitter.com/OYalSyMDK9

— PFF (@PFF) September 24, 2020
But few folks question the move anymore after Ridley's 2020 campaign.
Ridley finished the season with 90 receptions for over 1300 yards and 9 touchdowns.
That followed up a sophomore season with 63 catches for 860 yards and 7 scores.
Along with Jones, the Falcons probably have the best wide receiver tandem in the league right now.
Montez Sweat, Edge 2019 
The team formerly known as the Washing Redskins blew their opening-round pick in 2019.
But they made up for their Dwayne Haskins selection by trading back into the first round to grab Montez Sweat at number 26.
Montez Sweat makes the tackle. Nice job. But…. Daron Payne. Enjoy. pic.twitter.com/9qzntYbR9z

— John Keim (@john_keim) September 14, 2020
Sweat was a starter right away, racking up 7 sacks, 13 quarterback hits, and 2 forced fumbles as a rookie.
Then Washington assured further success by drafting Chase Young in 2020.
Sweat and Young provide one of the most potent edge-rushing bookends in the league.
And Washington's free-agent investments at cornerback and linebacker might make them better in 2021.
Whitney Mercilus, LB/Edge 2012 
Besides having the perfect name for a pass rusher, Whitney Mercilus provides consistently solid play for the Texans.
His sack total almost always disappoints, with only one season in double digits.
But he is tough and threatening enough to earn a 4-year extension in 2019.
Whitney Mercilus making clutch plays 😱 @Merci380 pic.twitter.com/X2xOv2lL0E

— The Checkdown (@thecheckdown) January 4, 2020
Before 2 stints on the Covid list last year, Mercilus played at least 15 games in all but one season.
Even when playing alongside Jadeveon Clowney and J.J. Watt, Mercilus was considered the defensive leader.
But there is definitely a fall-off from the top-2 to the third-best selection on this list.
And Mercilus could fall to number 4 by the end of 2021, because of …
The Player We Hope Turns Into a Top-2 No. 26 Pick
Besides this year's No. 26 pick, there is another player Cleveland Browns fans are pulling for.
Takk McKinley was the 26th overall selection in the 2017 NFL Draft.
Atlanta considered him a physical freak of nature and expected great things.
New #Browns DE Takk McKinley pic.twitter.com/PLImjoarm9

— MoreForYouCleveland (@MoreForYou_CLE) March 16, 2021
Former Falcons head coach, Dan Quinn, still believes McKinley has a breakout coming soon.
Andrew Berry gave the edge rusher a $4 million deal in hopes that his breakout comes in 2021.
McKinley showed plenty of signs he could excel in this league in his first two seasons.
He racked up 13 sacks and 25 QB hits as a situational player over that period.
Coming off an injury-shortened 2020 campaign, McKinley expects to quickly climb up this list.