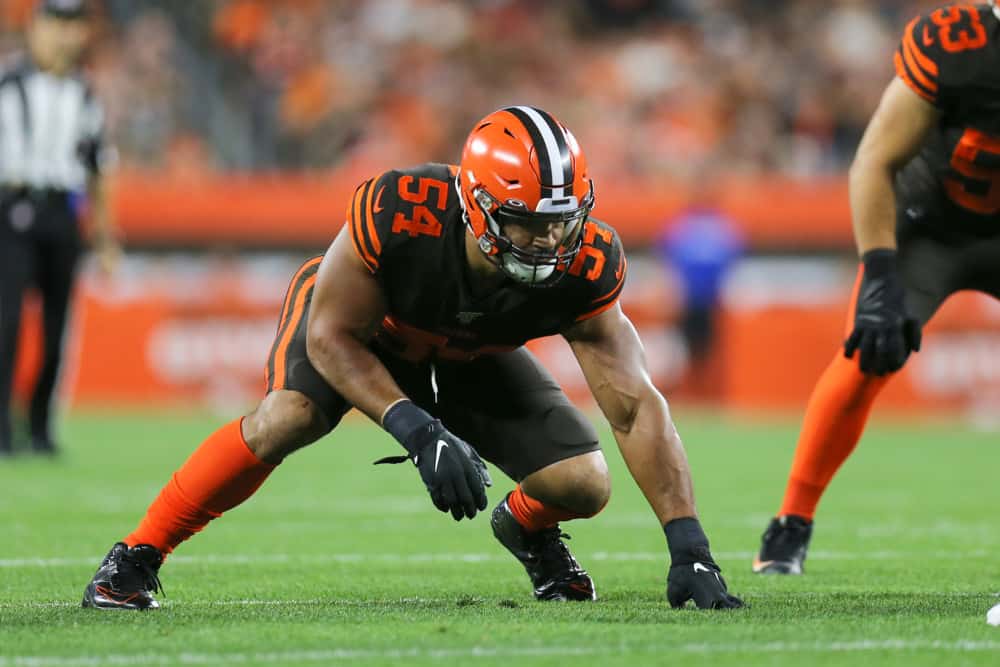 It's that time of the year where the trade rumors start swirling around.
The Cleveland Browns could use extra depth on their team down the stretch.
It appears the organization is interested in moving on from veteran defensive end Olivier Vernon.
#Browns Defensive End, Olivier Vernon, is on the trade block per @AlbertBreer.

Vernon has missed 8 of his 23 games with the Browns.

He ranks 85th/111 Edge Defenders in Overall Grade (55.3), per @PFF.

Would you like to see the @Browns move Vernon? #NFL pic.twitter.com/AF1WamaS1l

— The Hottest Take Sports Podcast (@Hottest_TakePod) October 29, 2020
Honestly, it's going to be tough for the Browns to get much of anything in exchange for Vernon.
The former Pro Bowl pass rusher has looked horrendous with Cleveland this season.
Vernon is heading into Week 8 with 11 tackles and zero sacks on the year.
It might be time for the Browns to bite the bullet here and take what they can get for him.
3. Trade With The Packers For WR Equanimeous St. Brown
The Cleveland front office needs to understand that they won't get a lot in return for Vernon.
At this point, Cleveland needs to find a suitor and take what they can get.
The Green Bay Packers seem like an organization that could use a player like Vernon down the stretch.
Currently, they have Tyler Lancaster starting at right end, so they could use an upgrade.
This season, Lancaster has six tackles through five games with Green Bay.
Vernon isn't playing much better, but he does have a solid track record.
In fact, Vernon has 54.5 sacks during his NFL career, which is quite impressive.
Cleveland might be able to land wide receiver Equanimeous St. Brown in exchange for Vernon.
Packers' 6th round pick, @Equanimeous St. Brown is going to make a lot of teams regret passing up on him#GoPackGo🧀👀
pic.twitter.com/VbWD9FFWcq

— IKE Packers Podcast (@IKE_Packers) May 2, 2018
The former sixth-round pick could certainly add some quality depth to the Browns roster.
In 2018, he hauled in 21 receptions for 328 receiving yards through 12 games in Green Bay.
This season, St. Brown has seen two targets all year long, so he's clearly not a big part of their offense.
Cleveland is in desperate need of playmakers after Odell Beckham Jr. went down for the season.
Adding a guy like St. Brown to the locker room wouldn't be a bad idea.
2. Trade With Tampa Bay For DB Ryan Smith
Tampa Bay could use an extra guy on their d-line with Vita Vea out for the rest of the season.
William Gholston has been fairly productive at right end, but that doesn't rule them out for Vernon.
Tampa Bay could always move Ndamukong Suh to defensive tackle and let Vernon play left end.
It's worth the risk since Tampa Bay wouldn't have to give up much in return.
In exchange for Vernon, the Bucs would give Cleveland defensive back Ryan Smith.
The 27-year-old corner has basically been nonexistent on defense this season.
It's really not his fault since Tampa Bay uses him as a reserve player.
The Browns could desperately use the extra help in their secondary.
Smith has 114 tackles, 12 passes defended, and one interception in five seasons with the Bucs.
Cleveland could certainly get more use out of Smith than Tampa Bay is right now.

1. Trade With Dallas For DB Anthony Brown
Somehow, the Dallas Cowboys are still in the playoff hunt at 2-5 on the year.
They've already lost quarterback Dak Prescott for the season, but that might not be their biggest concern.
The Dallas defense has been unwatchable this season and they desperately need help.
Bringing in a guy like Vernon cannot do any harm at this point.
Cleveland needs help in the secondary and Dallas could offer some help.
The Browns send Vernon and a fifth-round pick to Dallas in exchange for defensive back Anthony Brown.
Cowboys with the pick! Anthony Brown comes up with it!

The Dallas D is coming to play on Turkey Day. #WASvsDAL pic.twitter.com/tgbKwCJtnD

— FOX Sports (@FOXSports) November 22, 2018
Brown has seen his role in Dallas decrease over the last few seasons.
He has 13 tackles and one sack through four games this year.
It's unclear when Greedy Williams is going to return for Cleveland.
Acquiring Brown would be huge for Cleveland, so they could actually get some help in the secondary.
It'll be interesting to see if the Browns are able to get a deal done for Vernon before the trade deadline.