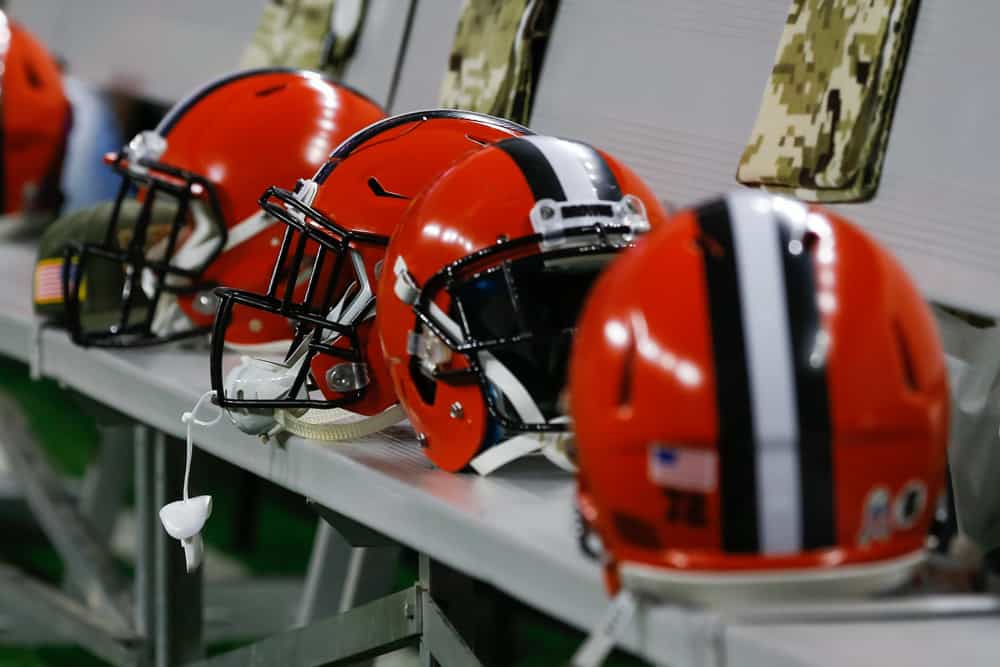 The Cleveland Browns have done plenty to improve their team throughout the offseason.
However, there are still some question marks on the Browns roster heading into camp.
There are a few players on the roster that are getting a little more attention than they deserve.
1. Olivier Vernon
In March of 2019, the Browns traded guard Kevin Zeitler to the New York Giants in exchange for defensive end Olivier Vernon.
The 29-year-old pass rusher made the Pro Bowl the year prior, so the Browns expected big things from him.
Sadly, injuries limited Vernon to 10 games with Cleveland last season.
He finished with 26 tackles, four tackles for loss, and 3.5 sacks during his first year with the Browns.
Olivier Vernon forces it out and Devaroe Lawrence (HBD!) jumps on it! pic.twitter.com/j8yezHeyii

— Cleveland Browns (@Browns) October 13, 2019
Those are not the type of numbers you want to see from a player who is making over $15 million per season.
Vernon has been unable to finish a full season since the 2016 campaign with the Giants.
The Browns are currently on the hook for Vernon's $15.2 million salary for the 2020 season.
He is coming off the worst season of his career and is overpaid for the amount of production he brings to the field.
This deal seemed solid at first, but has not worked out for Cleveland.
2. David Njoku
The Browns selected tight end David Njoku with the No. 29 overall pick during the 2017 NFL Draft.
He came into the league with high expectations but has not lived up to the hype.
Njoku has only put together one respectable season through his first three years in the league.
The 23-year-old tight end still has plenty of potential, but it's unlikely that he ever lives up to being taken in the first round.
Last season, Njoku was only able to play in four games with Cleveland due to injuries.
He suffered a broken wrist and a concussion on the same play.
In addition to a concussion, Browns TE David Njoku suffered a wrist injury Monday night that could require surgery, per source. Njoku getting additional medical opinions to find out if surgery is necessary and how long he would be sidelined.

— Adam Schefter (@AdamSchefter) September 18, 2019
He finished with five receptions, 41 receiving yards, and one touchdown for Cleveland last season.
After last season's disaster, the Browns decided to bring more depth to the tight end position over the offseason.
They landed a Pro Bowl tight end in Hooper and selected Harrison Bryant during the fourth round of the draft.
The Browns won't be relying as much on Njoku as they were over the last few seasons.
Hopefully Njoku can be a productive piece to the Browns offense as the second tight end.
3. Mack Wilson
The Browns were pleasantly surprised by the performance of 22-year-old linebacker Mack Wilson last season.
Wilson was selected in the fifth round by the Browns during the 2019 NFL Draft.
It's not too often that a player goes from being a fifth-round pick to being a starting linebacker in one season.
Last season, Wilson recorded 82 tackles, one fumble forced, and one interception through 16 games (14 starts) with Cleveland.
On paper his stats look decent, but Wilson finished with 41.6 overall grade last season.
Alabama head coach Nick Saban felt that Wilson left college too early and still had some work to do.
It's not time to call Wilson a bust, but it's unlikely that he's going to develop into a Pro Bowl caliber linebacker.
He should be able to contribute, but Wilson might not be a long-term solution as a starter.