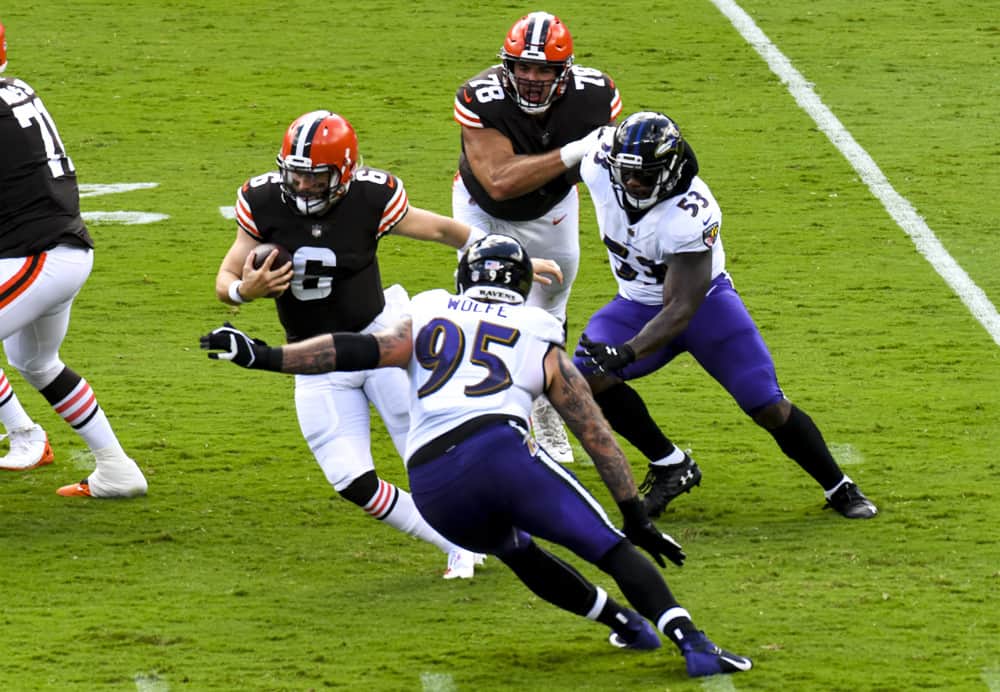 The Cleveland Browns suffered a tough Week 1 loss against a very polished and game-ready Baltimore Ravens team.
Since the final whistle from yesterday's game, there have been widespread opinions and many overreactions to the loss.
It is only Week 1, and this was not an easy opponent.
Here are 3 of the top overreactions infiltrating the air waves today.
1.  Bench Baker
Many are already jumping on the Case Keenum bandwagon.
Let's face it, Baker had a terrible day.
Baker Mayfield threw an INT on the Browns' first drive of the year 😦

(via @NFL)pic.twitter.com/afHG6hxHER

— NFL on ESPN (@ESPNNFL) September 13, 2020
But it was only one game.
That should not diminish what looks like a lot of off-season work.
Plus, this is Baker's 3rd coaching staff in 3 years.
There will be a learning curve, and there were no preseason games to help get up the curve quicker.
Baker mayfield..I like baker mayfield but you have to play keenum so he can learn how to run a offense with talent..if keenum play it will be Houston cougars and Minnesota all over again 😂 Thielen and Diggs will still be in Minnesota if keenum was at QB
Keenum familiar with HC https://t.co/nM3KUWyLpe

— Dez Bryant (@DezBryant) September 13, 2020
It's unclear why Dez Bryant decided to weigh in on this discussion, but he did which added to the overreaction of the masses.
2. Cut Seibert
Cut Austin Seibert at halftime. Let The Scottish Hammer kick FGs.

— Roberto Shenanigans (@Rob_Shenanigans) September 13, 2020
Yes, missing an extra point is not good.
And Seibert also missed a 41-yard field goal.
41-yard field goals are not automatic, but the extra point really should be.
Anyway, as with Baker, this is one game.
No, we can't blame the fans for yelling and interfering with his concentration.
But Austin Seibert did not lose the game for the Browns.
They still had 28 points to make up if he hadn't made those errors.
Interestingly enough, there was somewhat of a kicking competition at camp a few weeks ago.
So the biggest red flag I see from this is maybe there were signs at camp that Seibert is off.
He doesn't need to be cut or benched… yet.
Austin Seibert missed an extra point then wanted absolutely nothing to do with that tackle attempt. pic.twitter.com/Xcxytg0Vmv

— Brent Sobleski (@brentsobleski) September 13, 2020
3. Stefanski is no better than Kitchens.
Kevin Stefanski making Freddie Kitchens look like Vince Lombardi early. #NFL #Steelers

— Steelers Depot 🏆👑 (@Steelersdepot) September 13, 2020
Come on Cleveland fans, you have spent months disparaging Freddie Kitchens.
Now your arguments about Kitchens aren't without merit, but Kevin Stefanski is NOT Freddie Kitchens.
Here is Stefanski's opening statement from last night's press conference:
"Very disappointed, obviously. First of all, credit goes to the Baltimore Ravens. They did a nice job. They beat us. They deserved to win. They did a great job. They outcoached us and outplayed us. We did a lot of things that losing teams do. We turned it over three times. Eight penalties, three of which were personal foul facemasks, which were killer. Did not play complementary football. Put our defense in a tough spot a bunch. That is my responsibility. That is on me. We have a game on Thursday night so we have to regroup. When we land here after leaving here, we have to let this one go, and we have to move on."
And as bad as the Freddie Kitchens era was last year, he did take the Browns into Baltimore and beat the Ravens.
But the rest of the season was less than noteworthy.
Things are definitely off to a different start in the Stefanski era, but give him time.
He is a brand new head coach in an organization filled with young players (and some key injuries) in the middle of a pandemic.
That gives him a pass in my mind for a few weeks at the very least.