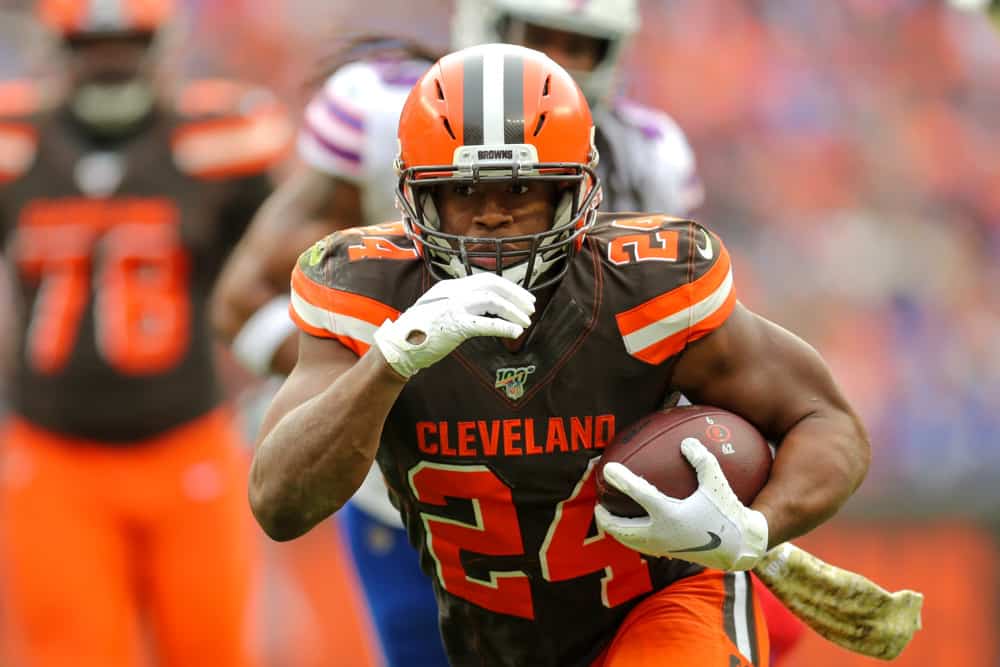 Two superstar running backs got big-time extensions right before Sunday's Week 1 kickoff.
Minnesota Vikings running back Dalvin Cook finally got his extension that he has been seeking all offseason.
Vikings' RB Dalvin Cook agreed to a five-year contract extension that ties him to Minnesota for the next six seasons, per sources.

New money average is $12.5 per year, so five years, $62.5 million. Now it just needs to be signed.

— Adam Schefter (@AdamSchefter) September 12, 2020
The stud running back was considering sitting out if the team didn't pay him.
Vikings fans won't have to worry about that now with Cook making an average of $12.5 million per season.
Although, Cook wasn't the only superstar running back that got paid on Saturday.
New Orleans Saints running back Alvin Kamara also received a big-time extension.
Sources: The #Saints & star RB Alvin Kamara have reached an agreement on a huge 5-year contract extension worth $75M in new money. He gets $77.133M overall and a $15M signing bonus. Kamara cashes in. Agent Damarius Bilbo of Klutch Sports did the deal.  💰 💰 💰

— Ian Rapoport (@RapSheet) September 12, 2020
He reaches a deal with the team that will land him $34 million guaranteed.
A big pay day for Kamara who has earned it with his play over the last three seasons.
Now with both of them locked up, the attention turns to the Cleveland Browns.
Free agency is looming for running back Nick Chubb, but what will the Browns have to pay out to keep him in Cleveland?
Nick Chubb Staying In Cleveland?
The good news is, the Browns don't have to deal with this problem just yet.
The 24-year-old is not set to become a free agent until after the 2021 season.
However, Chubb has already done enough in Cleveland to deserve an extension.
Last season, Chubb rushed for 1,494 yards with eight touchdowns through 16 games.
He almost won the rushing title if Tennessee Titans running back Derrick Henry didn't beat him out during the final week of the regular season.
Chubb was one of the few bright spots for the Browns offense last season.
Although, it remains to be seen if the Browns will actually offer Chubb an extension.
The Cleveland front office is analytical heavy, which is not good for running backs.
Usually paying running backs big money does not pay off for teams.
The Browns have the cap space for an extension, but it's unknown if they want to pursue Chubb long term.
What Will Chubb Cost?
The market continues to climb at a rapid pace for running backs.
It seems that many backs prioritized upfront guarantees and take less money on an average-per-year basis.
Carolina Panthers running back Christian McCaffrey got $30 million guaranteed.
McCaffrey is arguably the best running back in the league, but Kamara actually received more guaranteed money.
The market changes so quickly that you don't have to be the best at your position to get paid like it.
Another solid season from Chubb could get him a deal similar to Cook.
Chubb actually has more rushing yards than Kamara in his career, but Kamara is also heavily used in the passing game.
The fact Kamara is fantastic at running and catching is why he received a $75 million deal.
It wouldn't be surprising to see Chubb get somewhere around five years $62-65 million extension.
That would be similar to what Cook received from the Vikings.
However, the Browns might not be willing to pay that, especially after extending Kareem Hunt.
The #Browns are giving RB Kareem Hunt a 2-year, $13.25M extension, source said. Cleveland keeps him for 3 years, Hunt gets paid.

— Ian Rapoport (@RapSheet) September 8, 2020
There is no doubting that Chubb is a star running back, but that doesn't mean Cleveland will pay him.
Multiple teams have hurt themselves in recent years with huge extensions to running backs.
The Browns have plenty of young players who will need new contracts soon.
It'll be interesting to see where the Cleveland front office decides to spend their money.