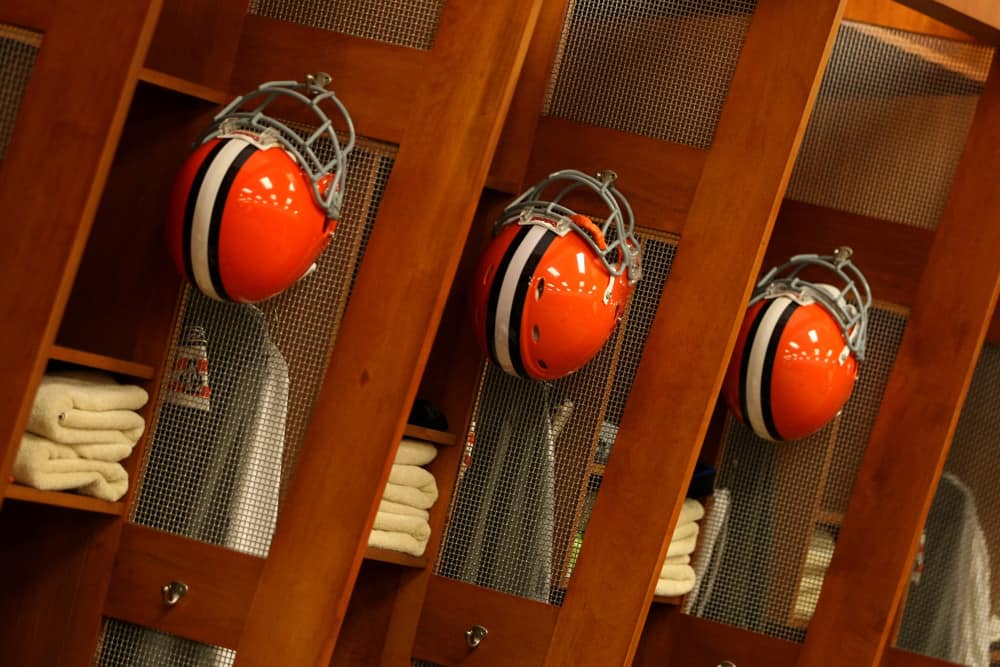 The streak for consecutive years out of the playoffs is at 17 years for the Cleveland Browns.
The Browns have had one of the busiest offseasons in recent memory, so there is hope this could change.
In order to accomplish that feat, the Browns need these three players to have a rebound year.
3. Kareem Hunt, Running Back
Hunt missed half the season after serving a suspension handed down by the league for his role in a physical altercation with a woman at a hotel.
Now, Hunt is back with the team and ready to prove he can still perform like the 2017 version of himself.
In 2017, Hunt led the league in rushing with 1,327 yards to go with 53 receptions for 455 yards as a rookie.
Missed tackles forced by rookie RB:

1. Josh Jacobs 69
2. Kareem Hunt 61
3. Alfred Morris 57 pic.twitter.com/dYAIprd2O5

— PFF (@PFF) April 1, 2020
In 2018, Hunt was on pace for a special season before his suspension cut the rest of his season.
At the time, Hunt had 824 rushing yards and 26 receptions for 378 receiving yards and seven receiving touchdowns.
The Browns saw glimpses of what Hunt could do in his allotted playing time last season.
His 4.2 yards per carry was not far off his 2018 number (4.6), while he recorded his second-highest total of receptions in his three-year career (37).
Hunt will be used a pass-catching running back and a complement to Nick Chubb.
If the Browns can run a system similar to the Mark Ingram–Alvin Kamara package the Saints used to run, this offense could be lethal.
2. Myles Garrett, Defensive End
It's plain and simple: Garrett cannot lose his mind again.
It's a miracle that he even gets to start the 2020 season with the team after hitting Mason Rudolph in the head with his helmet.
Myles Garrett hits Mason Rudolph in the head with his own helmet, a breakdown pic.twitter.com/hi4Jc8Cmgo

— Jomboy (@Jomboy_) November 15, 2019
The feud has to be over because the Browns need Garrett to produce like a Pro Bowl pass rusher.
Garrett missed six games for his role in the altercation and had 10 sacks through 10 games.
He should be back to prove the doubters that he is still one of the best in the league.
A rebound season would help his reputation and the Browns' playoff chances.
1. Baker Mayfield, Quarterback
Are you really surprised by this?
Mayfield has the second-worst quarterback rating (78.8) in 2019.
He also was one of the worst quarterbacks with a clean pocket according to NextGenStats.
Baker Mayfield has the lowest passer rating in the NFL when not under pressure this season per @NextGenStats. He is the only QB with more INT than TD passes when not pressured. pic.twitter.com/OuFERsVDzm

— NFL Research (@NFLResearch) November 5, 2019
When your quarterback throws 23 touchdowns to 20 interceptions, it's not going to make for a great season.
The Browns need a quarterback that finished runner-up in Offensive Rookie of the Year in 2018, who threw 27 touchdowns to 14 interceptions with a passer rating of 93.7.
The third-year is supposed to be a breakout year for quarterbacks.
If not, backup quarterback Case Keenum will be waiting and ready.
#Browns QB Case Keenum says although his role is to support Baker Mayfield, he'll be ready to play; believes he still has a lot to offer on and off the field

— Daryl Ruiter (@RuiterWrongFAN) March 25, 2020