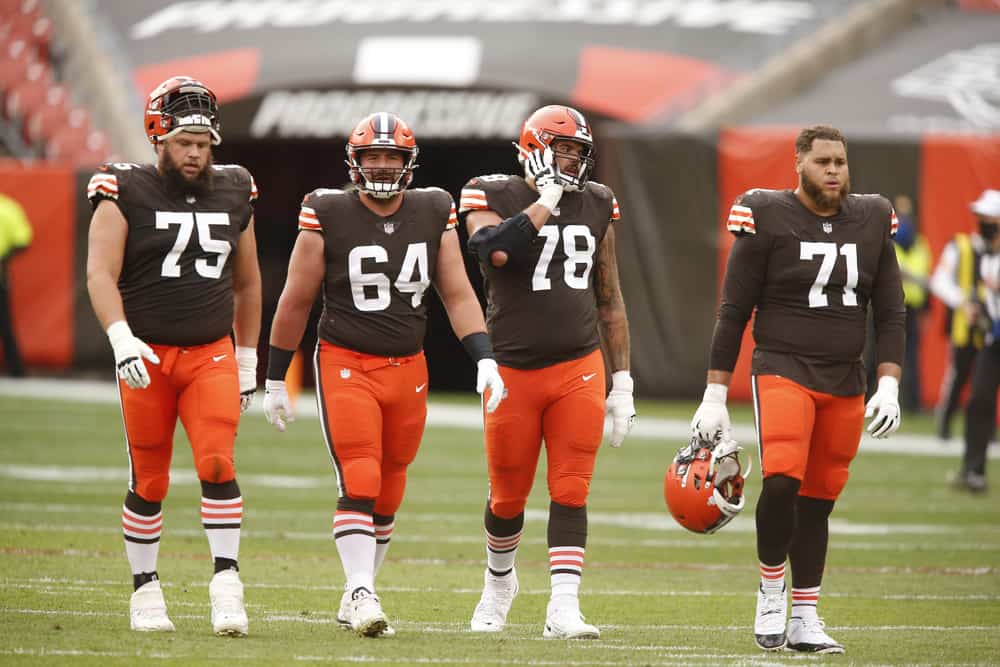 Football games are won in the trenches, unless you ask a wide receiver or safety.
But let's go with the popular premise and give the Cleveland Browns offensive line some credit for last year.
Bill Callahan's group could do no wrong, regardless of who was playing in what position.
1. Cleveland Browns
2. Green Bay Packers
7. Indianapolis Colts @PFF_Linsey's final 2020 NFL offensive line rankings ⬇️

— PFF (@PFF) January 6, 2021
There is a lot to say about the Browns' starters and their collection of awards and recognitions.
But the 2021 effort might be best defined by some guy named Blake.
Or maybe Mike Dunn, Nick Harris, and Kendall Lamm, all of whom logged important snaps.
It was the big 5 and swingman Chris Hubbard who rightfully get most of the credit for 2020, though.
How great to see the Cleveland Browns offensive line back at full. @JWills73 @JoelBitonio @JCTretter Wyatt Teller And @Jack_Conklin78 Can't say enough about the guys who stepped up over the last half dozen or so games either. #GoBrowns

— Tony Golic (@GolicTony) January 3, 2021
When your weakest link earns one of the best rookie pass-blocking scores, it just adds to the reputation.
Career years from Jack Conklin and Wyatt Teller added to the steady excellence of JC Tretter and Joel Bitonio.
And here are 3 reasons the Browns offensive line can be even better in 2021.
1. New Features in Bill Callahan 2.0 
Bill Callahan faced the same challenges as the rest of the NFL coaches last year.
Covid put normal procedures, timelines, and expectations on hold.
And for a coach putting a new crew together, those challenges were magnified.
At this point last season, Cleveland had no idea who would play right guard.
Wyatt Teller wasn't even the favorite between Drew Forbes, Chris Hubbard, or a player-to-be-added.
The Cleveland Browns have the best offensive line in the entire NFL 🧱@PFF_Steve on why that is… 🔊 pic.twitter.com/7G4fg5cLnO

— PFF (@PFF) June 8, 2021
Jedrick Wills was switching from right to left tackle, adding to the rookie's learning curve.
In the end, it worked out better than most could have imagined.
Cleveland's offensive line wound up the top-ranked unit in the league.
And now Callahan has the time and access to teach them how to run the Stefanski scheme.
With twists and turns added to the Browns' attack, expect the offensive line to be even more impressive.
2. Contract Seasons Provide Motivation 
Most NFL players say they put contract issues out of their mind when they step onto the grass.
But they know a pending contract can be helped or hindered by their performance.
Wyatt Teller stands to receive a massive contract after the season if Cleveland does not extend him early.
Swing tackle Chris Hubbard joins him in free agency.
Three more starters, Joel Bitonio, JC Tretter, and Jack Conklin might look for extensions after 2022, as well.
#Browns OL Wyatt Teller blocked three defenders… On ONE PLAY! 🤯

And check out the end where he nails a one-handed pancake block into the end zone.

h//t @thecheckdown #NFL pic.twitter.com/YJr2xQMHr6

— Ultimate Autographs (@Ultimategraphs) November 24, 2020
Each of their contracts expires after 2022, but each also offers significant cap savings if Berry releases them.
Releasing Sheldon Richardson puts players on notice they have to match their value to their contract price.
Contract situations might help along the rest of the roster, too.
Maybe Baker Mayfield, Nick Chubb, and others are still bidding for better deals as the season wears on.
And whether a block or a juke move creates some extra yards, it can't hurt the offensive line's record.
3. Opponents Play Into Their Hands 
Offensive linemen practice and play hard to earn their reputation in the NFL.
That reputation can help maintain their success in subtle ways, like an overlooked holding penalty.
But the bigger difference is when a player or unit causes opponents to make changes to their game plan.
Individuals might try to cross a lineman up with a new twist or a coordinator might shift trends or even players.
If they are successful, kudos to them for thinking outside the box.
#Browns offensive line in 2020:
🔸 Pass blocking grade – 86.5 (1st)
🔸 Run blocking grade – 81.2 (1st)

PFF's #1 OL unit ahead of the 2021 NFL season 🏆 ⬇️ https://t.co/8JLhQeUgeC

— PFF (@PFF) June 8, 2021
But more often than not, such efforts don't work out well.
Trying a new move at the line is as likely to result in an offsides penalty as a pass rush "win".
And cohesive offensive lines are likely to adjust to changed game plans rather quickly.
Especially when the tight ends and running backs engage in the blocking game as effectively as the Browns' do.
Cleveland's bright, experienced, and well-coached offensive line will be ready for anything thrown at them.