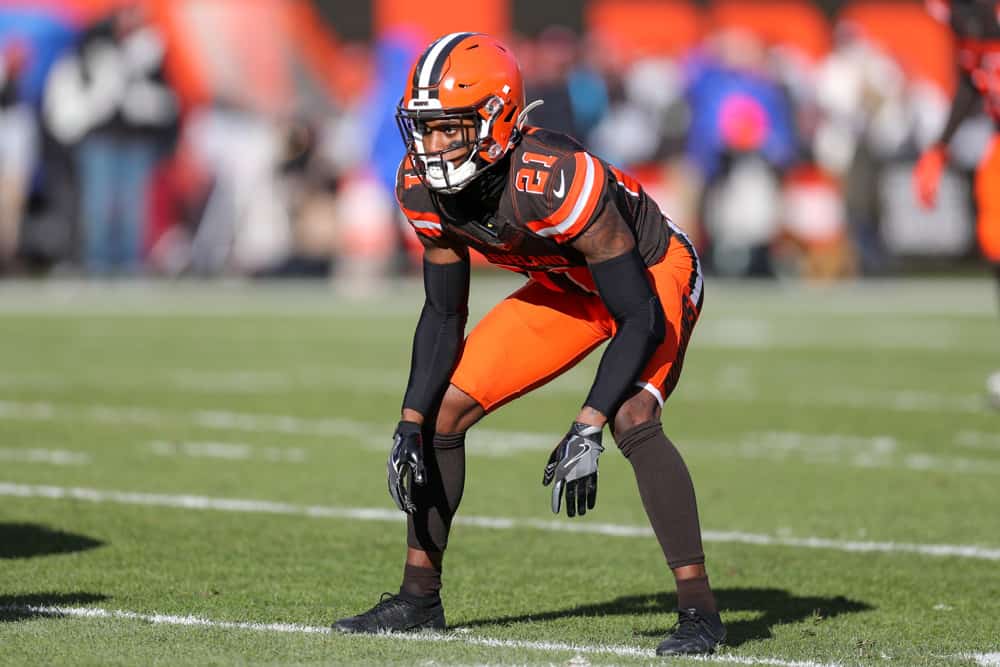 It is shaping up to be a busy offseason for the Cleveland Browns.
A lot of roster decisions need to be made, but there is an easy one that can be acted on quickly.
The Browns should begin negotiating an extension with cornerback Denzel Ward.
Yes, Ward is still under contract with his fifth-year option for the 2022 season, but he is a dynamic player that the Browns need to lock up in a long-term deal as soon as a deal can get done.
Though fans disagree on many issues with this team, paying Denzel Ward is not one of them.
Through all the good, bad, and ugly this season. We can all agree Denzel Ward deserves to get paid 💰. pic.twitter.com/LuxsrYyIEF

— Barstool Cleveland (@CLE_Stool) January 4, 2022
Pay Denzel Ward this off-season! #Browns

— Dawgs Unleashed (@dawgs_unleashed) January 8, 2022
Here are three reasons why Ward needs to be offered a long-term deal with the Browns.
1. His Statistics Are Good
Ward has been great in 2021.
The critique on Ward in the past has been his inability to stay healthy for an entire season.
He played 15 games this season.
In addition to 3 interceptions, Ward had 10 passes defended, 34 solo tackles, and 2 quarterback hits.
#Browns DC Joe Woods noted Denzel Ward had three breakups on four targets vs. #Vikings when asked whether the cornerback had his best game of the season this past weekend.

— Nate Ulrich (@ByNateUlrich) October 7, 2021
He capped off a great 2021 by being named to the Pro Bowl for the second time in his career.
The other time was in 2018 during his rookie season.
Congratulations to Denzel Ward for making the NFL Pro Bowl as a ROOKIE pic.twitter.com/7rj2ZhbScu

— Barstool OSU (@BarstoolOSU) December 19, 2018
2. He Is Dominant At His Position
#Browns DC Joe Woods on Denzel Ward: "To me he's a legitimate number one corner"

— Ashley Bastock (@AshleyBastock42) January 6, 2022
Ward is fast and fearless.
He also has great instincts.
Defensive coordinator Joe Woods describes Ward as "a legitimate number one corner."
Opposing teams' best receivers are a welcome challenge for him.
He wins many of those battles.
Ja'Marr Chase is having a great game today but let's not forget Denzel ward locked his ass down in his own house pic.twitter.com/BdZvjzhUdv

— DariusGarlandAllStar2022 (@camfromthe216) January 2, 2022
He is also very good at defending the run.
Denzel Ward blows up Najee Harris on third & 9 for a loss of 2 after making the catch. Ward continuing his Pro Bowl season. Second punt for #Steelers coming up.

— Daryl Ruiter (@RuiterWrongFAN) January 4, 2022
3. Ward Wants To Be A Brown
Let's not forget that Ward is a native Ohioan.
Born and raised in Cleveland, Ward did not leave the state for college.
He went to Ohio State.
It makes sense with his deep ties to the community and the wonderful community service he does that Ward would want to remain a member of the Cleveland Browns.
Last summer Ward said:
"Perfect world, I would definitely want to be a Brown for my entire career.  I'm from Cleveland."
Denzel Ward: a Clevelander through and through and he wants to stay in Cleveland with the Browns for the rest of his career. https://t.co/dXjlBSwVWe Photo: Joshua Gunter, https://t.co/a4YA4W2Cro pic.twitter.com/1cFSKnIWUh

— clevelanddotcom (@clevelanddotcom) June 15, 2021
Conclusion
Unfortunately, we will not see Denzel Ward defending Ja'Marr Chase in Week 18.
Ward was added to the Reserve/COVID-19 list on Saturday so his season is done.
The #Browns placed CB Denzel Ward on the reserve/COVID-19 list and he's out tomorrow, while activating RB D'Ernest Johnson from the list.

— Ian Rapoport (@RapSheet) January 8, 2022
What is never done with Ward is his tireless work in the community as mentioned above.
He is an honorable guy who is developing into a great leader in the organization.
The #Browns have nominated CB Denzel Ward as their Walter Payton Man of the Year nominee, congrats to him! pic.twitter.com/RCImKJmNky

— MoreForYouCleveland (@MoreForYou_CLE) December 7, 2021
Ward was selected as the 2021 Browns Walter Payton Man of the Year for his various projects with kids, schools, and gyms with his family's charity.
Browns CB Denzel Ward interacting with grade schoolers at his first Make Them Know Your Name youth camp at Nordonia High School, Ward's alma mater. #Browns pic.twitter.com/PhaJaba8qv

— Nick Pedone (@NickPedone12) June 7, 2019
Inspired by his late father, his foundation is called Make Them Know Your Name, and Ward has fully embraced his role in keeping his dad's words alive of having people know his name for being an outstanding man with great character.
There is a feeling that the best is yet to come for Denzel Ward both on and off the field, and Browns fans want to see his career flourish in Cleveland.