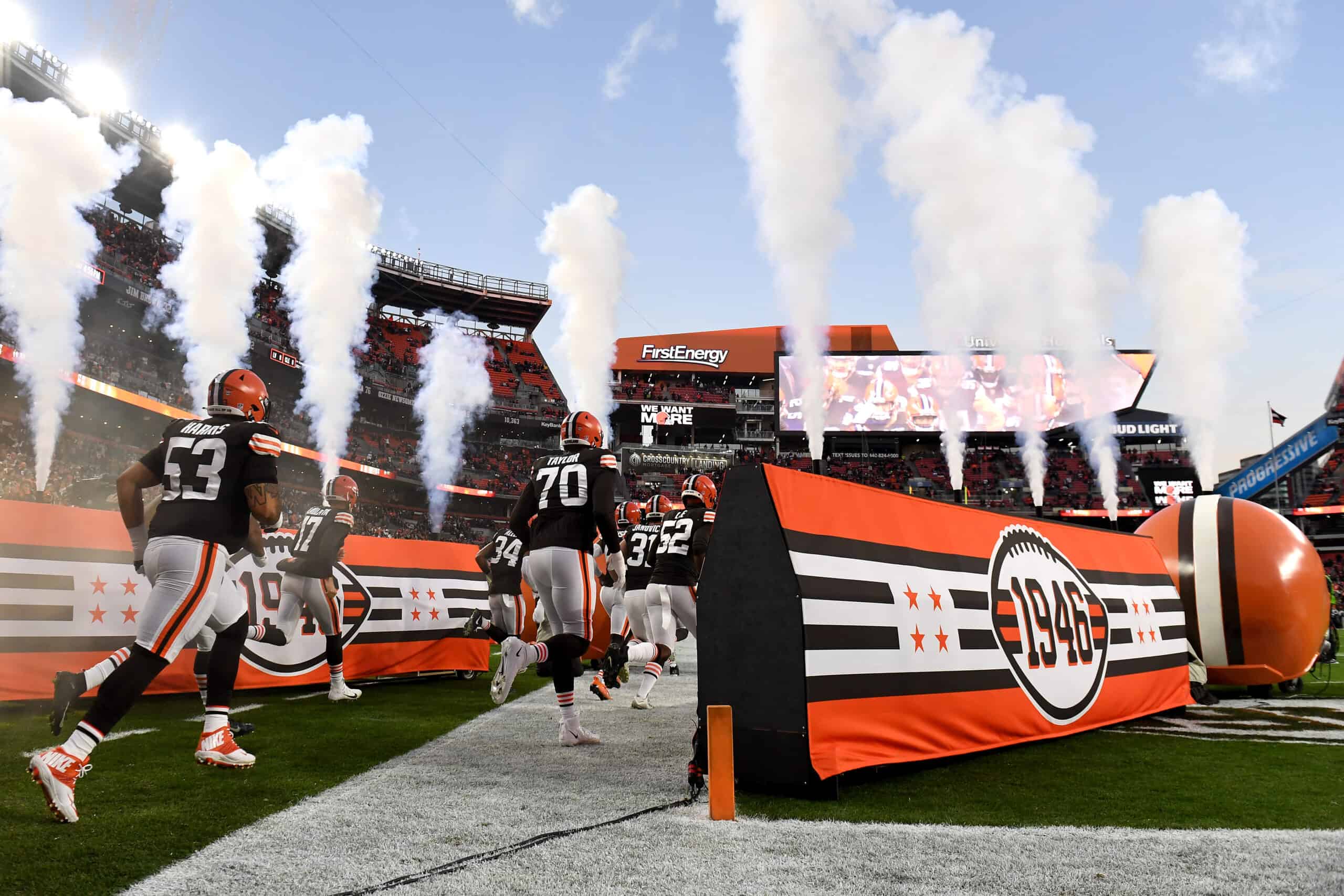 Super Bowl… rushing champion… top ten quarterback… top-ranked defense… game-winning 50-yard field goals…
Pundits, fans, and analysts put some lofty expectations on the Cleveland Browns back in September.
They pre-ordained Andrew Berry as GM of the Year and they couldn't wait to see what Kevin Stefanski had in store.
The Cleveland #Browns are the only team with an A+ NFL Draft grade in both 2020 & 2021 pic.twitter.com/RtG3G7Wg1n

— PFF College Football (@PFF_College) May 4, 2021
How often did we hear Baker Mayfield was destined for stardom because of a second year in the same system?
Win projections came in at 12-13-14 from even the most respected NFL analysts.
But the Browns stagger home before the first postseason kickoff with an underwhelming 8-9 record.
The Cleveland Browns will beat the Bengals, 21-16, and finish the 2021 season with an 8-9 record.#Browns

— Hayden Grove (@H_Grove) January 9, 2022
Multiple factors conspired to derail the Super Bowl plans, from injuries to infighting, and from boos to bobbles.
Cleveland's defense turned out to be pretty good, but tremendously unspectacular.
And the highly-touted offense ended the season as big a mystery as when it started.
But here are 3 other reasons the Browns season was a disappointment.
1. When Do The Stars Come Out? 
Cleveland fans had more than just won-loss records on their mind back in September.
They expected to dominate the league with a powerful collection of defensive and offensive stars.
Another highly-touted draft class and ball-hawking free agents would make for weekly highlight reels.
Myles Garrett would set a new NFL sacks record and the secondary would lead the league in interceptions.
.@AdamSchein's bold predictions for 2021 season: Browns DE Myles Garrett breaks single-season sack recordhttps://t.co/NEGzwZ8fpi pic.twitter.com/54EtenUlPQ

— Around The NFL (@AroundTheNFL) May 27, 2021
Instead, the Browns defense proved to be a solid unit, but terribly non-descript… almost boring.
But at least they didn't leave fans scratching their heads as much as the underwhelming offense.
Nick Chubb had the quietest rushing title runner-up season ever, thanks largely to inexplicably-timed spells on the bench.
The @NickChubb21 train is full steam ahead. 🚂

📺: #CINvsCLE on FOX
📲: Browns mobile app pic.twitter.com/tm2l07YgcL

— Cleveland Browns (@Browns) January 9, 2022
And despite a slew of Pro Bowl invitations, statistical leader boards named no other Browns among their ranks.
Stefanski derailed the "second-season-in-the-same-system" narrative for Mayfield with unrecognizable play-calling.
About the best thing we can stay about that is he left Cleveland with a slew of 2022 Comeback Player award candidates.
2. Infighting, Insults, and Innuendo
Cleveland fans incurred a lot of locker room and back-office antics since their rebirth in 1999.
But the 2021 team was different in that there were fewer characters, an aligned vision, and a positive attitude.
Except it didn't take much to spark rumors of dissension from the Browns' locker room.
Odell Beckham Jr's dad set off a firestorm after the team failed to trade his son as he reportedly requested.
Accusing Baker Mayfield of ignoring, missing, or slighting Beckham on game days proved too much to ignore.
Baker Mayfield is under contract with #Browns for next season. This is a fact. He's scheduled to undergo surgery on Jan. 19. Fact.

He had his exit meeting on Friday with coach Kevin Stefanski and they talked about ways to improve going forward.

— Tom Withers (@twithersAP) January 9, 2022
Despite Stefanski's overtures to keep OBJ, Andrew Berry negotiated a release from his contract.
Stefanski's concerns proved warranted as other receivers struggled without their WR-1 to distract defenders.
Myles Garrett and Baker Mayfield slipped unflattering comments about management into postgame interviews.
Other players clammed up and Stefanski's insistence that everything was okay fell flat amid the tension.
It opens Cleveland to an offseason of rumors and uncertainty the team worked hard to avoid last year.
3. Cincinnati? Pittsburgh? Really? 
There are plenty of other reasons the Browns 2021 season was disappointing.
Special teams coordinator Mike Preifer is still looking for return men who might provide a spark.
Doug Dieken retiring, Steelers games, bad calls, and last-play interceptions will hurt as we look back on it all.
But the most disappointing thing about 2021 might be the Cincinnati Bengals.
Sure… we should be happy for another Ohio team stepping up and repping the Buckeye State.
THE BENGALS HAVE WON THE AFC NORTH ‼️ pic.twitter.com/4kCkyi7ExY

— PFF (@PFF) January 2, 2022
But… no. They are supposed to be in last place, and now their name will sit atop the AFC North standings for months.
Not only is that our spot, but we beat those upstarts twice this year.
That has to count for something, and while we're on the topic… the Steelers are in the playoffs?