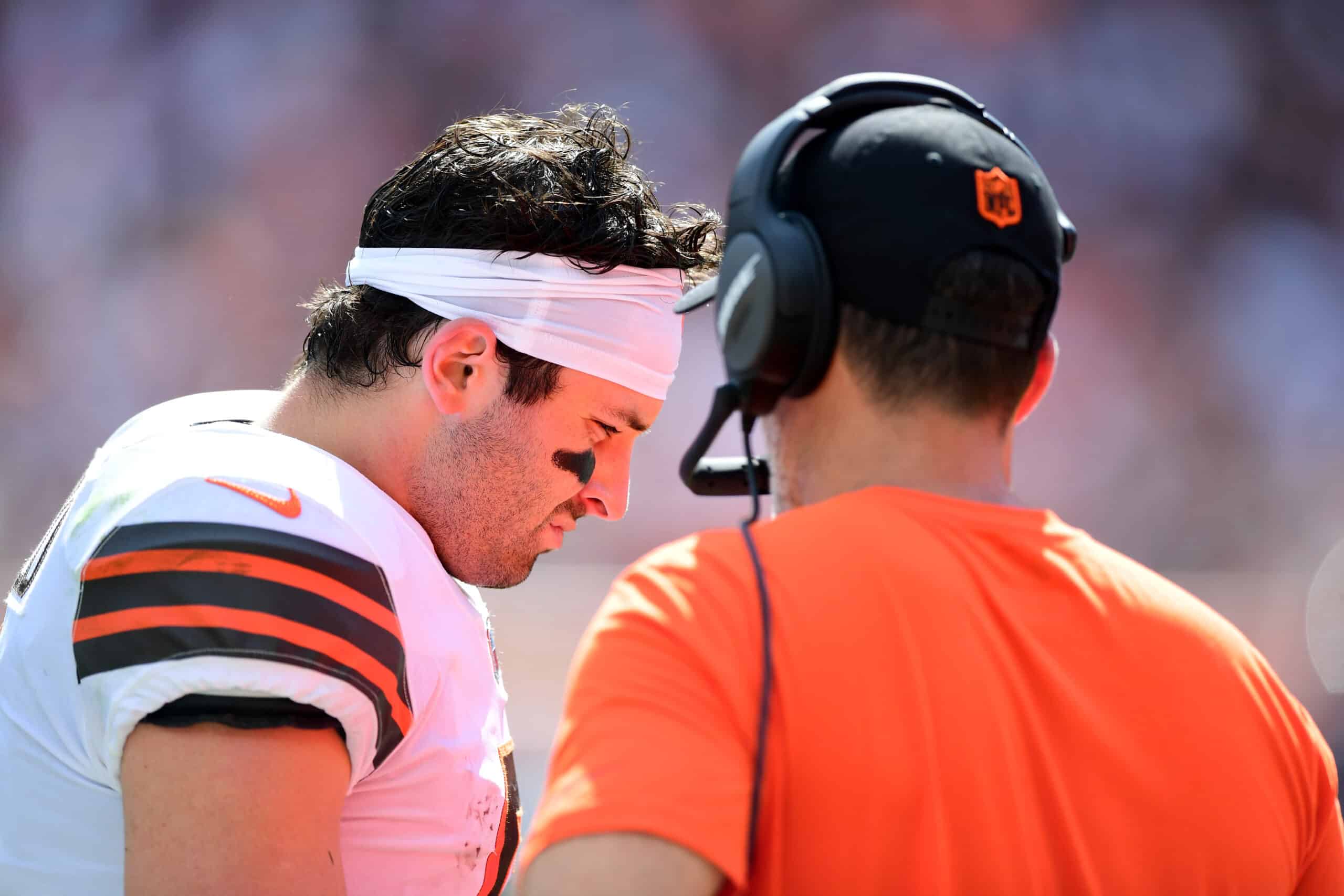 Andrew Berry, Kevin Stefanski, and the rest of the Cleveland Browns front office are in full flurry mode.
As in, there is a flurry of reports, analyses, and ideas flying around Berea for consideration.
Their disappointing 2021 only adds to the urgency of their annual rite.
And residual bad feelings and innuendo serve to make the mood more serious.
Former #Browns executive Kwesi Adofo-Mensah called the Browns Front Office an "Incubator" for executive talent… huge praise for Andrew Berry and Co

— MoreForYouCleveland (@MoreForYou_CLE) January 28, 2022
How will the Browns get back on the trajectory set in 2020?
Will they blow things up or shrug off 8-9 as a fluky speedbump on the way to a Super Bowl?
Nobody knows and so far, nobody in Berea has answered my inquiries about what the plan is.
So, I am left with my own ideas about 3 surprise moves the Browns could make in 2022.
1.  New Starting Quarterback 
Andrew Berry knew what he had to say as early as possible to calm conjecture and allegations in Ohio.
And he truthfully said he expects Baker Mayfield to be back in 2022 and bounce back for the Browns.
But that doesn't mean he isn't doing his due diligence, or that he is not taking calls.
With 9 new head coaches and more offensive coordinator changes, one might believe they can reach Baker Mayfield.
And now we'll see what Baker Mayfield's future in Cleveland holds.

He's under contract for one more year. He's owed a fully guaranteed $18.858M from Cleveland (unless he is traded).

The Browns have a huge decision to make this offseason about their direction at QB.

— Field Yates (@FieldYates) January 4, 2022
Free-agent quarterback replacements are scarce with as many as a dozen teams possibly looking for a new direction.
This is a bad quarterback draft, but the last bad quarterback draft gave us Patrick Mahomes and Deshaun Watson.
As far as trades, the most popular options are probably too costly for Berry's liking, but there are always surprises.
And, especially if Berry feels the relationship with Mayfield is damaged, any option might look better to the GM than it does to fans.
2.  Woods Goes to a 3-4 Defense
Myles Garrett might be the best edge rusher in the NFL, but he can't do it alone.
At the moment, Cleveland only has Porter Gustin, Joe Jackson, and Curtis Weaver secured for the 2022 roster.
Jacob Phillips, Tommy Togiai, and Sheldon Day are the only signed interior defensive linemen.
So why not shake things up by signing and/or drafting a linebacker/edge rusher and moving to a 3-4 defense?
Myles Garrett ranked #1 on PFFs Edge Rushers with a grade of 92.0!!! Myles Garrett had a franchise high of 18.0 sacks!!!!!! Absolute tank!!!! pic.twitter.com/HCOVLBLviy

— Down With The Browns Podcast (@DWTB_) January 23, 2022
Myles Garrett can tie up two opponents as an end, or pop outside as a linebacker and spread the blockers out.
Jeremiah Owusu-Koramoah can flip between an edge or interior linebacker play-to-play.
And Togiai and Phillips can line up around a free agent or drafted nose tackle to let the edges run wild.
His solid secondary allows Woods to use a fluid front 7 in a defense that can keep quarterbacks guessing.
3.  No Fullbacks 
Injuries and infighting might have conspired to make Kevin Stefanski's offense unrecognizably inept last year.
But one thing stood out in a season with an immobile quarterback working against run-prevent defenses.
That was the diminished use of his fullbacks.
Andy Janovich and Johnny Stanton barely managed to top 100 snaps, and some of them were as tight ends.
Andy Janovich kicks off the scoring this afternoon #Browns 7 – Texans 0 [1st Quarter] pic.twitter.com/06ZKMhfp9P

— The Cleveland Pulse (@PulseCleveland) September 19, 2021
Even when they lined up as traditional fullbacks, Nick Chubb and Kareem Hunt didn't always follow them.
Whether it was planned misdirection or holes opening elsewhere, it lessened the fullbacks' impact even more.
Re-signing D'Ernest Johnson gives Cleveland a trio of power rushers with speed and agility.
And since they run behind the top run-blocking offensive line, who needs fullbacks?