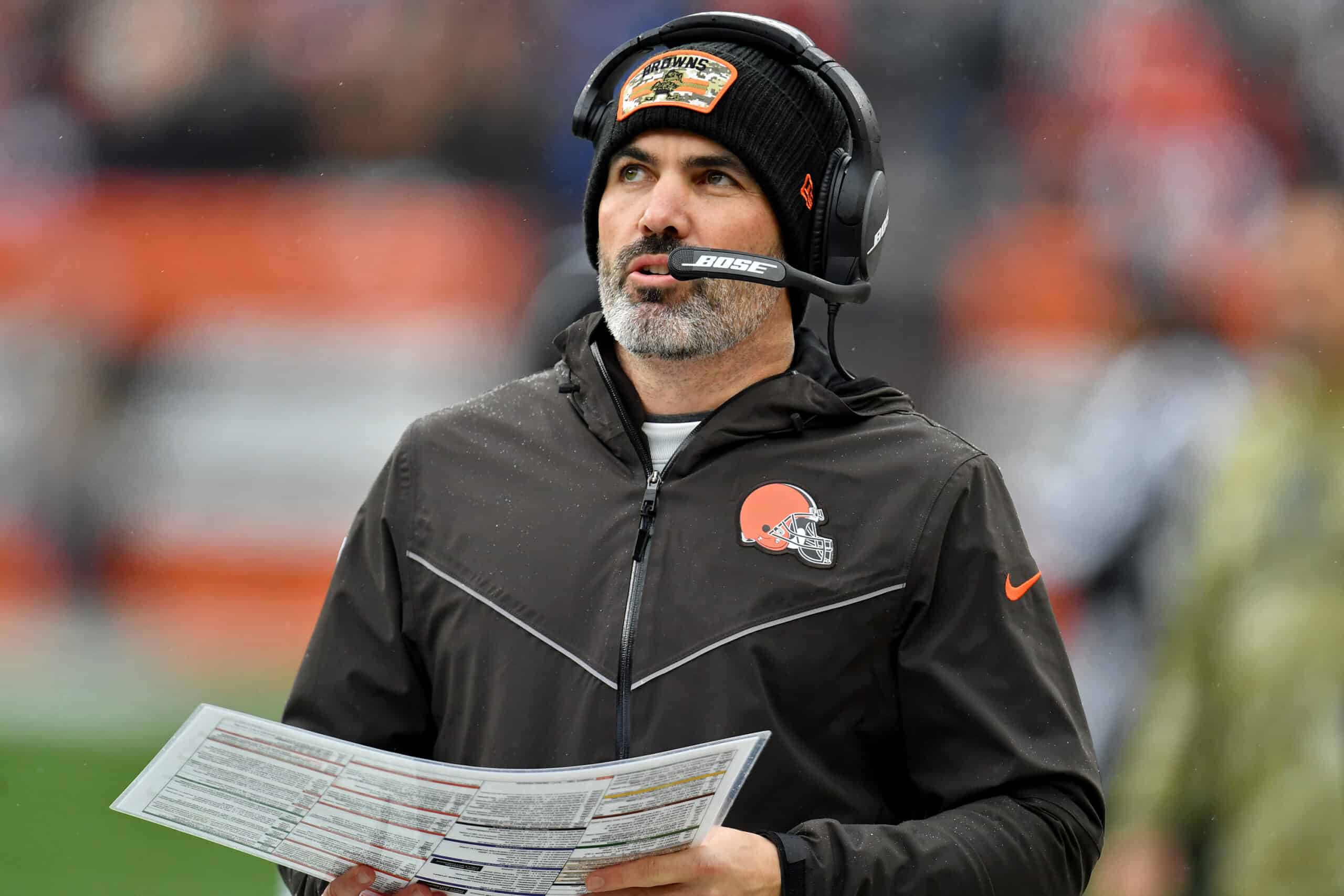 For better or worse, the Cleveland Browns have operated with the play calling of head coach Kevin Stefanski for all but two games in his two seasons with the Browns.
Those two games were when Stefanski was sidelined with COVID-19, and offensive coordinator Alex Van Pelt temporarily took the play-calling reins.
Playcalling is an art form.
No one complains when the play caller is leading a winning team, and everyone complains when the team loses.
This is precisely what has happened with Stefanski.
Given the 2021 Browns disappointing 8-9  season, what is the likelihood Stefanski relinquishes play calling in 2022?
Buy: Stefanski Will Turn Over Playcalling Duties In 2022
One of my least favorite things about the @browns is that Stefanski calls the plays…. For the love of god. We won 7 games. Maybe, just maybe, he isn't a good play caller?!

— Thomas R. Callahan III (@IanBodenhoff) January 4, 2022
Coach Stefanski spent many losing postgame press conferences talking about how he needed to be better and to prepare his team more.
In one particularly heated press conference after the team's loss to the Baltimore Ravens when the offense failed to capitalize on four Lamar Jackson interceptions, Stefanski said:
"We talk about a lot of things every single week. I'm comfortable with the communication that goes on throughout the week, on gameday. The offensive staff is outstanding, especially Bill [Callahan] and Alex [Van Pelt], throughout the game. So I'm comfortable with how we're doing it right now. We just have to be better, I have to be better, that's the truth. We just have to find ways to stay on the field, get sevens when we're down there in the red zone."
Perhaps in the offseason, he will jump out of his comfort zone and turn over play calling to Alex Van Pelt, who is 1-1 as the Browns play caller, because it is the best move for the team.
Another way this could happen is if the decision came from higher up.
Could the front office dictate this change as part of the ongoing offseason evaluations?
The Browns offense was not effective in 2021 so this could be one of the measures implemented to improve in 2022.
Sell: Stefanski Will Remain The Browns Playcaller In 2022
Coach Stefanski had many opportunities to give up this duty within the past two seasons.
He has never done it except when he had COVID-19.
Why would he do it now?
He will want to be the architect of a healthy Baker Mayfield offense which could provide redemption for both Mayfield and Stefanski in 2022.
Stefanski clearly believes he is the best and most qualified candidate to do the job so he will remain in the role.
I had my fair share of Stefanski critiques this year. Felt he got figured out a bit as a play caller tendency wise. But the scheme was still getting guys open. Gotta execute.

— Offseason Chopz (@Pchopz_) January 19, 2022
Conclusion: Sell
The only chance of a change to the play caller is if it is directed by GM Andrew Berry.
Berry is already on the record in his end-of-year press conference saying that he is comfortable with Stefanski's play-calling abilities.
"We really do have to go through everything because we didn't meet our level of expectations this year. That all being said, feel good about Kevin as a play caller. I feel like that is one of his strengths."
That was not the only time he shared his confidence.
Back in December, Berry said:
"I have a ton of confidence in him [Stefanski] as a play caller."
Berry has been an outspoken and steadfast supporter of Stefanski as the play caller so short of something drastic happening, we can expect the status quo in this area for 2022.