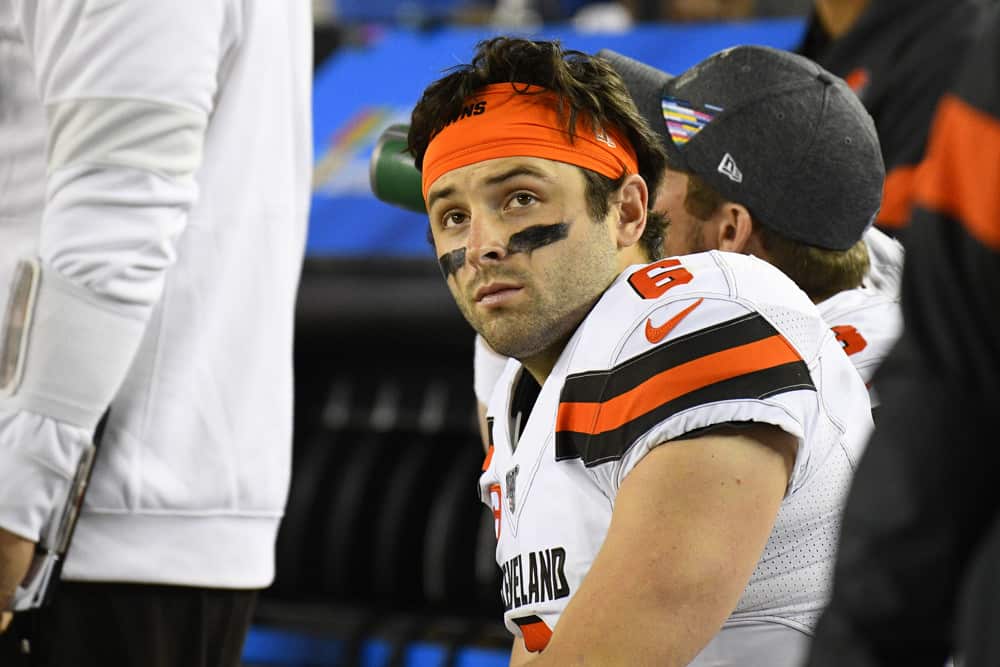 Jimmy Haslam said every Cleveland Browns coaching candidate lauded Baker Mayfield.
What else could they say when it was obvious neither the owner nor Paul DePodesta was ready to move on?
Barring a post-career tell-all book, we might never know how high Kevin Stefanski was on Mayfield.
But Stefanski and GM Andrew Berry are doing all they can to make it work for the former number 1 pick.
The Cleveland Browns enter the 2020 season with one of the best skill position groups in the NFL.
Berry used the draft and free agency to rebuild the offensive line and protect his quarterback.
No excuses for Baker Mayfield in 2020.

The Cleveland Browns now have a top 10 offensive line. pic.twitter.com/wYpsC0zeAR

— PFF (@PFF) July 12, 2020
Stefanski´s playbook is written to Mayfield´s strengths and uses deception to buy him time.
Now it is up to Mayfield.
He is saying all the right things in the offseason.
Coaches and players alike compliment their quarterback´s work and dedication.
But if Baker Mayfield stumbles again during the season, it could spell the end of his starting role.
Here are three things Baker Mayfield must do to keep his job in 2020.
1. Take Fewer Risks
It is no secret Mayfield needs to throw fewer interceptions.
But not every interception was Mayfield´s fault.
David Njoku was benched because of one, for example.
This writer was among the crowd blaming the offensive line for a few.
But despite the improvements, Cleveland will field a rookie and at least one player at a new position this year.
Mayfield is bound to come under pressure more than a few times this season, too.
All 11 of Baker Mayfield's interceptions this season pic.twitter.com/YA0oXbDCyT

— Everything Cleveland (@EverythingCLE_) October 16, 2019
He might be tempted to throw a pass earlier than he wants or to throw from a bad angle.
But with the powerful offense the Browns built around him, Mayfield has to learn to throw the ball away.
He can´t heave up low-percentage throws and expect to improve his interception rate.
An occasional sack might be in order, too.
Dust off and make the most of the next opportunity.
Along the same lines, Mayfield has to make better post-snap reads.
When he has time, he can´t force the ball into coverage before glancing at other options.
Fifteen of Mayfield´s interceptions were on passes aimed at his two primary targets- Beckham and Landry.
Austin Hooper is a big target, but he doesn´t have much of a track record on contested passes.
And too many times last season, Mayfield missed wide-open receivers because he didn´t look at the whole field.
2.  Adjust Bad Habits
Mayfield found himself under pressure 198 times last year.
But 33 of those were deemed to be of his own making by PFF.
Usually, he drifted too close to a pass rusher, a habit most opposing teams picked up on.
Some of this might be blamed on "happy feet" or trust issues regarding his offensive line.
But even though coaches pointed out his subconscious drift, Mayfield lapsed into the habit all season.
A second issue was evidenced by Odell Beckham Jr´s aggravation when Mayfield didn´t look his way a few times.
Odell Beckham was open on that 4th-and-4, but Baker Mayfield didn't throw his way.

Per CBS sideline report, Odell said after this, "I can't get the ball to save my life."#Browns | #CLEvsDEN pic.twitter.com/IelygRRjOI

— Kevin Boilard (@KevinBoilard) November 4, 2019
That might have been related to Mayfield´s pre-snap prediction of safety coverage.
Opponents understood if they looked like they would double a wideout pre-snap, Mayfield usually wrote him off.
Not checking back meant Mayfield didn´t see the safety slide away from the receiver.
Nor did he see Beckham with a step or three on the corner trying his hand one-on-one.
After the third or fourth time, one would expect a passer to adjust and correct bad habits or mistakes.
We can blame Freddie Kitchens´ coaching team for failing to address the issues last year.
But if Mayfield repeats the pattern under Stefanski, he will be a backup quarterback by season´s end.
3.  Be a Good Leader 
When you speak to Baker Mayfield´s supporters, they often mention his leadership qualities.
But a good portion of the Cleveland Browns admitted they didn´t go all out on the field last year.
That is likely a reflection on Mayfield.
His antics involving post-game dress and shaving habits did nothing to rally the team.
Calling out Myles Garrett about his helmet-swinging incident was better directed towards Garrett in the locker room.
Mayfield´s frank assessment to the first reporter who asked fell flat among his teammates.
Mayfield did not effectively inject himself into sideline and locker room quarrels involving his receivers.
Instead, he created more controversy by calling out team trainers in defense of Beckham.
Baker Mayfield calls out Browns trainers over Odell Beckham Jr.'s injury https://t.co/YdQGkEwqjZ pic.twitter.com/U4aCVpo8VZ

— For The Win (@ForTheWin) December 9, 2019
One could argue it was an attempt to back a fellow player, but again the manner and timing were poor.
If things were so bad that the team quit on Kitchens, we should have heard more from Mayfield.
Maybe if he went to bat against Kitchens in the quarterback room, Kitchens would have responded.
After all, Mayfield was Kitchens´ guy, with his future tied to the passer´s success.
There is a fine line between pushing for changes and mutiny sometimes.
But if Mayfield got benched for audibling last year, he would have won a lot of respect from his teammates.
Heading into 2020, much has been made about Mayfield´s workouts and attendance at multiple position meetings.
Just can't believe people out here shaming Baker Mayfield.

My man looks ready. pic.twitter.com/fmGC4FgaBy

— McNeil (@Reflog_18) January 31, 2020
But neither of those things should be considered exemplary as much as they are expected.
Mayfield´s promise to kneel with teammates in support of their fight against police brutality and racism hits closer to the mark.
Even if it means upsetting a percentage of Cleveland Browns fans.
Leaving it on the Field 
Count this writer among the many fans expecting Baker Mayfield to excel under Kevin Stefanski.
The organization as a whole supports him in every possible way.
Despite his sophomore slump, teammates stand by their leader.
He is arguably set up for success better than any Browns quarterback of the Haslam Era.
That means it is all on Mayfield´s shoulders.
You love to see it. @obj @bakermayfield pic.twitter.com/OahySJyk4A

— Cleveland Browns (@Browns) May 18, 2020
Which is good given his track record of beating odds and facing adversity.
But if he falters, don´t expect Cleveland to waste much time moving on.
None of the current Browns management team had a hand in drafting Mayfield.
Stefanski has a backup he trusts to run things at any point.
If the suggestions above sound simple, they are not.
But Baker Mayfield can hit those goals and be the Browns´ franchise quarterback for a long time.