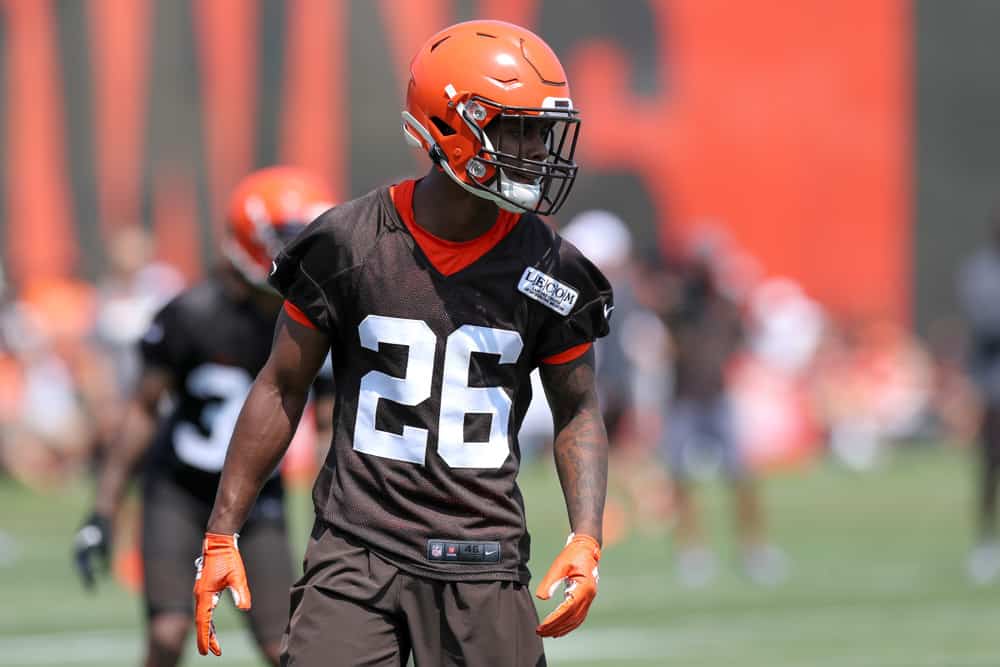 It's been far from a peachy start to the NFL career of Greedy Williams.
The former LSU standout was drafted by the Cleveland Browns in the 2nd round of the 2019 draft.
It was considered a steal at the time and still could be if Williams develops into what many think he can become.
#ReturnOfGreedy is official!

— Greedy Williams ™️ (@Greedy) March 4, 2021
His rookie season was off to a strong start before a hamstring injury sidelined him for a few weeks and limited Williams in the second half of the season.
#Browns Greedy Williams is off to a strong start in his rookie year. His Defensive and Coverage grades from last week (86.2 / 87.5) ranked him 3rd among 100 qualifying CBs.

Through 2 wks, he leads all rookie CBs in Defensive, Coverage, Run Defense, and Tackling grades.

— PFF CLE Browns (@PFF_Browns) September 18, 2019
Last year ended before it even started with a shoulder injury in training camp.
The nerve damage sidelined him for the entire season.
Denzel Ward continues to look for a consistent partner on the opposite side of the defensive backfield.
Could Williams slide into that role?
Possibly, but he'll have to prove a couple things this summer.
1. Have to Tackle
One of the biggest weak points on Greedy's draft profile was his unwillingness to tackle.
His 2019 season didn't change too many minds on that front.
@DustinFox37 This how you were taught to tackle? 🙄 Embarrassing. Greedy needs checked by his teammates. pic.twitter.com/PWTN6Lotha

— Christopher Allen 🌹 (@cab0305) December 29, 2019
The focus is tough for modern corners who spend so much energy on trying to stay in front of today's quick, elusive receivers.
Still, sticking your nose in the thick of things and sniffing out the ball carrier is a necessity for every defensive player.
While returning from the shoulder injury, there may be an initial hesitancy from Williams to get physical with blockers and ball carriers.
It's a change that needed to happen even before the injury though.
Not only will improving on tackling earn Williams more playing time, it will earn him the respect of the fanbase.
If he can't tackle in training camp though, there's no reason to believe that will change come September.
2. Force Some Turnovers
As Greedy enters his contract season, there will be plenty of eyeballs on him.
The evaluation will be never-ending for Williams as he tries to earn that second contract.
For any cornerback, one way to turn some heads (in a good way) is to force some training camp interceptions.
Coming out of college, Williams was looked at as one of the better man-coverage corners in his class.
His size and physicality allowed him to press almost any receiver and win the matchup.
That's the skill that appeals the most to NFL front offices.
If he can't maintain that ability, his value starts to diminish in a hurry.
Picking off a few passes this summer, whether that's off Baker or a backup, can prove to Joe Woods and the defensive coaches that Williams is for real.
Greedy Williams in perfect phase on Antonio Callaway's go route. #Browns pic.twitter.com/p9EWSOBMHP

— Jake Burns (@jake_burns18) July 29, 2019
3. Stay on the Field
This one's obvious, but another injury to Williams this season might just do it for his career in Cleveland.
Again, it's a contract season, and the team drafted Greg Newsome II as one of the best cornerbacks in this year's class.
Williams has a short leash.
Any snaps he has to miss, even if it's injury-caused, will work against him.
That's the way it goes in the business of the NFL.
Cleveland's championship window is open right now and they know it.
Teams with title hopes don't have time to mess around with experimenting with starting spots and rotations.
Greedy has to stay on the field this summer if he has any hopes of starting for the Browns.
He's been injury-prone thus far, so it'll be a delicate balance for him between pushing his body and staying healthy.
The potential of Williams has never been questioned and folks are excited to have him back this season.
Cleveland just needs to see more of him on the field.
If they like what they see this summer, expect him to start opposite of Denzel this fall.