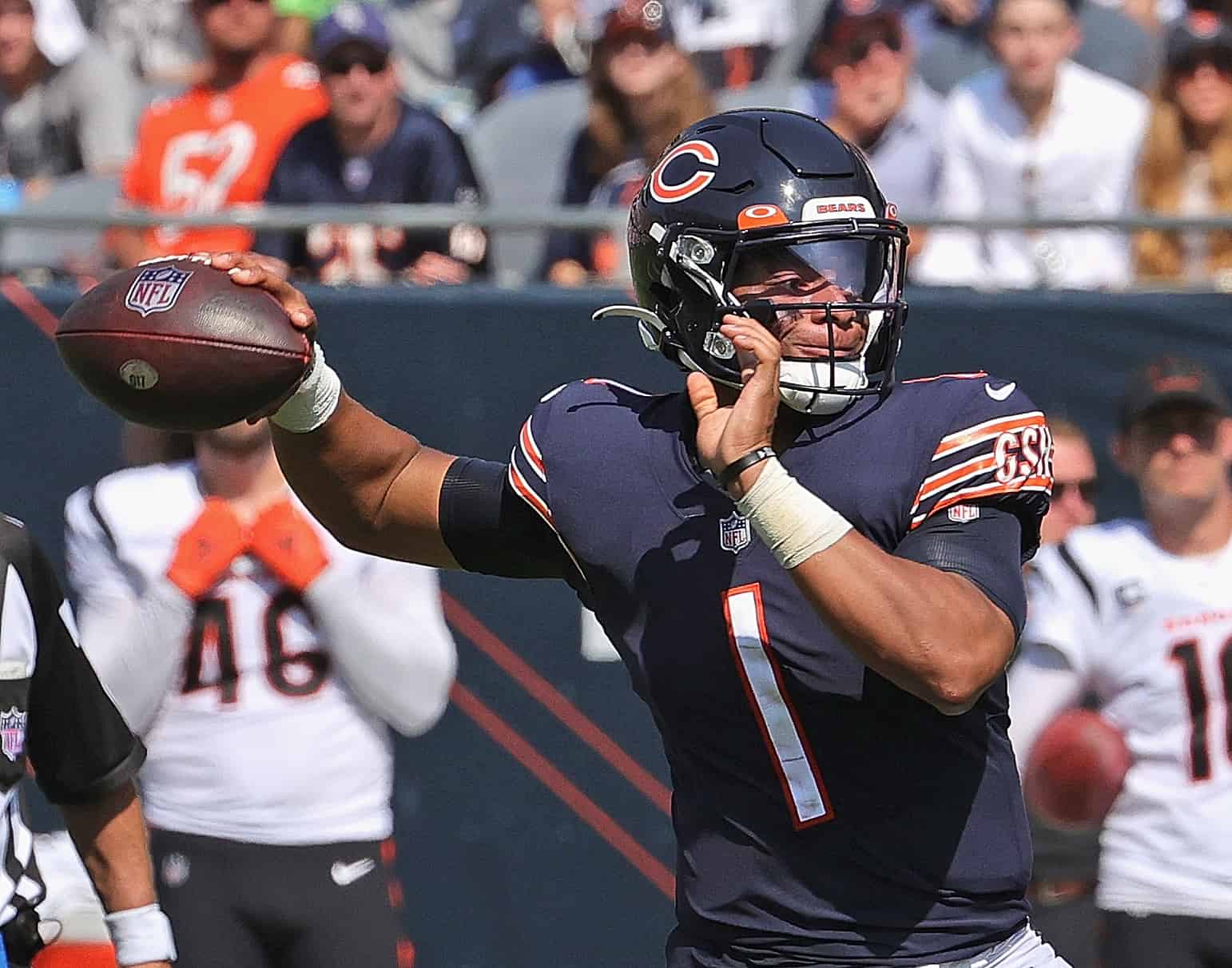 The Chicago Bears are starting rookie quarterback and Ohio State standout Justin Fields on Sunday against the Cleveland Browns.
This matchup is an intriguing one with both teams at 1-1 on the season.
The injured Andy Dalton is out with a bone bruise, so it is Fields' time to shine.
Fields believes he is ready.
"I've been preparing for this moment for a long time. My mindset doesn't change, I'm still going to have to play my football and just prepare the best I can. Like I said before, get a lot of practice reps and study, study, study, and get more comfortable and confident with the plays and stuff like that."
Here are three things the Browns can expect from Fields.
1. He Will Call His Own Number
Fields is a mobile quarterback so there will be running plays designed for him.
How often he does this depends on the situations of the game and how well the Browns defense does at pulling him down.
The Browns' defense struggled with both Patrick Mahomes and Tyrod Taylor in their previous two games.
In relief of Dalton, Fields has rushed 11 times for 34 yards and scored a touchdown.
Former Ohio State quarterback Justin Fields scored the first touchdown of his NFL career on a three-yard run in the Chicago Bears' Sunday Night Football game against the Los Angeles Rams: https://t.co/9HwntQsdfs

— Andrew Lind (@AndrewMLind) September 13, 2021
2. He Will Air It Out
It will not be a consistent pattern of long passes down the field because the Chicago Bears offense under Matt Nagy is based on safe, short passes.
Fields in relief has stats demonstrating this offensive strategy.
He has completed 8 out of 15 passes for 70 yards.
However, there will likely be plays where Fields can launch it down the field.
As discussed often, the Browns defense has struggled particularly on stopping teams on third downs.
Third and long situations could lend themselves to long Fields' passes for potentially big gains.
He almost had his first touchdown pass last week on a second and long play, but Robinson dropped it.
Coulda shoulda woulda been the first career TD pass for Justin Fields pic.twitter.com/HoPa88xMZZ

— Ian Hartitz (@Ihartitz) September 20, 2021
3. He Will Throw One INT (Or More)
Fields was good in college, but he is still a rookie.
The NFL game is faster, and there are bigger, quicker bodies coming at quarterbacks.
Hopefully, the Browns execute some aggressive blitzing packages and pass rushes to force Fields to let go of the ball a little earlier than he might want to.
Those are the situations where he could throw an interception.
He threw an interception in Week 2 while being in for only 65% of the offensive snaps.
Conclusion
What Fields brings to the game on Sunday afternoon will likely have more to do with the Browns defense than his own game.
The Bears will see what works which is likely to be the quarterback runs and short passes before opening up the field for bigger plays.
Browns fans will have a brief conundrum because the majority of them are Ohio State fans also.
As a buckeye fan, I want to see Justin Fields succeed in the NFL.

As a #Browns fan, I hope he has a miserable Sunday.

— bri (@breezyCLE) September 23, 2021
Deep down, they like Fields on any other day except when he is facing the Browns.
As a result, listening to the fans react to Fields at FirstEnergy Stadium will be an interesting side note to this game.