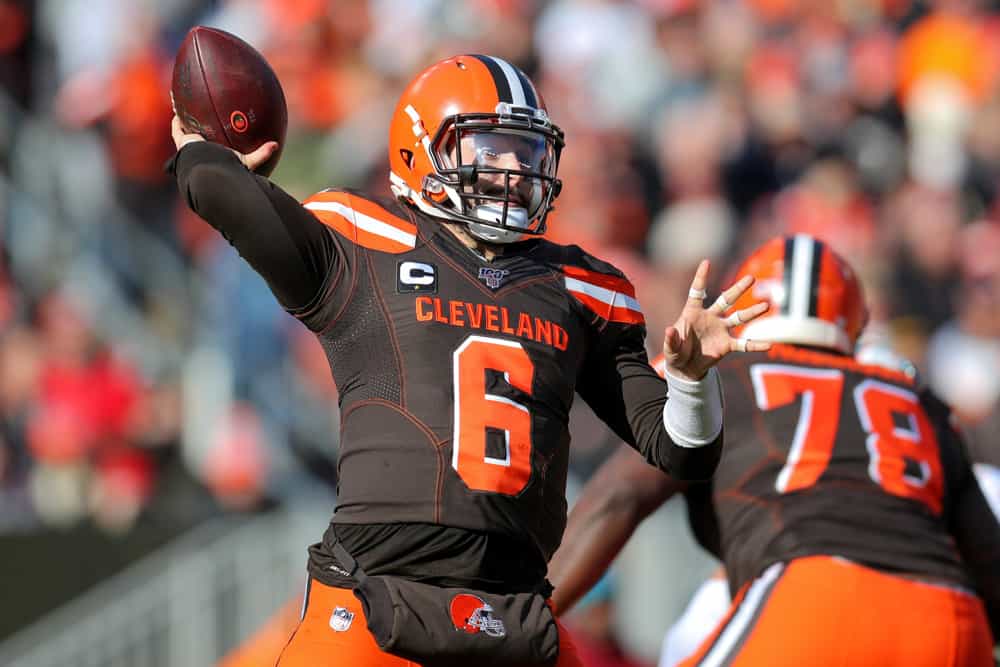 Greg Cosell of ESPN's "NFL Matchup" and NFL Films believes Baker Mayfield is in good hands with new Cleveland Browns head coach Kevin Stefanski.
"Baker Mayfield is a far more talented passer than Kirk Cousins and Kirk Cousins did exceptionally well in this offense," Cosell said. "It's so well schemed and I think that, that's a critical, critical piece."
During a Thursday appearance on 92.3 The Fan's "Bull and Fox" show, Cosell explained how Stefanski liked running tight offensive formations as offensive coordinator of the Minnesota Vikings in 2019.
Stefanski's scheme encourages opposing defenses to run schemes with single-high safety looks.
Cosell believes it means Browns offensive skill position players like wide receiver Odell Beckham Jr. will get plenty of one-on-one matchups on the outside.
"You can say what you want about Beckham and all the other stuff, I don't care about that unless it impacts his play and I don't know the answer to that," Cosell said. "But if you just look at the skillset, Beckham is top three, top four in the league without question."
Cosell said Mayfield and Beckham should thrive in 2020, especially now that OBJ is healthy after offseason surgery to repair a core muscle injury.
"It's evident from tape study that Mayfield is a talented passer who can make all the throws," Cosell said. "At his best, he's intuitive, aggressive and accurate. And, there's a lot to like about his game.

"I just think he needs more refinement and consistency in the execution of his lower-body mechanics because he's a really good thrower of the football. A really good thrower. He's got excellent traits. It's just there's no reason for your mechanics not to be right unless the defense forces them not to be right."
Offensive coordinator Alex Van Pelt has worked with Mayfield this offseason on his footwork.
"One of the things I loved watching Baker Mayfield and then we spoke I think before the draft — and I told you I loved him — or I think after the draft when they drafted him, was that he was very nuanced in college," Cosell said. "His fundamentals, his mechanics were really good, and I think that he got away from that last year.

"Now I'm not knocking the coach. I don't know how he was coached. I can't speak to that. I can just tell you what the tape shows, and the most important thing is the waste down. Your feet have to work properly, and particularly if you're going to throw to your right, your feet and your eyes must work together.

"You must step to your throws, and Baker got away from that a little bit last year and his feet were a little unsettled, at times a little frenetic and he did get caught up a bit in leaving the pocket too soon, prematurely. When he either perceived pressure [or] anticipated pressure, again, there were some [offensive] line concerns, so I understand the quarterback starting to feel that way. But, unless you are absolutely forced to, your feet and delivery should be the same all the time. It's repetitive mechanics."
Mayfield regressed in his second season with the Browns, completing 317 passes on 534 attempts (59.4 completion percentage) for 3,827 yards, 22 touchdown passes and 21 interceptions.
Last season, Mayfield was sacked 40 times, which ranked ninth-most in the NFL.
The Browns finished with a 6-10 record, and missed the playoffs for the 17th consecutive season.
It prompted the team to fire head coach Freddie Kitchens and general manager John Dorsey.