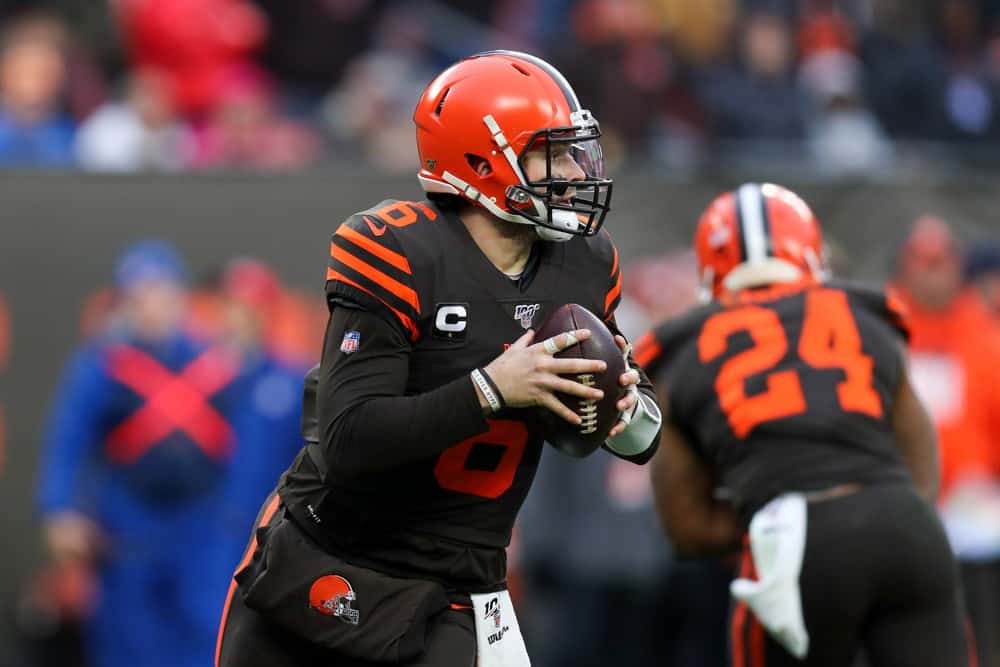 The 2020-2021 Cleveland Browns season, similar to the previous one, is filled with expectations.
Though this time around, it's safe to say those have been a bit tempered.
CBS Sports had the Browns Super Bowl odds at 15-1 before last season, while this season Cleveland comes in at 40-1 odds.
It's hard to argue the lowered odds simply because of how flat this team fell at certain points last season.
With that in mind, there are a couple of things to both expect and not to expect from this upcoming Browns season.

Do Expect: Jarvis Landry to Lead the Team in Receiving Yards
I'll steal this one from my friend Jimmy Swartz here at Brownsnation.com.
Jarvis Landry led the Browns in receiving yards a year ago, and it will happen again.
First and foremost, this is not a knock on Odell Beckham Jr.
Both he and Landry played a full 16-game slate last year despite both facing injuries.
That's something not a lot of players do.
I still give the nod to Landry this year again simply because of the role he serves.
He was Baker Mayfield's go-to guy last year, leading the team with 138 targets.
That's a pairing that Kevin Stefanski knows worked last year despite a very inconsistent offense as a whole under Kitchens.
Expect Stefanski to really hone in on the chemistry between those two and make that a fixture of the offense.
OBJ deserves credit here as well.
The double-teams he faces compliment Landry's ability to shred one-on-one coverage.
Don't Expect: A Fast Start to the Season
This one might be low-hanging fruit, but it needs to be said.
With COVID-19 delaying the start of training camp and somewhat limiting what NFL players can do in terms of going to facilities, things are different.
It will take most guys a little longer than usual to get themselves back into game shape.
With a ton of new faces in Berea this year, it's not unrealistic to expect some growing pains from this team.
I do also believe Stefanski knows how to coach an NFL football team with the kind of consistent attention and focus necessary, something this squad lacked last year.
And in the NFL, it's not always how you start, but how you finish.
Do Expect: Mack Wilson to Take a Step Forward
The Alabama product turned heads almost immediately as a rookie during last year's preseason.
#Browns rookie LB Mack Wilson picks off #Redskins rookie QB Dwayne Haskins and takes it back 40 yards for a TD pic.twitter.com/HgdriZcUXH

— NFL Update (@MySportsUpdate) August 9, 2019
He also progressed really well throughout the rest of the season, including a monster performance in December's game against Arizona.
The #Browns highest-graded player* on defense vs. Arizona was Mack Wilson (90.4 defensive grade) which ranked 2nd among 81 Week 15 LBs with qualifying snaps. He allowed just a 41.7 passer rating, secured an INT and added three defensive stops

*min. 25 snaps

— PFF CLE Browns (@PFF_Browns) December 16, 2019
The athleticism is there, no question.
If you wanted to build a prototypical linebacker for the modern NFL, he would look like Wilson.
Now it's just a matter of getting consistent snaps and improving his ability to read and react to different offensive schemes.
Once he puts it together, watch out.
Don't Expect: Nick Chubb to Lead the League in Rushing
This is a take that floats around social media outlets every now and again.
It's not a bad one either, I just disagree with it.
No knock on Nick Chubb's talent or ability here.
At all.
There's just an absurd amount of talent on the offensive side of the ball.
Not that this wasn't the case last year, but there's differences.
Kareem Hunt does not have to miss an entire half of the season this time around, meaning Chubb won't have to handle as heavy a workload like he did early on last year.
While he may not be the leading rusher when this upcoming season comes to a close, I think a top-5 appearance is all but a guarantee.
Do Expect: A Better Season From Baker Mayfield
Baker Mayfield's shortcomings last year have been talked about more than coronavirus this offseason.
Who was to blame?
Was it Freddie's fault?
Is Baker overrated?
Can Stefanski save his career?
While these questions become tiresome overtime, it's more than acceptable to have concerns over your number one overall draft pick quarterback.
Let's be honest, this entire rebuild rests on the shoulders of Mayfield.
Without a legitimate franchise quarterback, there's a lower ceiling to this than the team or its fans want.
The offensive line has been addressed both through the draft and in free agency.
With some added time and comfort in the pocket, Mayfield should be able to make better reads and, as a result, better throws throughout the course of a game.
He showed flashes of his rookie-self last year, but it was easy to see some of the frustrations build up and lead to errant throws.
He'll throw his fair share of interceptions as all gun-slinging quarterbacks do.
But it's hard to believe that Mayfield will finish in the bottom third of QB's in terms of quarterback rating again.
The Browns have done their part to help out Mayfield, now he just has to deliver.
How the @Browns have helped Baker Mayfield improve his chances for suchess this year @nflnetwork pic.twitter.com/6ijpYyVJi9

— Charley Casserly (@CharleyCasserly) May 28, 2020
Don't Expect: David Njoku to Have a Significant Role
As much as fans want to love David Njoku, he's made it hard to do.
There's not much doubt surrounding his play-making ability from the tight end position.
But, he's had a tough time staying on the field.
And when he is, his play has been inconsistent.
There's a reason Andrew Berry went out and acquired Austin Hooper this off-season.
Njoku simply hasn't been the guy the Browns have needed him to be to this point.
Can he turn that around next season?
Sure, if he can stay on the field then there's a chance he puts it together.
I'm just not sure the Browns have a ton of faith in that happening, and I expect Hooper to be the main tight end threat for this team.