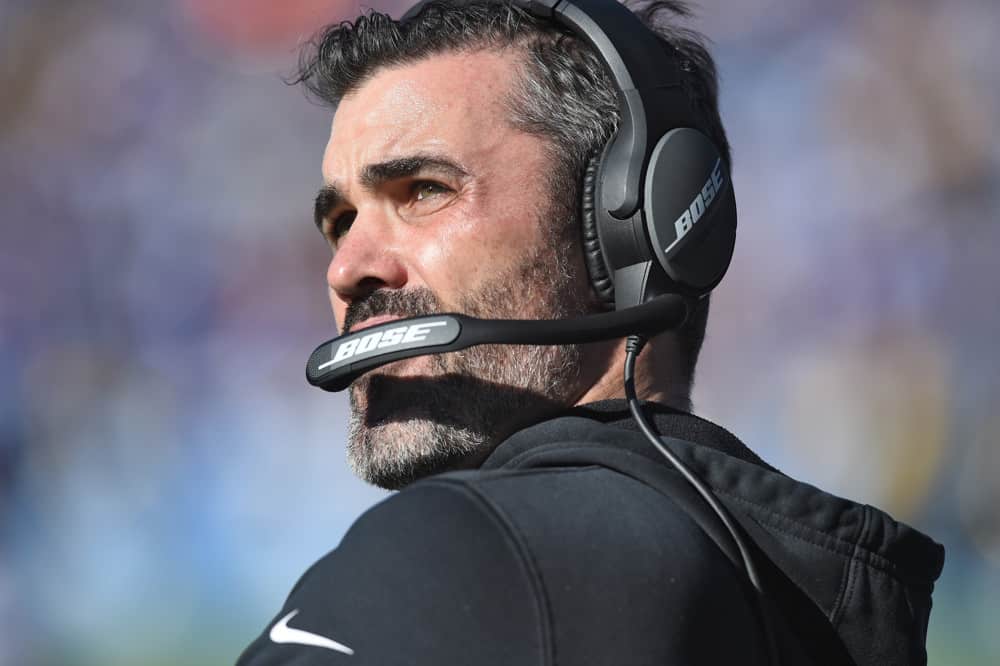 Baker Mayfield will take play calls from his fourth different game day manager in three seasons.
And Cleveland Browns fans still don´t know who that person will be.
Kevin Stefanski remains uncommitted to calling plays himself as we inch closer to opening day.
#Browns coach Kevin Stefanski was asked if play-calling decision could be affected by a shortened preseason. He simply said decision about whether he or OC Alex Van Pelt will call plays will be made before Sept. 13. "I promise you that."

— Nate Ulrich (@ByNateUlrich) June 25, 2020
Offensive coordinator Alex Van Pelt will share play-calling activities in the preseason.
Stefanski says he might wait until after the preseason ends to decide who handles the chore come September.
One might think Stefanski wants total control of what happens on the field.
But he remains open-minded about the matter.
As he explained to Mary Kay Cabot for Cleveland.com,
"Calling plays is exciting, but it's not fun. When you're done calling plays you sink into the couch. But what's fun is winning. So that's what I'm about and whatever gives the Browns the best chance to have winning, that's what we'll do.''
There is relatively little documented data about the impact of head coaches calling plays.
For every Andy Reid and Sean McVay, there is a Freddie Kitchens and a Hue Jackson.
Last season, Matt Lafleur and Kliff Kingsbury enjoyed some success calling plays in Green Bay and Arizona.
But Cincinnati´s Zach Taylor directed his offense to a last-place ranking in most categories.
Stefanski will decide when he thinks he has an answer.
As for us, let´s consider the possibilities right now.
Yes! Kevin Stefanski Should Call the Offensive Plays
Kevin Stefanski and Alex Van Pelt each have about one full season of play-calling experience.
But Van Pelt´s season was over ten years ago when his 2009 Buffalo squad had the 30th overall offense.
Stefanski comes off a much more successful season at the helm of the Vikings´ 2019 offense.
Cleveland´s new head coach expressed a definitive plan to make Mayfield a success.
Kirk Cousins led the NFL in 2019 in touchdowns on play action (14) with Kevin Stefanski as the offensive coordinator.

Now the head coach of the #Browns, Stefanski will look to build upon the Baker Mayfield's success on play action (9 TD, 3 INT). pic.twitter.com/SSMtgeJsYk

— Next Gen Stats (@NextGenStats) May 28, 2020
Being the voice in Mayfield´s ear assures clear messaging, as Matt Hasselbeck explained when talking about his former head coach Mike Holmgren.
"Having that direct line to the play-caller as the head coach, I actually liked it a lot," Hasselbeck said. "It's third-and-8 and he tells you that you have two chances here because we're going to go for it on fourth down. That's helpful."
Holmgren once told ESPN he considered giving up play-calling and decided against it.
"I started thinking, if I do that — and there's a play out there that I don't like — I'm going to be horrible, I'm going to be really bad on these guys."
And if things do not go well, it is arguably easier to give up the duties than take them over.
Mike McCarthy famously gave up play-calling duties after a bad 2014 playoff loss.
But the Packers´ coach took over again for Tom Clements in Week 12 when the offense faltered badly.
How do you do that without creating factions in the locker room?
Sean McVay proved to be an offensive genius even while doubling as a head coach.
But landing Wade Phillips as his defensive coordinator helped McVay to concentrate on his unit.
Cleveland hired a highly touted defensive coordinator in Joe Wood and brought back their successful special teams coordinator, Mike Preifer for a reason.
No. Kevin Stefanski Should Not Call the Offensive Plays
Being a head coach in the NFL entails more than controlling a locker room and developing game plans.
Anthony Lynn was an offensive coordinator in Buffalo before the Chargers made him their head coach.
But he wasted little time in asking Ken Whisenhunt to join his staff and call the offensive plays.
Lynn said he wasn´t sure about his decision at first, but ultimately decided,
"I was brought here to lead. I was brought here to carry out a vision and help everyone, not just the offense."
Doug Pederson, who calls his own plays, told reporters at the NFL Combine his biggest challenge.
"Leading the football team, meeting with doctors, meeting with the GM, the personnel department, and (other team executives). Those are things that take away your time during the week. Finding time to get your own study and preparation in and being in a position to help your team.
Jimmy Haslam´s habit of taking up his coaches' time will not help Stefanski´s film study.
As for Stefanski´s play-calling experience, he benefitted from Gary Kubiak in an advisor role all season.
Van Pelt could rely on Stefanski´s input the same way, even as the head coach interacts with his other coordinators.
We watched Freddie Kitchens let clock management, special teams plays, and sideline antics trip him up in 2019.
Who should call the plays for the Browns offense in 2020? Alex Van Pelt or Kevin Stefanski?

After Freddie last year struggling to deal with all his responsibilities, maybe Alex Van Pelt should have playcalling duties so Coach Stefanski can focus on the team. pic.twitter.com/V5bCI1wKM1

— Spike Perry (@DawgPoundPerry) June 7, 2020
Letting the offensive coordinator run the offense doesn´t block the head coach from giving input.
But it frees the head coach to communicate with everyone on the sideline and keep his finger on the pulse of the game.
It is hard to know if Kitchens let play-calling interfere with his game management or vice versa.
But most observers agreed he would have benefitted from letting go of the play sheet.
Is There a Third Option for Kevin Stefanski? 
You can take the coach out of the coordinator role, but you can´t take the coordinator out of the coach.
Regardless of who plays what role, Stefanski will have significant control of the offensive plan.
He will help write the script for the Browns´ opening drive or first ten plays each week.
Much of the play selection will be pre-determined, making the play-caller less important.
#Browns OC Alex Van Pelt said he has not discussed play calling responsibilities with Kevin Stefanski beyond original plan of Van Pelt calling pays in preseason "I think we're in the same spot as we have been"

— Daryl Ruiter (@RuiterWrongFAN) June 3, 2020
Van Pelt and Stefanski have Mayfield´s ear early on.
As long as they are on the same page, that should work out fine.
It would not be a surprise if the pair share duties based on the situation come game day.
Or if the role is decided on a week-to-week basis as Stefanski gets a feel for his expanded duties.
Vote!
[socialpoll id="2658819″]