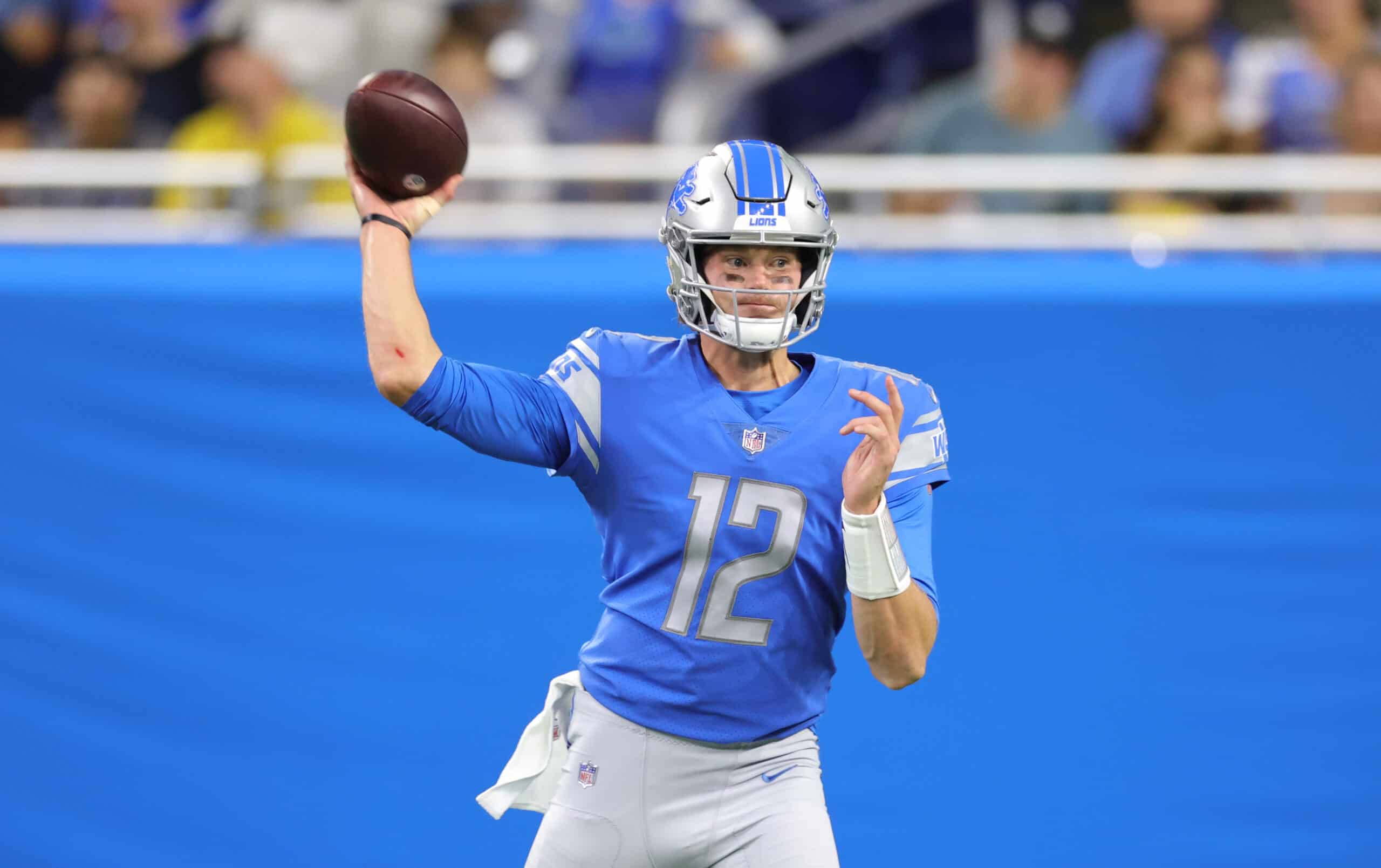 The Cleveland Browns are set to take on the winless Detroit Lions in Week 11.
Normally, quarterback Jared Goff would be under center for Detroit.
However, he is dealing with an oblique issue and hasn't practiced over the last three days.
That means backup quarterback Tim Boyle is in line to make the start on Sunday.
With Jared Goff not practicing today for the third straight day, Lions' QB Tim Boyle is in line to start Sunday vs. Cleveland.

— Adam Schefter (@AdamSchefter) November 19, 2021
If you have no clue who in the world Tim Boyle is, it's okay because most people didn't until this week.
The 27-year-old is in line to make his first career start against the Browns on Sunday.
1. He Makes Plenty Of Mistakes
Boyle has a small sample size for a professional quarterback.
He has played in over 10 games, but has taken a very limited number of snaps.
Honestly, his college stats speak for themselves.
Boyle threw for 12 touchdowns and 26 interceptions in 38 total games between his two schools.
In fact, thirteen of those INTs came in his one season at Eastern Kentucky.
That being said, it doesn't seem too difficult to force Boyle to make mistakes.
The Browns need to make sure to create pressure and force Boyle to make quick throws or bad decisions.
Cleveland has struggled to force turnovers this season, but this game could be a prime opportunity for their defense.
It's going to be interesting watching Boyle try to avoid the NFL sack leader in Myles Garrett.
Here's a sneak preview of what #Lions QB Tim Boyle will face if he makes his 1st career start, including #NFL sack leader Myles Garrett pic.twitter.com/KcbwilHnGI

— Mary Kay Cabot (@MaryKayCabot) November 19, 2021
The superstar pass rusher could be looking at a big day or the Browns defensive backs might end up catching more balls than Odell Beckham Jr. did in Cleveland.
2. Boyle Has Negative Career Yardage
You wouldn't really think it's possible to have negative career yardage.
Somehow, Boyle has accomplished it, but most of his plays were kneel downs.
In his career, Boyle has completed 3-of-4 passing attempts for 15 yards in two seasons.
He has 18 total rushing attempts for -16 yards, bringing his grand total to -1 yard in his career.
Boyle has appeared in 11 regular-season games and all were as a member of the Green Bay Packers.
He signed with Green Bay in 2018 after going undrafted and spent two seasons there.
Now, Boyle could be tasked with making his first career start against Cleveland.
Clearly, Boyle doesn't have much experience and rarely does anything when he is on the field.
He probably won't leave Sunday with a victory, but Boyle should have a positive yardage total, assuming he starts.
3. Won The Backup Job Over Jordan Love
As already mentioned, Boyle joined the Packers roster after going undrafted in 2018.
He remained on the team and actually won the backup quarterback job in 2020.
Somehow, Boyle managed to win the backup job to Aaron Rodgers over former first-round pick Jordan Love.
Jordan Love couldn't win the backup job in Green Bay. I'll be honest, I have no clue who Tim Boyle is. Not an ideal start for a 1st rounder pic.twitter.com/FU3VCafMit

— John Middlekauff (@JohnMiddlekauff) September 8, 2020
It's uncertain if that means Boyle does have some hidden talent or Love is actually that bad.
Regardless, Boyle served as the backup to Rodgers, but never needed to start for Green Bay last season.
He became an unrestricted free agent after the 2020 season and signed a one-year deal with the Lions.
Possibly, there is more to Boyle than what his horrendous college stats show us.
A winless Lions organization believes in him enough to use him as their starter.
Despite a seemingly easy matchup, Cleveland needs to come ready to play on Sunday.