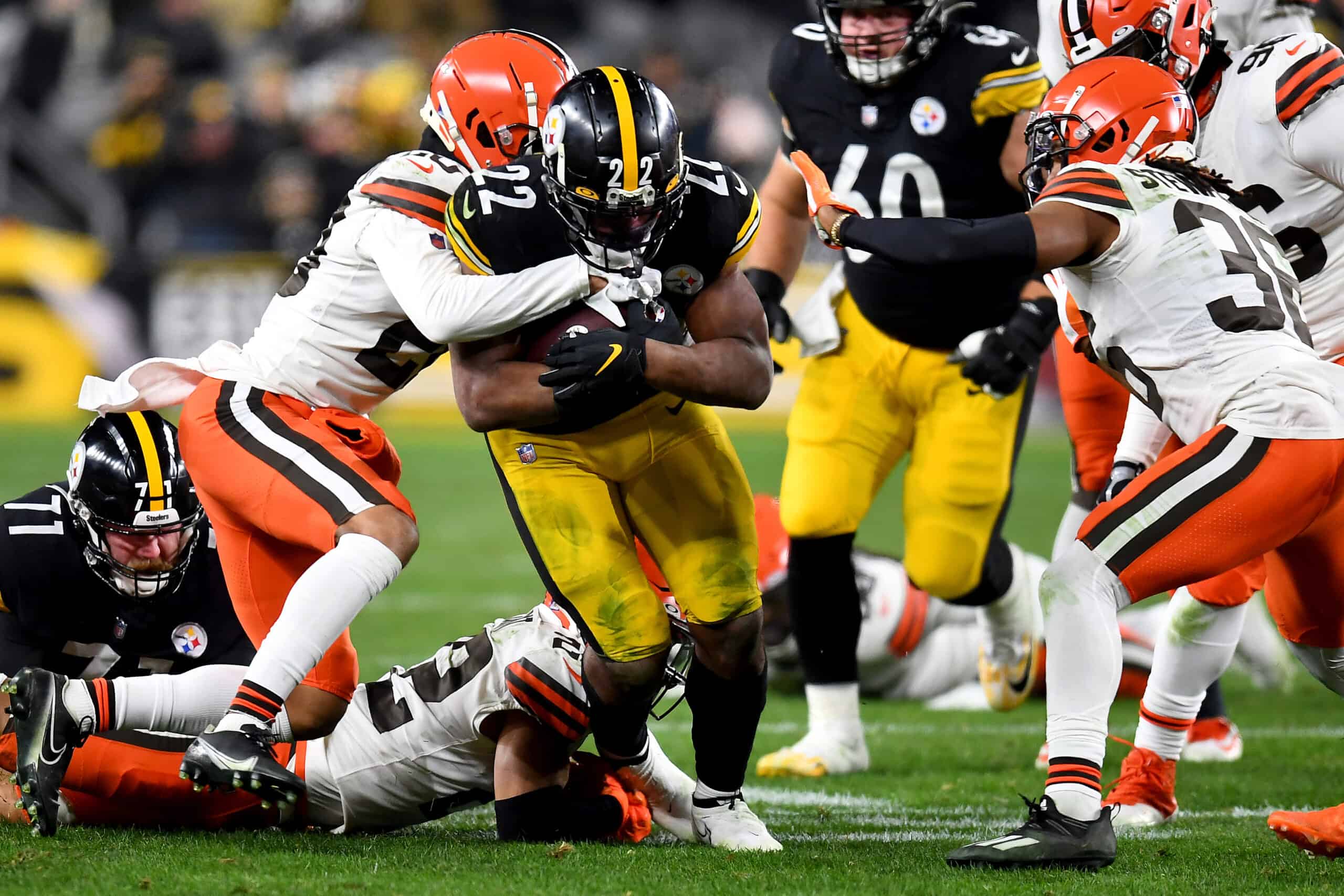 With Pittsburgh playing for their postseason lives, the Cleveland Browns had an opportunity to play spoiler in more ways than one on Monday night.
In what was likely Ben Roethlisberger's final home game, Pittsburgh wanted to send him off with a bang.
Cleveland could have both ended Pittsburgh's playoff hopes and ruined Big Ben's evening with a win.
However, Roethlisberger would have the final laugh (and cry) as the Browns fell 26-14.
With the season coming to a disappointing end, here are three things we learned about the Browns in their Monday night loss.
Baker Should be Benched
Truthfully, Baker Mayfield should have taken a seat long ago this season.
The "is it injuries or is he just bad" debated across social media have driven most insane.
Quite frankly, it doesn't matter what the cause to the effect is.
The effect is that average to below-average quarterback play has killed the Browns throughout the season.
No, Mayfield is not exclusively the issue.
Far from it and we'll get to that.
But it is beyond clear that Baker is not playing starting-level football right now.
Baker Mayfield just became the first player in the NFL this season to throw 10 straight incompletions in a game.

— Field Yates (@FieldYates) January 4, 2022
This interception, Mayfield's first of the evening, exemplifies the current issues.
Baker rolls to his left (bad shoulder side, by the way), locks his eyes that way, and fires a pass that's well behind Donovan Peoples-Jones.
You'd almost expect Ahkello Witherspoon to head back to the sideline with a bow on that present of a turnover.
Baker Mayfield tonight:

1/10
1 INT
0.0 passer rating
pic.twitter.com/NwcKwIsGK9

— PFF (@PFF) January 4, 2022
The offensive line's awful play did not help (more on that shortly).
Baker took some nasty hits that only adds to the punishment he's taken this season.
With a beaten body and terrible quarterback play, there's nothing left for Mayfield to offer this season.
Turning to Keenum at some point may have kept the Browns, and Mayfield, out of this mess.
However, that's not what Kevin Stefanski wanted to do.
No Offensive Line Depth
To be fair to the offensive line, missing Jack Conklin and Chris Hubbard has hurt.
Some games have been worse than others.
Monday, in particular, was a terrible night for the rest of the offensive front.
James Hudson was absolutely manhandled by TJ Watt throughout the evening.
JC Tretter and Wyatt Teller struggled to handle Cameron Heyward on the inside.
Jedrick Wills didn't fair very well against Alex Highsmith either.
One of Mayfield's best passes, a sideline strike to Peoples-Jones, happened despite Heyward pushing Tretter into Baker's lap.
This sack is especially bad.
Hudson is left on an island in an obvious passing down, making it far too easy for Watt.
TJ Watt is terrifying pic.twitter.com/4kn0zXv1TQ

— Barstool Sports (@barstoolsports) January 4, 2022
Mayfield addressed the issues with Hudson in the post-game press conference.
Could this be a shot at Kevin Stefanski?
#Browns Baker Mayfield on getting sacked nine times: "Not getting our rookie tackle a whole lot of help isn't going to be good.

— Camryn Justice (@camijustice) January 4, 2022
Kevin Stefanski Come on Down
Spending about five minutes on Twitter will have you convinced folks want Stefanski out of Cleveland.
I'm no NFL GM, but it doesn't seem likely that Andrew Berry will be showing his former Coach of the Year the door this offseason.
Yet, there's plenty of criticism on Stefanski that is legitimate.
Not utilizing Nick Chub against one of the worst run defenses in the NFL is one of them.
Stefanski only gave Nick Chubb a total of 4 rushing attempts in the 1st half. The team at halftime said he is not injured. Pittsburgh has the 2nd worst run defense in the NFL.

Again, I need someone to explain this to me. #Browns

— Roberto Shenanigans (@Rob_Shenanigans) January 4, 2022
Even the Manning brothers were bewildered as to why Chubb was not receiving more touches.
"Please tell me Chubb is injured and that's why he's not in the game" – Peyton annoyed Nick Chubb has gone MIA then jokes they need a sideline reporter for the Manningcast #Browns

— Daryl Ruiter (@RuiterWrongFAN) January 4, 2022
Stefanski continues to be at the heart of plenty of chatter in recent weeks.
A lack of adjustments, long stints without a touch for Chubb, and other issues are in the spotlight.
It won't lead to a drastic head coaching change in the offseason.
It should, however, be time Stefanski uses wisely to ensure this kind of disappointment doesn't happen again.