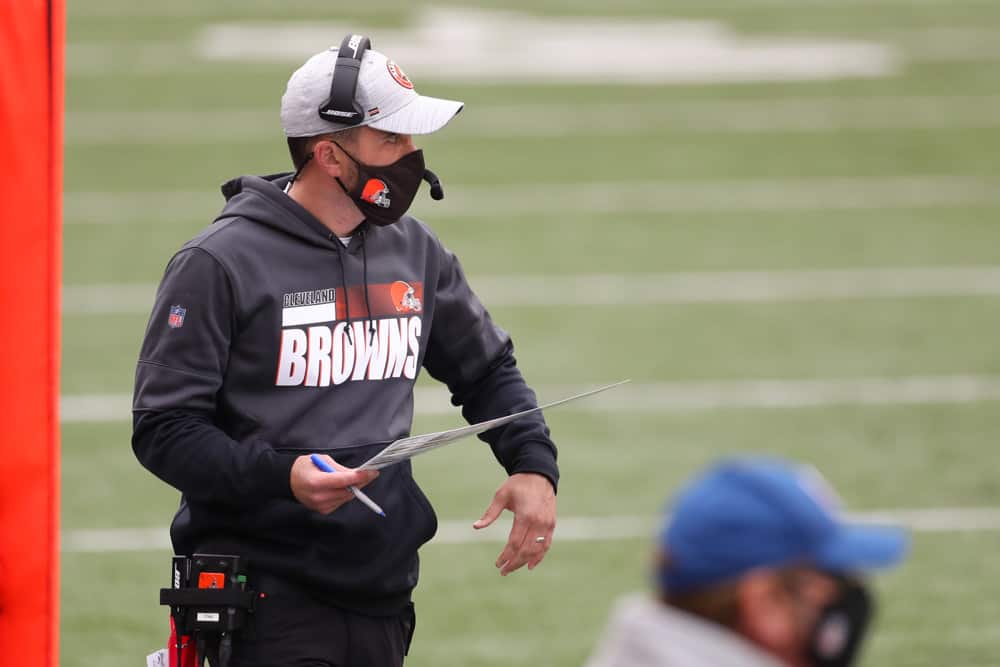 It wasn't a pretty one, but the Cleveland Browns win over the Eagles on Sunday was big.
With the Ravens losing again this week, this time to Tennessee, the Browns now have control over second place in the AFC North.
Let's take a look at some of the things we learned from Cleveland's win over Philly on Sunday and how they might factor into the rest of the season.

1. Olivier Vernon CAN Step Up
If Browns fans had a dollar for every time they uttered the phrase "Gee I hope Olivier Vernon steps up this week", there would be some more wealth to go around northeast Ohio.
The hope for that becoming true was especially present this week as Myles Garrett was absent on the COVID-19/reserve list.
On Sunday, the former New York Giant played what might have been his best game in a brown and orange uniform.
Olivier Vernon having his best game that I can remember with the Browns

— Jake Trotter (@Jake_Trotter) November 22, 2020
Olivier Vernon's third sack of the day is a safety!
+2 for the home team. #Browns pic.twitter.com/gOiuk0dnrm

— FOX Sports Cleveland (@FOXSportsCLE) November 22, 2020
After a three-sack, three tackle-for-loss performance along with a safety and pass deflection, Vernon could very well be a front-runner for AFC Defensive Player of the Week.
This is the kind of performance Browns fans have been waiting for.
Should Garrett have to miss any more time this season, Sunday's effort from Vernon should make fans feel better about Myles' pass-rushing partner.

2. No Need to Rely on Baker
This might not necessarily be something new, but it needs reiterated.
The Browns do not need to rely on the passing ability of Baker Mayfield to win ballgames.
There will be times later this year where they are down late and need to let him sling the ball.
However, in close games like today, there's no reason to force him to do something crazy.
Inclement weather factored into this against the Eagles, but the point still stands.
Against the Eagles, Mayfield was just 12 of 22 through the air, throwing for 204 yards with no touchdowns or interceptions.
That's a very pedestrian final line in the box score, but that's okay.
There was no need for him to throw the ball more than 25 times on Sunday.
Nick Chubb helped iced the game once again this week, as he did against Houston.
Tackling @nickchubb21 is hard, we get it.

📺: @NFLonFOX pic.twitter.com/7ZJgXaJY5K

— Cleveland Browns (@Browns) November 22, 2020
Chubb and Kareem Hunt must continue to be the driving force of this offense.
There are still weapons to use in the passing game, but the strength is on the ground.
This win, just like the one over the Texans, proves that once again.
3. Kevin Stefanski Has It
With any first-time head coach, there will always be critics who wonder whether that coach is ready for the role or not.
With Freddie Kitchens, that answer very quickly became a clear "no".
At 7-3, however, it's time to realize Kevin Stefanski has what it takes to coach at this level.
Kevin Stefanski has the Browns at 7-3 despite three of his best players – Myles Garrett, Nick Chubb and Odell Beckham – missing time. Strong debut for the first-year coach.

— Jeremy Fowler (@JFowlerESPN) November 22, 2020
Without citing specific examples, there just seems to be a lesser amount of mind-boggling penalties that plague this team each week.
They are still 17th in the league in penalties against, but the execution and much better this year.
He is not a perfect coach by any stretch, but no one is in their first season.
The improvement has been night and day from last season, and the job Stefanski has done deserves a lot of credit for that step forward.