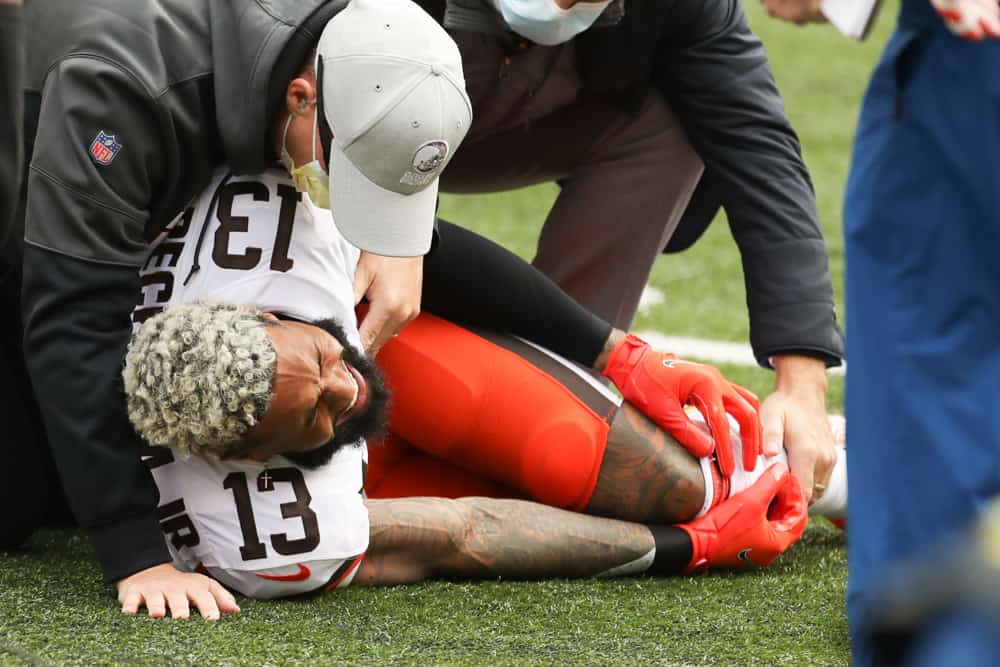 The Cleveland Browns' victory against the Cincinnati Bengals is a lot less sweet after the news of Odell Beckham Jr.'s injury became public.
Odell Beckham Jr. says he suffered a torn ACL against the Bengals and is out for the season, per @JosinaAnderson pic.twitter.com/RE9q9RnkVu

— Bleacher Report (@BleacherReport) October 26, 2020
The Browns are 5-2 in a very competitive AFC North division so the team needs to evaluate its options for replacing OBJ.
Even Coach Stefanski questions who can attempt to fill OBJ's role on a successful 2020 Browns team.
#Browns coach Kevin Stefanski on OBJ: No one else can bring the same type of juice.

— Scott Petrak ct (@ScottPetrak) October 26, 2020
Here are a few potential scenarios to consider in OBJ's absence:
1. Keeping the Status Quo
Rashard "Hollywood" Higgins has not played much in the past 2 seasons.
However, when he's had an opportunity in 2020, he has maximized it.
#Browns Jarvis Landry and Rashard Higgins were WR1 and WR2 during Baker's record-setting rookie campaign.

Just throwing it out there, folks.

— Cody Suek (@CodySuek) October 25, 2020
In his five games this season, he has 11 receptions for 163 yards and 2 TDs.
Rookie Donovan Peoples-Jones (DPJ) has been a mainstay on special teams until yesterday.
He caught the game winning touchdown with remarkable poise.
THE ROOKIE DONOVAN PEOPLES-JONES GAME WINNER🔥

— PFF College (@PFF_College) October 25, 2020
In fact, DPJ caught all three of his targeted passes for 56 yards yesterday.
Maybe the trio of Landry, Hollywood, and DPJ is enough to get the job done?
The trade deadline is next Tuesday, November 3 at 4 pm EST.
Given the woes of the NFC East teams, shopping in that division seems likely.
Which leads to the next 2 possible replacements for OBJ.
2. Pursuing Michael Gallup – Dallas Cowboys WR
Michael Gallup, 24, was and maybe statistically still is the #2 WR on the Dallas Cowboys depth chart.
Amari Cooper is a solid #1 WR, but rookie CeeDee Lamb has certainly overshadowed Gallup's performance this year.
In addition, Dallas at 2-5 has QB problems so it does not appear that Gallup will match his 2019 productivity.
He caught 66 passes for 1,107 yards and scored 6 TDs in 2019.
Gallup is in his 3rd season in the NFL and with Dallas.
To date in 2020, he has 19 receptions for 371 yards and 1 TD in 7 games.
It's early Gallup Hours🐎 Leave a like for Michael Gallup! pic.twitter.com/2Q8cQy7Vk6

— 𝐂𝐚𝐫𝐭𝐞𝐫✭ (@IcyGallup) October 18, 2020
Gallup was the 81st overall pick in the 2018 draft (Round 3) so the Cowboys would likely want player(s) and/or draft pick(s) for the trade.
He is in the 3rd of a 4-year contract with the Cowboys; he is expected to earn $973,000 this year.
3. Trading for Golden Tate – New York Giants WR
Golden Tate, at 32 years of age, is a Super Bowl Champion (with the Seattle Seahawks) and a veteran who has worked with various NFC teams.
In addition to the Seattle Seahawks, Tate has been a member of the Detroit Lions, Philadelphia Eagles, and now the New York Giants.
The Giants are 1-6, but Tate is the most experienced WR on the roster.
He has 20 receptions for 195 yards and 1 TD so far in 2020.
Golden Tate is too strong on this TD 💪

(via @NFL)pic.twitter.com/6YNrm1HzlP

— Bleacher Report (@BleacherReport) October 23, 2020
To gain his experience, the Browns would probably have to give up a young receiver, other roster players, and/or draft picks.
He is in the 2nd of a 4-year contract with the Giants; he is expected to earn $10.3 million this year.
The NFC East is so mediocre this season that a team could win the division with a record well below .500.
Who knows if or when the Cowboys or Giants may be ready to play for 2021 and start accumulating next year's roster of players and draft picks.