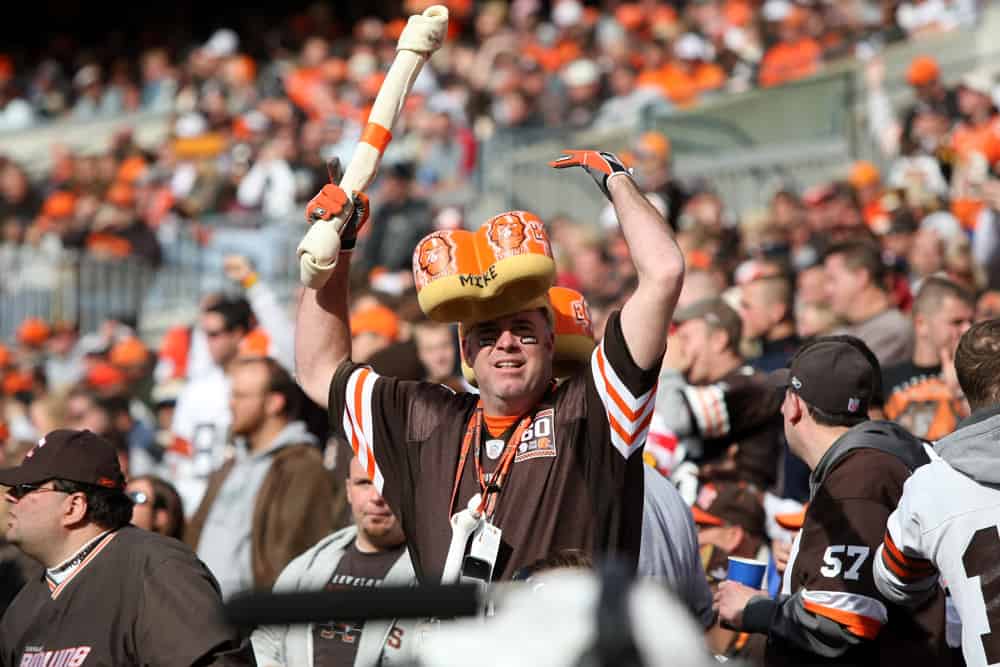 Something is wrong with the Cleveland Browns.
Faced with their first division game, in front of their home fans, against a flawed opponent, the team fell flat.
Although the defense showed some signs of life, there was little energy or urgency overall.
The Cleveland #Browns are last in the AFC North (and that's honestly where they deserve to be at the season's halfway point)

— Jake Trotter (@Jake_Trotter) October 31, 2021
Perhaps the biggest sign of a brewing problem came after a Baker Mayfield 4th quarter scramble.
Bad shoulder and all, Mayfield converted the 3rd down, took a hard (and late) hit, and bounced up pumping his fists.
The home crowd jumped to their feet in appreciation… while Mayfield's teammates fell back asleep.
Nobody appeared angry at the late hit nor did they appear energized by the effort or reaction of their quarterback.
Baker Mayfield is FIRED UP after taking a hard hit. pic.twitter.com/6Czd0ovXBs

— The Big Lead (@TheBigLead) October 31, 2021
Last place with a 4-4 record is how this fashionable preseason Super Bowl pick finished October.
And while folks around Berea say the right words, the emotion reflects a disappointing direction for the team.
So, because I care, here are 4 ways to jumpstart a Cleveland Browns playoff run.
1. Add Willing and Able Reinforcements 
Injuries have taken a toll on the Browns all season.
But after finishing the preseason 4-0 using only backup players, more was expected from the second string.
Cleveland conveniently hit bottom just before the trade deadline.
And while there is some sentiment to unload a player or two, positive reinforcement comes by addition.
The #Browns have 5 takeaways this year. The season is half over, and they've forced just 5 turnovers — 31st in the NFL. That's unacceptable.

— Ed Greenberger (@EdGreenberger) November 1, 2021
Half-hearted or depth pieces won't get the locker room as excited as landing a seasoned starter or former All-Pro.
Jacksonville's Cam Robinson is a pending free agent who can fill the bill at offensive tackle.
Cornerback Xavien Howard or safety Marcus Maye could step right into the starting lineup.
Or Andrew Berry can kick the tires on free agents like Russell Okung and Tre Boston.
2. Start Benching Players
Just like trading a perceived under-performer doesn't make the team feel any better, neither does a benching.
But when you present that benching as a reward for the next man up, it can do the trick.
Speedy rookie Anthony Schwartz is not going to scare defenses until he learns to catch passes downfield.
Cleveland might lose him on the practice squad, but that doesn't mean he can't be inactive on Sunday.
Not the body language guru or anything but you can tell some on this #Browns offense are not having much fun. pic.twitter.com/bS4x9nt8kL

— OBR Film Breakdown (@TheOBRFilmBDN) November 1, 2021
Call up JoJo Natson or maybe even announce Demetric Felton as the starting wide receiver over OBJ, even.
Greedy Williams is another backup player making the most of his playing time.
When Denzel Ward returns from injury, think twice before handing the starting role back to him at Greedy's expense.
Rewarding good efforts this way not only inspires the backups but also gives the starters something to think about.
3. Let Alex Van Pelt Call Plays
It's one thing to defend the efforts of your players with a weekly mea culpa.
But it's quite another to actually fall on the sword.
Coaching changes after a loss to the Steelers at home used to be the norm.
But I am not calling for something that radical from Kevin Stefanski.
The Official Mission Statement of the 2021 Cleveland #Browns:

"I've got to do a better job."

— Browns Rally Possum (@Browns_Possum) November 1, 2021
Instead, I'll jump on the "Let Alex Loose" train and suggest Alex Van Pelt handle the offensive play calls.
Hall of Fame head coach Bill Parcells once did such a thing to spark the New York Giants to near-dynasty status.
Not only does it show the players Stefanski is willing to sacrifice his own ego and do more than just try harder.
But it also gives him the freedom to be in the faces of his players during the games.
4. Elicit Ideas From The Players 
As together as the Browns looked last season, they look fractured and disinterested this year.
And the best way to find out where that disconnect lies is to ask the players… kind of.
If you ask a player what the problem is, you risk hearing player-speak, which is even worse than coach-speak.
And team meetings tend to be more emotional than constructive.
#Browns WR Jarvis Landry on Baker Mayfield's play: "It sucks I didn't make those plays when we needed them, because his effort should be commended for sure."

— 92.3 The Fan (@923TheFan) October 31, 2021
Instead, ask each player, in private, what kind of change he would make if he could make one change.
Odds are, you will find an easily-addressed issue or two that shows players you're listening and open to suggestions.
And as a coach or manager, you should listen and be open to employees' ideas.
Because if you don't value front-line employee ideas, you might actually be the problem.