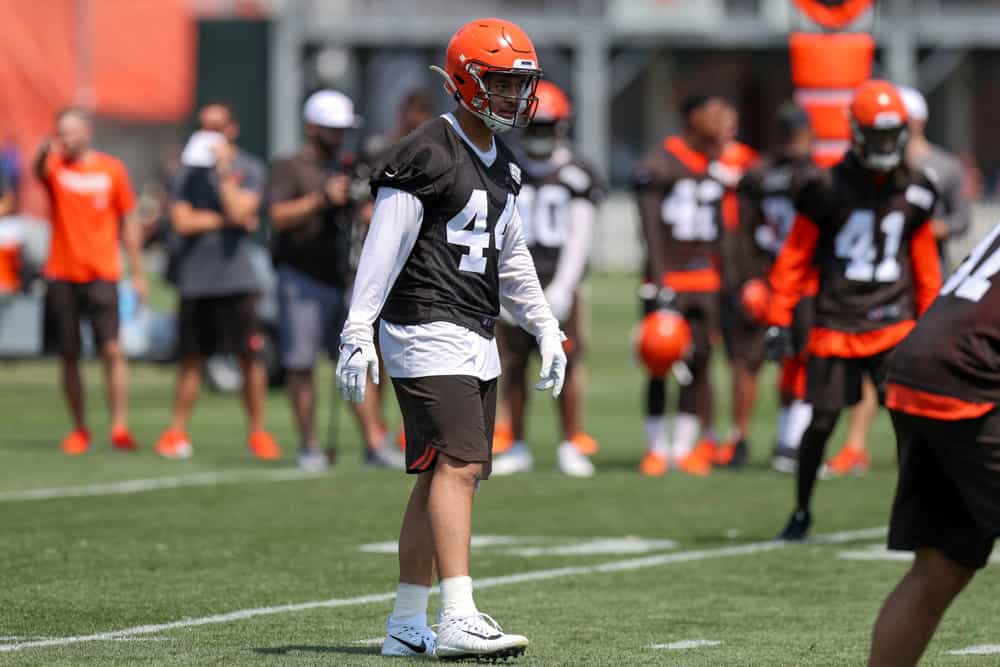 Each offseason, every team has to go into a period of adjustment.
Whether the team had a successful season or not, retooling is the name of the game.
This includes the Cleveland Browns, who after an amazing season go into the offseason in a position the team has rarely been in since they came back into the league; a position of tweaking, rather than rebuilding.
Running back is set, with Nick Chubb and Kareem Hunt.
Quarterback is as well with Baker Mayfield who really stepped up and showed that he is a franchise quarterback.
The offensive line is a strength and filled with talent across the entire front five.
Myles Garrett is a Defensive Player of the Year candidate.
Denzel Ward, when healthy, has the potential to be a top-10 player at corner.
But there is some room for improvement on the roster.
So here are five positional targets for the Browns to improve this offseason.
5. Wide Receiver
While the unit did start to play much better going into the playoff run, the Browns wideouts aren't going to blow anyone's sock off.
Odell Beckham, Jr. went down early in the season with an ACL injury, but never really seemed to click with Mayfield during his shortened season.
Jarvis Landry led the team with 840 yards and was tied for second with three touchdown passes.
Yeah, this group needs a dynamic presence.
OBJ can still be that presence and his return will make the team better.
He is just TOO good to not make the Browns better on offense.
Before his injury, it appeared that Mayfield was forcing the ball to OBJ.
As the season progressed, Mayfield got a little better every game, which will only help his rapport with OBJ when he's healthy enough to take the field.
That isn't the only reason that the Browns should be looking for an upgrade at this position.
Rashard Higgins is a free agent.
Taywan Taylor and Khadarel Hodge are also free agents.
The positional unit won't be deep, even after signing Ryan Switzer away from the Steelers.
4. Linebacker
According to Spotrac, the Browns have 5 linebackers that are going into free agency.
This includes ILB B.J. Goodson, who as the season went on picked up more and more playing time.
Outside of Goodson, the others don't really need to return, but this HAS to be a point of improvement for the front office.
There were games where the linebackers were mauled in on the ground and Travis Kelce showed fans last week that linebackers HAVE to be able to play the middle of the field on passing downs.
Vernon was second on the team with 9 sacks, but he would go stretches without being a real passing rushing threat.
Olivier Vernon's third sack of the day is a safety!
+2 for the home team. #Browns pic.twitter.com/gOiuk0dnrm

— FOX Sports Cleveland (@FOXSportsCLE) November 22, 2020
Vernon was also pulling down $11 million, so I think it's safe he's probably not returning.
Goodson would be great to keep around.
Goodson wound up leading the team in tackles with 91 and also had 2 interceptions.
Mack Wilson may not be the piece the Browns thought he was.
Sione Takitaki has done well in stretches, but it more suited for depth.
This positional unit needs definite upgrades.
3. Defensive End/EDGE
The Browns have the best defensive end in the league (arguably, to some) in Myles Garrett.
He was a defensive player of the year candidate with 12 sacks before being slowed down by COVID.
He's a physical specimen with a motor that doesn't quit.
Myles Garrett is 271 pounds and chased down Mecole Hardman 😳
pic.twitter.com/OtTWMnyQX3

— PFF (@PFF) January 17, 2021
The Browns have an issue outside of Garrett.
Outside of Myles Garrett, defensive ends on this team accounted for exactly 3.5 sacks out of the teams' total of 38.
And all those were by Adrian Clayborn.
Clayborn is coming back and the Browns only DE coming off the books is George Obinna.
This is a perfect opportunity for the Browns to pick a project to add to the defensive arsenal.
The Browns have nine picks in the draft this year.
Maybe package a few to move up and take Quincy Roche in the second round?
Quincy Roche EDGE – Temple: 19 TFL 13 sacks and 5 PBUs in 12 games. Roche is straight out of the Josh Uche school of pass rush hybrid. Excellent bend and speed when pass rushing, Roche combines athleticism and technique to beat blockers. He is a must add if the interest is mutual pic.twitter.com/iW7ngXFUaO

— GBB (@GoBlueBoulevard) January 9, 2020
Having a consistent push up front is a must in the more wide open pass happy NFL.
2. Safety
I think it's safe to say that Ronnie Harrison has locked down one of those safety spots.
The other spot?
Hoo boy.
This isn't a section kicking Andrew Sendejo.
He's gotten that enough this season, but he is a free agent along with Karl Joseph.
Joseph is someone that should be back, as he is affordable ($2.5 million on his last contract) and can be a good depth piece.
In a perfect world, Grant Delpit will come back and be the starter.
#Browns Safety, Grant Delpit, can help boost the defense next year.

Delpit's Forced Incompletion Percentage of 18.2% ranked 1st in the 2020 draft class. 🔥

In 3 years at #LSU, Grant produced 7 Sacks, 8 INTs, and 24 Passes Deflected.

He also had 42 career run stops. 🧨#NFL pic.twitter.com/46eslmlV33

— The Hottest Take Sports Podcast (@Hottest_TakePod) January 22, 2021
The biggest issue is he suffered an Achilles' tendon tear, and that is never easy to come back from.
Harrison is a free agent after next season, so the safety position needs to be solidified.
This position could be filled with Denver's Justin Simmons, with Harrison getting through this season, giving Delpit a chance to work his way back into game shape.
1. Cornerback
Every reader knew this was coming.
Outside of Denzel Ward, the Browns corners in 2020 were just not good.
Again, it didn't help that Greedy Williams went down and didn't see the field.
Kevin Johnson and Terrance Mitchell are hitting the free agent market and should only be brought back as depth pieces.
You can never have enough corners in the NFL now and they earn top dollar on the free agent market.
And it's a good thing, because the 2021 draft has some depth to the cornerback position this year.
Asante Samuel Jr. out of Florida St. is available, and so is Shaun Wade out of Ohio State.
While Wade had a tough year, he's a talented bigger corner that will give the Browns options in multiple coverages.
The Browns have a good team.
Now it falls on Andrew Berry and the front office to add the pieces that will hopefully take the Browns to their first Super Bowl.