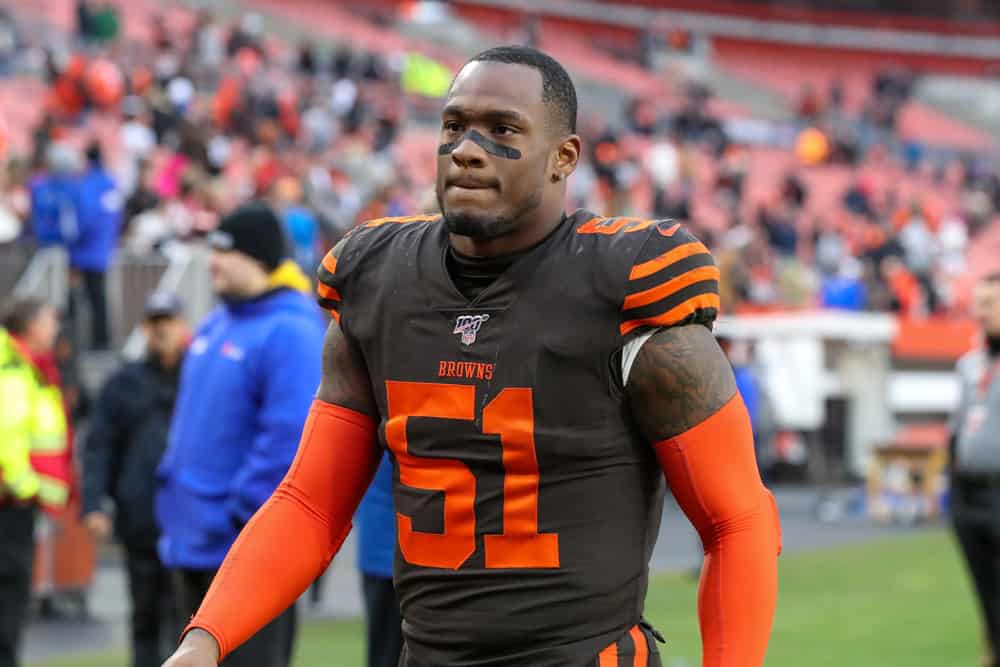 Unfortunately, the Cleveland Browns will be watching the AFC Championship on Sunday from home.
Despite the obvious disappointment, linebacker Mack Wilson continues to show class and support for Kansas City Chiefs quarterback Patrick Mahomes who never showed ill will toward Wilson about his involvement in the play that led to Mahomes' concussion.
All good brother! 💪🏽 https://t.co/ORwLG6eFTV

— Patrick Mahomes II (@PatrickMahomes) January 17, 2021
Wilson's Reaction To Hearing Mahomes Can Play On Sunday
Mack Wilson expressed his feelings about Mahomes being cleared to play.
Once again, he shows a lot of class throughout this ordeal.
Prayer has been answered.. Go ball out 15! @PatrickMahomes ❤️🙏🏾

— Mack Wilson (@5mackwilson1) January 22, 2021
Twitter Exchange After Mahomes Leaves The Game With A Concussion
Mahomes suffered the concussion on the play where he was carrying the ball on 3rd down and 1.
Randi Mahomes, Patrick's mother, reacted on social media.
She directed her anger at Mack Wilson who handled the situation beautifully.
No disrespect mom I'm just playing hard. This is a dangerous game we play and we take a risk every time we step foot on the field. I'm happy that Pat is okay but mind you.. I've never been a dirty player. I just want to win and be great like your son. 🙏🏾❤️

— Mack Wilson (@5mackwilson1) January 19, 2021
Postgame Analysis Continues To Reveal It Was Not A Dirty Play
Chiefs TE Travis Kelce disagrees.
"This is a violent game. We wear helmets for a reason and that's because guys are flying around trying to take your head off…You never want to say someone purposely tries to take you out of the game, but after the initial hit they were fired up, saying, 'That's what we do. That's what we do.' I do feel like those guys are good and I respect a lot of them … especially Myles."
Perhaps the celebration was the result of preventing the Chiefs from getting the 1st down; has no one considered that?
Myles Garett, Baker Mayfield, and Coach Kevin Stefanski defended Wilson postgame.
"Nobody on our team is headhunting or going after a guy, trying to hurt a guy, no matter how good he is…They were saying it on the field. Some of the guys felt like that. Travis felt like that."
"I didn't specifically see the hit, but Mack is not a dirty player. That's not the case, so if anybody truly thinks that, that's their own opinion, they can have it that way. I hope Pat's OK. Like I said, Mack's not like that."
"Mack's not a dirty player. We don't coach our guys to hurt anybody ever. We're all hoping and praying that Patrick's feeling OK and we want him to be ready to go this week. I hope there's no hard feelings. I know Mack's intent was definitely not to hurt him at all."
The Elephant In The Room
With so much scrutiny and backlash on Wilson's hit of Mahomes on a play that resulted in Mahomes suffering a concussion, many are wondering why there isn't the same level of scrutiny on the Sorenson hit of Higgins in the end zone.
Is it because Higgins wasn't injured on the play?
That's a terrible standard if that's the case.
Here is the Twitter exchange between Mahomes' mother and fiance after the Sorenson hit.
#49 go Sorensen!!!! https://t.co/ovzMq8oGx4

— Randi Mahomes (@tootgail) January 17, 2021
They appear to celebrate that play which occurred earlier in the game before the Wilson play with Mahomes.
The NFL is not planning to suspend Sorenson for the hit but is reviewing it because a potential fine may be levied.
That is too little, much too late.