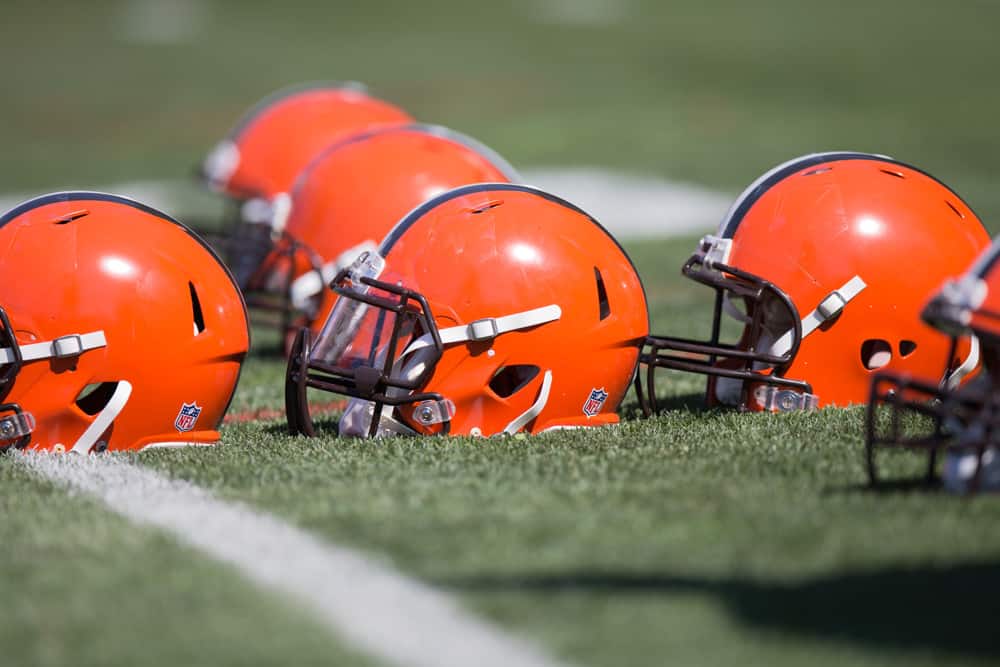 Coming out of 2019, it seemed we were destined for a major shuffling of top defensive linemen.
Yannick Ngakoue, Chris Jones, Shaquille Barrett led a stellar free agent group.
Those three are already franchise-tagged and it looks like Arik Armstead will join them if the 49ers can´t close an extension deal.
In fact, NFL.com´s top ten pass rushers list from February 20 includes 6 players already tagged or re-signed.
But all is not lost for Andrew Berry and the Cleveland Browns.
NFL Insiders Predict Jadeveon Clowney's Seahawks' Future https://t.co/Q3Gr2BxaxG pic.twitter.com/vYBJMj9yeJ

— Gossips Blog (@opeyemi041) March 16, 2020
It looks like Seattle won´t find a way to fit Jadeveon Clowney under their salary cap.
Houston´s DJ Reader and Pittsburgh´s Jason Hargrave won´t return for the same reason.
It is hard to argue against signing any of those free agents.
But Andrew Berry might be just as satisfied to land one of these guys:
1. Dante Fowler Jr., Rams
Dante Fowler Jr. is another victim of salary caps, and so much more.
Jacksonville made Fowler a first-round pick in 2015.
Popular draft pundits agreed Fowler had a high ceiling, with various "buts".
On his first day at minicamp, Fowler tore his ACL.
A series of coaching changes and the arrival of Yannick Ngakoue and Calais Campbell lowered Fowler´s ceiling.
When he was on the field, Fowler produced.
Sup future Jet @dantefowler pic.twitter.com/2rQkjE6nR5

— 𝘣𝘳𝘢𝘯𝘥𝘰𝘯 🎡 (@JamaIAdamsEra) March 7, 2020
When the Rams needed a boost in their pass rush, they gave up a pair of draft picks in 2018.
Fowler took a chance on himself by declining a longer extension in favor of a "prove it" deal with the Rams.
In his fifth season, Fowler was finally a starter.
He recorded 11.5 sacks, 16 tackles for a loss, 16 QB hits and 2 forced fumbles in 2019.
One might caution his only "good season" came when he was playing for a contract.
More astute followers see Fowler´s impact in limited roles before 2019.
He is a productive veteran with fewer snaps wearing on his body than others with his years on their resume.
Dante Fowler would do very well opposite Myles Garrett.
2. Robert Quinn, Cowboys
Robert Quinn exploded onto the scene in 2013 with over 90 quarterback pressures for the Rams.
He hasn´t come close to that since.
But the Dallas Cowboys helped Quinn realize the second-best season of his career in 2019.
Various factors contributed to his diminished production in Los Angeles.
After a lost season in Miami under Adam Gase, Quinn signed a one-year deal with the Cowboys.
The projected contract for FA DE Robert Quinn is 3 years 35 mil. Would you guys do this? Quinn had 11.5 sacks in 2019 pic.twitter.com/PO7Nn5GD3k

— Buffalo Sports Chatter (@ChatterBuffalo) March 9, 2020
Quinn showed he still has NFL-level skills, racking up 11.5 sacks and 57 total pressures.
He is strong enough to bull rush and flexible enough to bend around would-be blockers.
At age 29, Quinn is primarily a pass rusher.
But he is not a liability against the run, either.
There is no reason to believe Quinn can´t repeat his 2019 performance for another season or three in Cleveland.
Rumor has it Quinn´s agent seeks about $20 million per season for his client.
It is expected, however, that Quinn will end up costing a more affordable $11-12 million.
3. Kyle Van Noy, Patriots
Kyle Van Noy answers a few needs for the Browns.
First of all, he can play the edge and help the pass rush, which is supposed to be the focus of this piece.
However, he can also fill a linebacker slot in Cleveland.
Daniel Jones meets Kyle Van Noy for the first time pic.twitter.com/kSuTk3XiwE

— Bobby Skinner (@BobbySkinner_) March 9, 2020
We don´t know yet what style defense Joe Woods and Kevin Stefanski have in mind.
Van Noy offers a lot of flexibility.
His role in a 3-4 is obvious as he showed what he can do with New England.
Olivier Vernon has experience in that role, too.
But he isn´t as good standing up as he is with his hand on the ground in a 4-3.
If Vernon is released as widely speculated, signing Van Noy makes more sense.
He can fall back into a versatile linebacker role in a 4-3.
Van Noy is also smart enough to wear the green dot on defense as he did with New England.
And a repeat of his 8.5 sacks and 43 hurries from the linebacker spot helps the Browns pass rush.
4. K'Lavon Chaisson, LSU
Chase Young is the obvious pass-rushing prize of the 2020 NFL draft.
But he is not likely to slip to the Browns at number 10.
Cleveland is widely expected to sign an offensive lineman unless linebacker Isaiah Simmons slips.
But what if they fill out their offensive line in free agency?
That wouldn´t leave much money to sign a free agent pass rusher.
K'Lavon Chaisson, EDGE, LSU:

• A+ juice out of the starting blocks
• High levels of bend (++)
• Crafty and creative hand usage
• Underrated run defender
• Production upside (+)
• Lots of similarities to Whitney Mercilus pic.twitter.com/ESIm5PgKDN

— Jordan Reid (@JReidNFL) March 14, 2020
K´Lavon Chaisson then enters the conversation.
Chaisson comes out of a strong college program where he did not put up monster numbers.
He is carrying the popular "potential" tag with a superior burst and bending ability.
Inconsistent sack production hurts his evaluation.
But here´s the thing.
Chaisson tore his ACL at the beginning of the 2018 season.
His sack production noticeably increased as the season wore on.
4.5 of his 6.5 sacks came in the Tigers´last 4 games.
Almost 2 years removed from his ACL tear, Chaisson could take the NFL by storm in 2020.
5. AJ Epenesa, Iowa
AJ Epenesa might be a more realistic pickup for the Browns.
He is a milli-second slower off the snap and put up some unimpressive numbers at the combine.
But he possesses superior strength and technique to make up for shortcomings.
AJ Epenesa – DE, Iowa

Plays with superb hand technique & power but I just think he lacks fluidity and plays a little stiff. For me, I think he's suited to a 3 technique DT

Round prediction: Mid 2nd

Any retweets would be much appreciated!#NFLDraft pic.twitter.com/BmOyTWrsSm

— Sam Ainger (@sam_ainger) March 8, 2020
Epenesa has a strong bull rush and a variety of pass-rushing moves in his toolbox.
He uses his hands well and possesses good size (6´5″, 275) for the defensive line.
Iowa did not start Epenesa as a junior, but he still finished with 10.5 sacks and 18.5 TFL.
He ended his senior year with 8 sacks and 4 forced fumbles in his final 5 games.
Epenesa might start as a pass-rushing specialist for Cleveland.
Thanks to his combine, Epenesa could slip to an amendable third-round pick.
So Many Choices
Chad Thomas showed some potential and of course, Myles Garrett is Myles Garrett.
But the Browns need to add another threat to that rotation.
We like the players we already mentioned.
Drafting Yetur Gross-Matos or Julian Okwara would serve the Browns well, too.
Looks like Yetur Gross-Matos (@__lobo99) wants that 2019 B1G sack title.

2.5 sacks in the first half?! pic.twitter.com/B3tvX8jbi1

— Penn State On BTN (@PennStateOnBTN) August 31, 2019
Free-agent Buddy Dupree is anxious to prove his career season was more than a contract-year fluke.
Michael Pierce is just as anxious to prove his subpar 2019 was a fluke and not a trend.
Shaq Lawson would certainly look good in orange and brown.
How the Browns attack other positions (linebacker, safety) could affect how they stack their line.
But more important will be how Joe Woods and the Browns put it all together.